The short answer is yes, but we will show you a few tips and tricks that can help you get better results with product management.
What Is Product Management?
Product management is the process of creating and monitoring the life cycle of a product. From conception to delivery, and throughout the ongoing development and improvement, product management includes it all.
A product manager is a person who is responsible for understanding customer needs, creating a product roadmap, identifying market opportunities, coordinating cross-functional teams, and ensuring that the product will meet the needs of its audience. What is the difference between a product manager and a project manager.
Examples of Product Management
One example of product management can be seen in the creation and development of the iPhone by Apple.
The product management team responsible for the iPhone would have had to:
conduct market research;
identify potential customers;
collaborate with teams of engineers, designers, and marketers to create this product which would have met the needs of the target audience;
make sure that the iPhone was launched on time and within the set budget;
analyze user feedback and implement some improvements to the product over time.
The iPhone has been a hugely successful product for decades now, with new models released regularly. This demonstrates how the ongoing product management involved in its development and evolution was important for the product's success.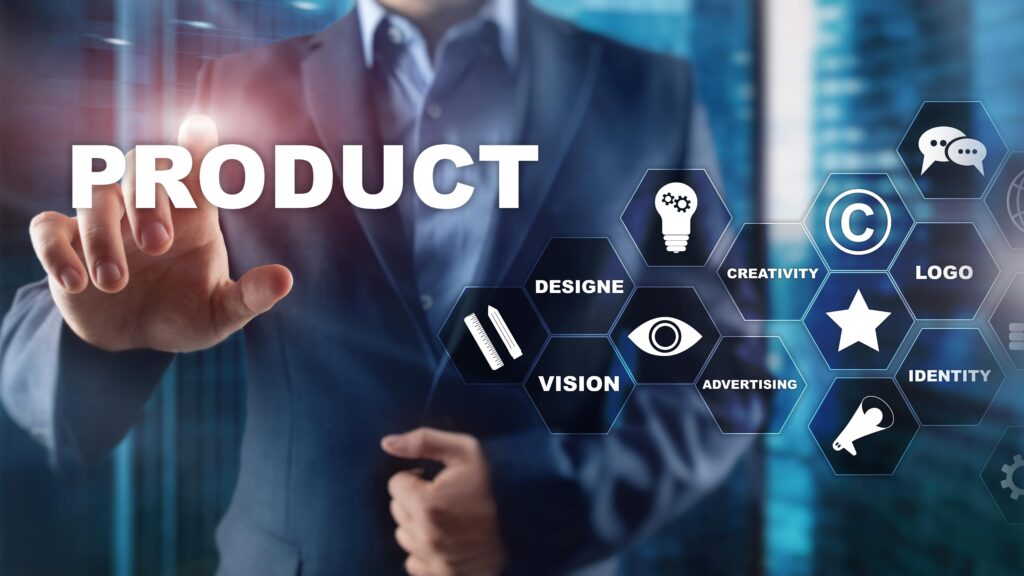 Had they had a product management Monday.com feature back in the day, their work would have been much easier.
Another example can be seen in the creation and development of the Tesla Model S. The product manager responsible for this model would have had to:
identify potential customers;
find the needs in the automotive industry, such as the need for environmentally friendly and sustainable transportation;
coordinate with cross-functional teams to design and make a car that met all these needs;
ensure that the Model S was launched on time and within budget;
analyze user feedback and follow through on needed improvements to the car over time.
The ultimate success of the Model S demonstrates the ongoing product management importance involved in its evolution, maintenance, and development.
Importance?
Product management is a critical role in the success of any product. It needs a deep understanding of the user needs, market, and cross-functional collaborations. By following a product management framework, product managers can make sure that products are launched by the set deadline, that they meet user needs, and that they continue to evolve over time in order to meet changing market demands.
Key Elements of Good Product Management
The product management Monday.com feature offers several useful options. If you want to have a successful product, there are a few key elements that your product management needs to follow. These elements can be followed through Monday.com, which we will explain in detail in the next part.
First, let's see which elements you need to pay attention to in order to develop a good product management plan.
Collaboration
Product managers must collaborate with many other teams such as cross-functional teams, including designers, marketers, engineers, and sales teams. Collaboration is one of the most important parts of any project plan. Without a good collaboration tool, your team might become lost in all the duties and not know which parts should be done by whom.

Easynote is a good collaboration tool that allows you to easily collaborate with your teammates from all around the world. All of this ensures that the product is created, developed, and launched successfully. It's important to know how collaboration works in favor of your business.
Understanding the market
Product managers need to have a deep understanding of the target market and the needs of this market's target audience. You need to know which products have potential and which products are not good business ideas.
If no one wants to buy it, why would you make it? This involves conducting market research, analyzing consumers and their behavior, and staying up-to-date on industry trends and updates.
Also, consumers will be your number one critics, so you should analyze their needs very carefully.
Product managers need to prioritize tasks and projects. Usually, these are based on user needs, business objectives, and resource constraints.
When your prioritization is set correctly, you can be sure that your goals will be easily achievable, and that you will leave less room for errors.
Clear communication
Effective and clear communication is crucial for successful product management. Product managers need to communicate clearly with their team members and the stakeholders to ensure that everyone is on the same page when it comes to the product vision and goals.
When you achieve good communication practices with your teams, it is much easier to stay on track with your work, to be more productive, and to spot certain issues early on. This will leave a lot of room for improvement and creativity.
Iterative development
User feedback is another important part of product development. Product management involves constant iteration and improvement based on user feedback. Also, it is usually based on changing market demands.
Product managers need to be adaptable and agile. This will ensure that the product continues to meet user needs and achieve the set goals over time.
Project and product managers who focus on these elements can be sure that their products meet the needs of their intended audience, reach the set goals, and achieve business success.
Monday.com, along with other similar apps can help you include all these key elements in your product management process.
How To Use Monday.com For Product Management
The product management Monday.com feature is one of the key features of this tool.
Monday.com is a project management software that can be incredibly useful for product managers and other project or product-related positions.
It provides a visual workspace for teams to plan their projects, track progress, and manage their work. Here are some ways that Monday.com can be used for product management.
Customizable Workflows
Monday.com offers customizable workflows. They are useful for product managers as they can tailor them to their specific needs. Customizable columns and automation can be used to create a good workflow that matches your team's specific needs.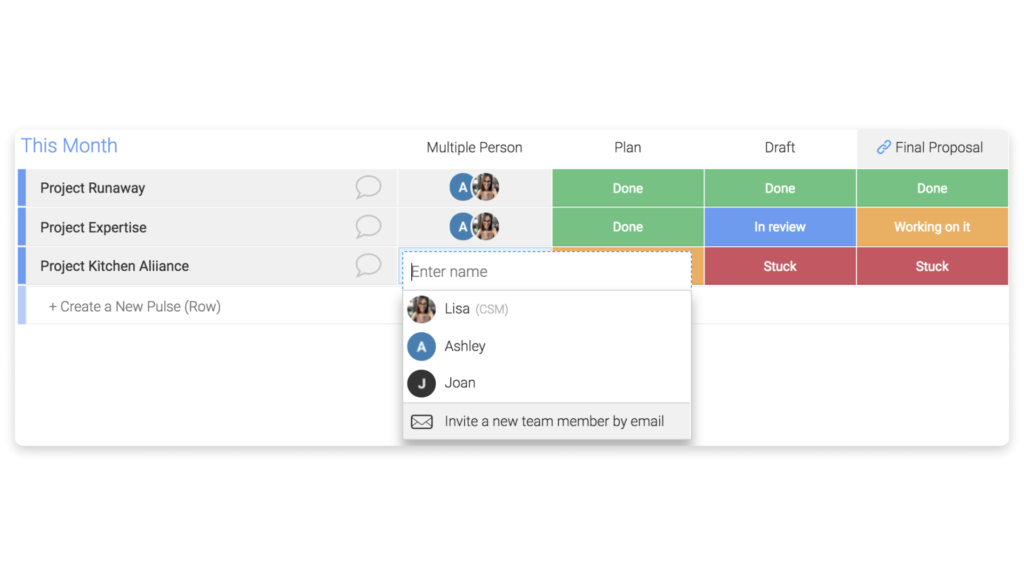 Centralized Workspace
Monday.com provides a centralized workspace. This is a space where product managers can create and manage their products. They can manage road maps, user stories, tasks, and features. Everyone from the team can access the same information, which makes it easier to collaborate. Your team will work together to the same goal.
Prioritization
Tools like Monday.com are good for prioritizing tasks and projects. This is crucial to successful product management. Monday.com integrates features such as milestones, deadlines, and prioritization tools. These tools facilitate the product manager's everyday work because they allow them to see where everyone is at, which processes need to be finished first, and which tasks are already finished.
When prioritization is done correctly, the whole process is easier to overlook and there are fewer chances for errors.
Product management Monday.com feature allows communication
Communication is key to any successful product management, and Monday.com offers real-time collaboration and communication features. These features let team members work together on tasks and different projects at the same time.
Monday.com also integrates with other communication platforms such as Slack, which makes it easy to share important information and updates with your team.
Integrations
Monday.com offers integrations with many useful tools. These tools include Jira, Trello, and Slack, among many others. These integrations can be very useful when streamlining your workflow and improving communication between different teams.
This is also useful for workers who use other platforms or work remotely.
Resource Management
Product managers need to keep track of budgets, timelines, and team members. These are important resources for every project. Monday.com offers features such as workload management, timelines, and budget tracking to help product managers stay informed on these resources and ensure that the project is completed within budget and on time.
Tips and Tricks To Use For Product Management on Monday.com
Here are a few tips and tricks that can help your product management work using Monday.com. We are sure that at least some of them can help you streamline your workflow.
Trick 1: Start with a clear project hierarchy
Do not let the mess stress you out! Create a clear hierarchy of projects, folders, and boards which will make it easy to navigate through your obligations and understand the different levels of the whole management process.
Trick 2: Customize your workflows
You do not want your workflows to appear monotone and boring. Customize your workflows to match your specific needs. Your team can also use the same pattern. Use columns, labels, and automation to create a customized workflow that will help you stay organized and productive.
Trick 3: Customize and use templates
Templates are the best time saver! Monday.com offers templates for many different project management use cases. Of course, these include product management. You can use these templates when you start your projects and customize them to fit your and your team's needs.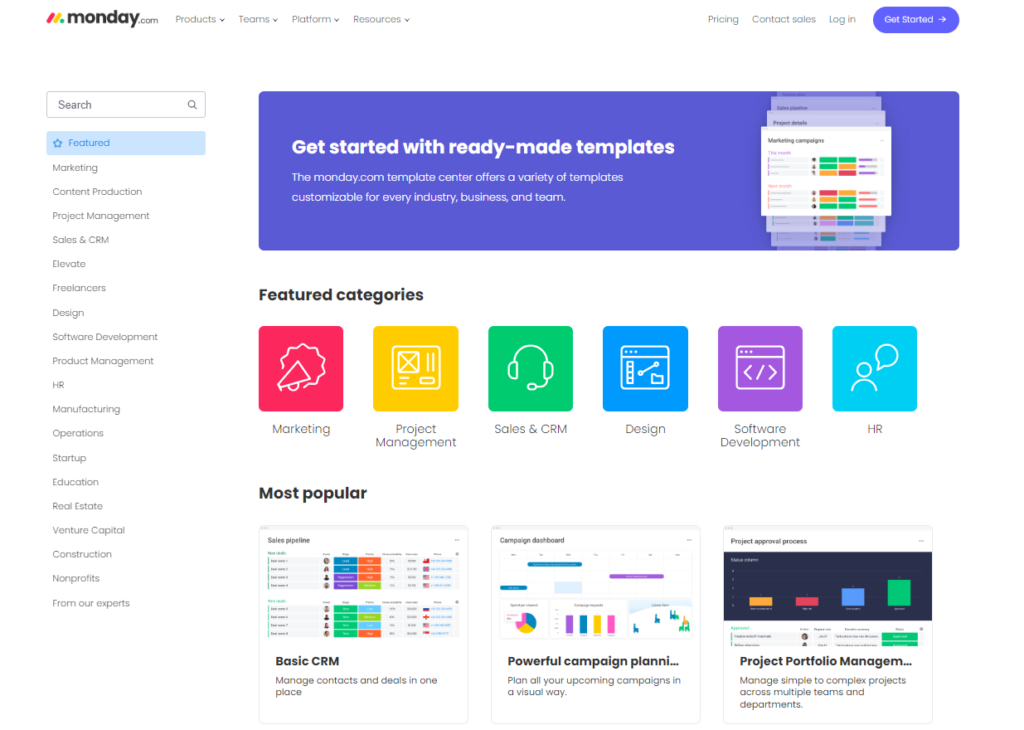 Trick 4: Set deadlines and milestones
Set clear deadlines and milestones. When you do this, your team's tasks and projects will move towards the same goal and ensure everyone is on the same page. This is useful for those who are new to the team.
Trick 5: Use integrations with the app
As already mentioned, Monday.com integrates with various tools such as Trello, Jira, and Slack. Use these integrations and streamline your workflow. Also, they let you improve communication between team members and they can save you a lot of time.
Trick 6: Collaborate in real-time
Monday.com offers real-time collaboration. This allows users to work together on different tasks and projects at the same time. Real-time collaboration can help reduce communication gaps and make sure that everyone's work aligns with the common goal.
Trick 7: Use Monday.com analytics to track progress
Use Monday.com's analytics to track your progress and identify areas that might need improvement. Use this data to make smarter decisions and improve your team's workflow.
By following these tips and tricks, we are sure you will be set to easily navigate through your product management and use it in the best way possible.
What Are The Best Alternatives to Monday.com For Product Management?
After reviewing several tools available, we have come to the conclusion that Easynote is one of the best alternatives to Monday.com, especially when it comes to product management.
All the key elements that we listed above can also be implemented through Easynote.
Easynote is a 5-in-1 tool that lets you collaborate, manage tasks, organize and plan projects and follow through with all important goals, timelines, and tasks. Sounds amazing, right?
Its Ultimate Dashboard is one of the best dashboards out there since it gives you an overview of all your projects and timelines- in one place.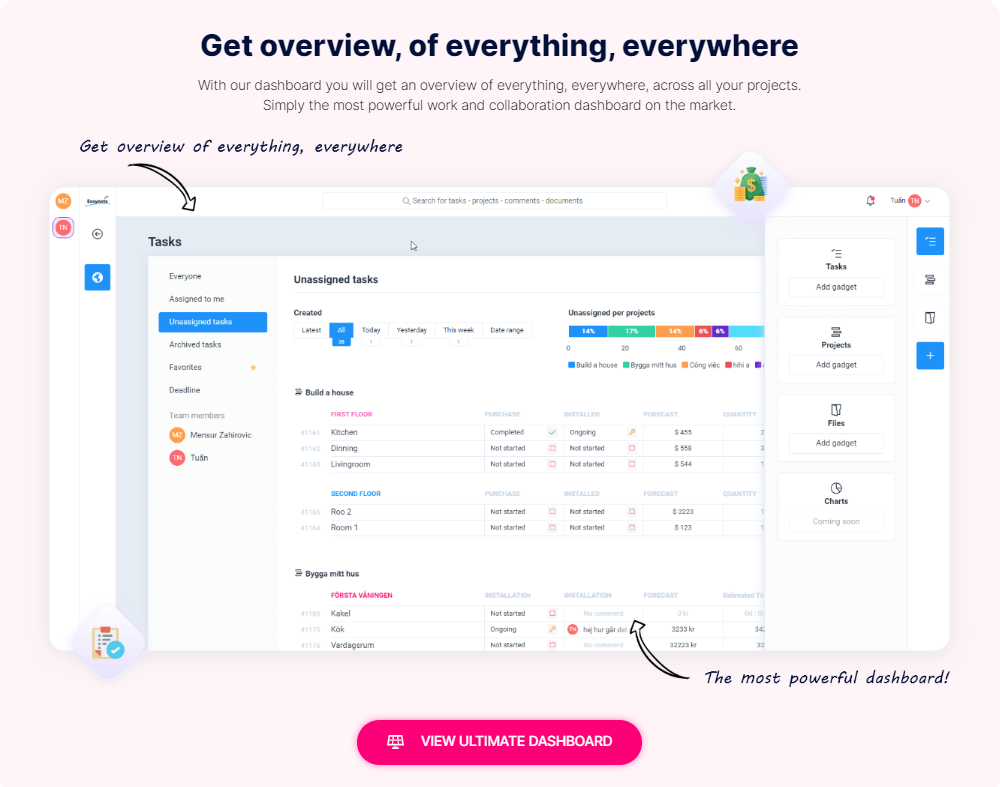 Product management is done easily with Easynote since you can:
collaborate easily,
plan your product development process,
customize templates,
set deadlines,
use integrations with the app,
and use many other cool features to streamline your workflow.
Easynote is a good Monday.com alternative in case you are looking for one. It also integrated many other useful apps like Calendars, Zoom, Google Meets, etc., so it does not need other external apps for communication or task management since it offers all of them by itself.
Easynote's simple and user-friendly interface makes it easy to start using it even today. Visit this website and have a look at all the unique and cool features that can help you with product management.
Conclusion
Product management Monday.com feature is a useful feature for everyone who works in product management. It can help you develop a successful product. Without tools like Monday.com or Easynote, we would not be able to communicate and organize as efficiently. They let us easily conduct market research, collaborate and communicate, and track product progress.
All these things are very useful for product management and they let you simplify the whole process.
Using these apps and the mentioned tips and tricks will help you be very successful in your product management journey.