ClickUp vs Wrike is a battle of two very prominent project management tools which both serve its purpose, but which one is better for you? In order to answer that question, we have to compare these two tools, compare their similarities and differences and ultimately look at all their special features.
Front Summary
Both tools offer some great project management features and we are sure that you will like both of them for several reasons.
If you are someone who loves a lot of features available in your project management tool, and you are tech savvy, ClickUp will probably be your choice.
If you are more into the creative side and you prefer pre-built platforms for creatives and marketers, Wrike could be your choice.
In case you need more, and you want both ease of use and a lot of useful features, you can consider Easynote.
Now, lets compare ClickUp vs Wrike features:
| | |
| --- | --- |
| | |
| Budget Management | Calendar Management |
| Calendar Management | Workflow Management |
| Client Portal | To-Do List |
| Collaboration Tools | Time Tracking |
| Commenting/Notes | Task Board View |
| Cost-to-Completion Tracking | Spreadsheet View |
| Customizable Templates | Search/Filter |
| Document Management | Reporting/Analytics |
| File Sharing | Recurring Tasks |
| Gantt/Timeline View | Prioritization |
| Idea Management | Percent-Complete Tracking |
| Issue Management | Mobile Access |
| Kanban Board | Gantt/Timeline View |
| Milestone Tracking | Drag & Drop |
| Multiple Projects | Deadline Management |
| Percent-Complete Tracking | Create Subtasks |
| Portfolio Management | Commenting/Notes |
| Prioritization | Collaboration Tools |
| Project Planning/Scheduling | |
As seen from this comparison, there are many useful features that both these tools offer. However, there are also many similarities that make both tools an excellent choice if you need a good project management tool.
So, let's observe both similarities and differences and see if we can help you decide which tool is better for you.
ClickUp vs Wrike- Similarities:
After comparing ClickUp to Wrike, you have seen that they offer some similarities when it comes to features like collaboration tools, commenting, and prioritization for example. These features are what anyone who is involved in task or project management needs to have. Also, there are other similarities between ClickUp and Wrike, and they can be found in:
Third-party integrations
Advanced security
In-depth reporting
Time tracking
Free trial
Free plan
Gantt charts
So, if this is all you need for your work or time management, both tools will satisfy your needs. But, if you need more, we need to examine other features these tools offer so we can see which one could be your choice.
ClickUp vs Wrike- Differences
There are many differences between ClickUp and Wrike and they mostly include the way both these tools approach the same problems and needs.
Pricing
ClickUp pricing
ClickUp offers free plans that offer many options which will help you navigate through your workweek and task management.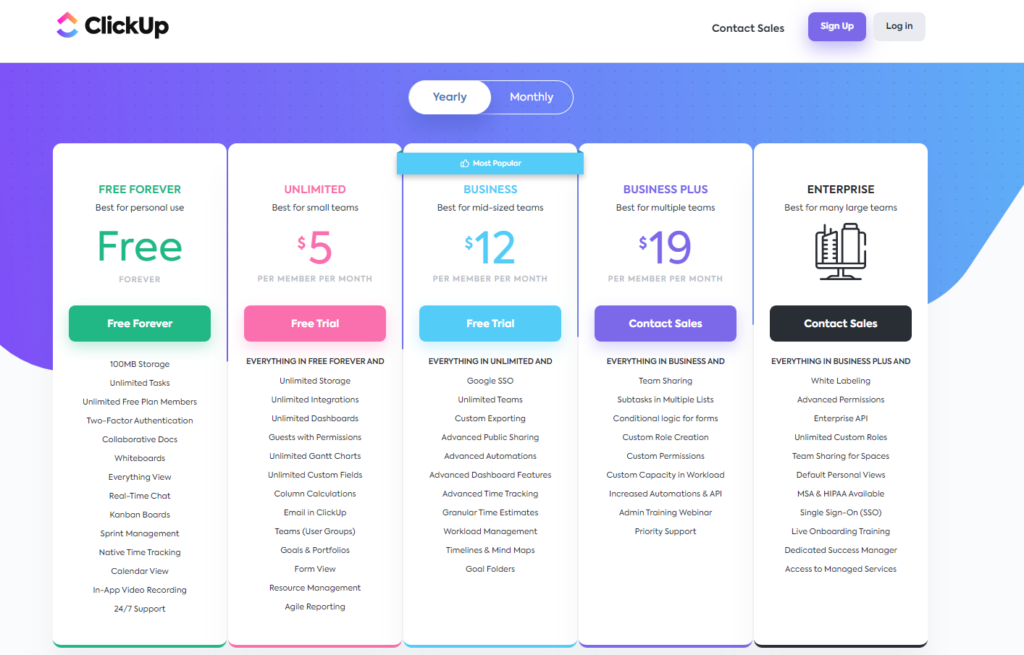 These free features include:
Unlimited Tasks
100MB Storage
Two-Factor Authentication
Collaborative Docs
Unlimited Free Plan Members
Everything View
Whiteboards
Sprint Management
Real-Time Chat
Kanban Boards, and more.
Wrike pricing
Wrike also offers free and paid plans. Wrike's free plan has more limitations than ClickUp's:
The free plan offers:
Table view
Board view
Project and task management
Web, desktop, and mobile apps
ClickUp's free plan allows unlimited users, while Wrike only lets 5 users on its free plan.
Collaboration
Collaboration is an important feature of all project management tools and it is an important part of every business.
Without proper collaboration and communication, it is hard to have an organized team that will be productive and deliver a quality product.
So let's examine how ClickUp and Wrike compare when it comes to collaboration.
ClickUp Collaboration
ClickUp offers users an amazing collaboration system. It allows users to observe what other coworkers are doing and how much progress they are making. Your team members are able to comment and share documents together in real-time or attend meetings together.
Quick and easy communication is another thing Clickup offers, so you can easily talk to your team members live and discuss important topics. This tool is very useful for those who work remotely and who are not always present in the office.
Furthermore, ClickUp offers other useful and cool things like:
screenshot editing,
comments,
sharing,
discussions,
quoting,
emojis, and much more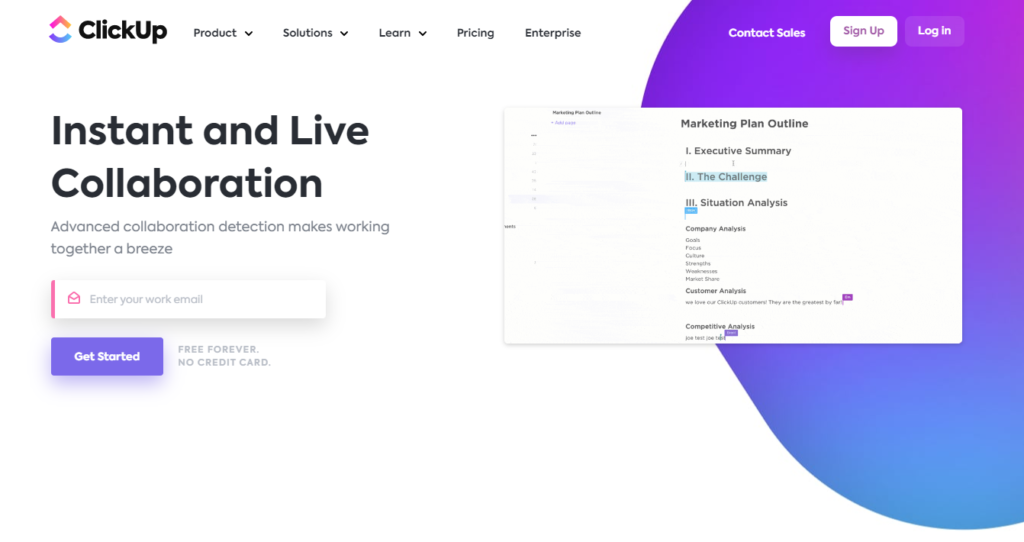 Collaboration Wrike
If you want to keep your projects organized, Wrike is a great solution for you.
Wrike offers many useful features for project management and collaboration, such as:
reporting,
workflow summaries,
task updates,
task schedule filters, and much more.
Wrike also offers ready-to-use templates which make everyone's job easier because your team members do not need to create new templates from scratch.
It encourages effective collaboration and teamwork. Lesser tools can be a benefit here because you will not get lost between all the options and your team can collaborate more easily.
Project Management
Both ClickUp and Wrike offer task management which will help your team stay organized during project management and project realization. Your team members can easily collaborate, prioritize tasks, follow deadlines, and much more with both tools.
Both tools offer automation and integrations, so they both will deliver good results for you and your team. These videos will help you better understand how both these tools work:
Best budget dashboards for your business?
Integrations ClickUp vs Wrike
When it comes to integrations, both tools integrate with many useful apps that you probably use on a day-to-day basis.
These tools include:
Google Calendar,
Google Drive,
Slack,
Outlook,
Microsoft Teams,
Zoom, and more.
The difference, however, lies in time tracking and payroll integrations, which ClickUp offers but Wrike does not. So, if these are important to your business, ClickUp will be your option.
Ease of use ClickUp vs Wrike
After reading several reviews, and looking at both interfaces, we have come to the conclusion that Wrike has a more user-friendly interface than ClickUp. But, both will take some time to understand and get used to. We do not suggest them if you have people on your team who are not very familiar with technology.
If you want a tool with a user-friendly interface, give Easynote a try.
Easynote as an alternative to ClickUp and Wrike
As someone who is in search of a good project management tool, you probably know that you need a tool that is both useful with its features and easy to use. There are many options that are available on the market now, and those options all have their positive and negative sides.
Easynote is a 6-in-1 tool that is one of the best alternatives to both ClickUp and Wrike. After using both tools, we have come to the conclusion that their interface is not as user-friendly as most users would like. That is why, Easynote offers both ease of use and many features that you may love for your everyday task management.
Easynote Collaboration
Collaboration is easily done with Easynote. It is one of the best tools for collaboration and communication out there. How is it done?
The Ultimate Dashboard offers the best overview of all your tasks, projects, and timelines- in one view.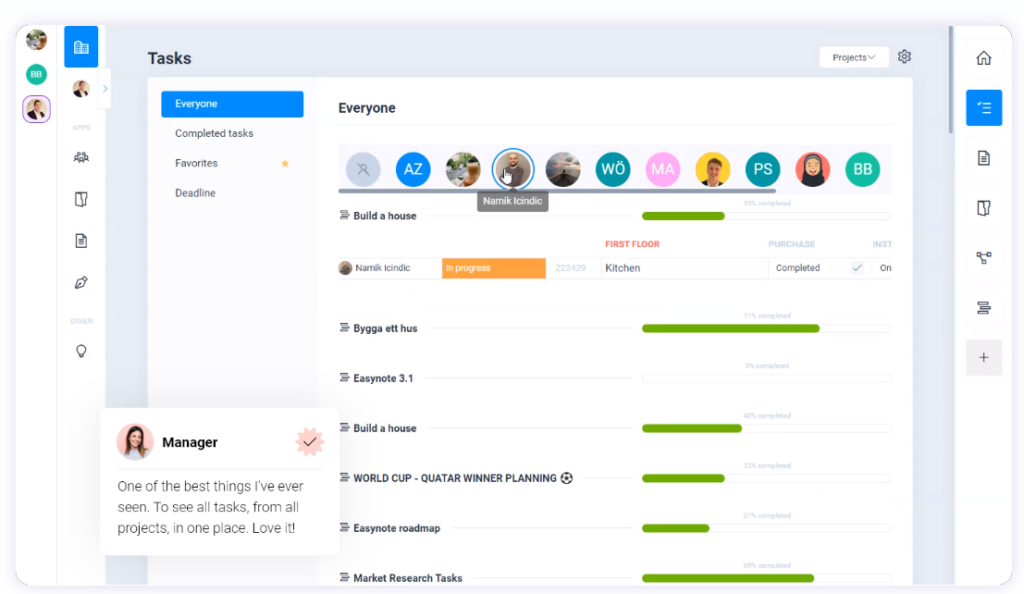 You can easily tag your team members to any task and they will get notified of the tasks they need to get involved in. Also, you can communicate with your team members easily and watch their progress.
Watching their progress can be very motivating and boost productivity.
You can also collaborate with meetings that are easily accessible through your schedules. You can go to your schedule view and see all available dates when you can conduct your meetings.
Your team members can see your available dates which they can book and have a meeting with you.
This is extremely useful for people and teams who work remotely or in different time zones.
Project management with Easynote
Easynote lets you stay on top of your tasks by organizing your work with the help of many widgets. You can organize your tasks, budgets, and timelines easily with Easynote tools.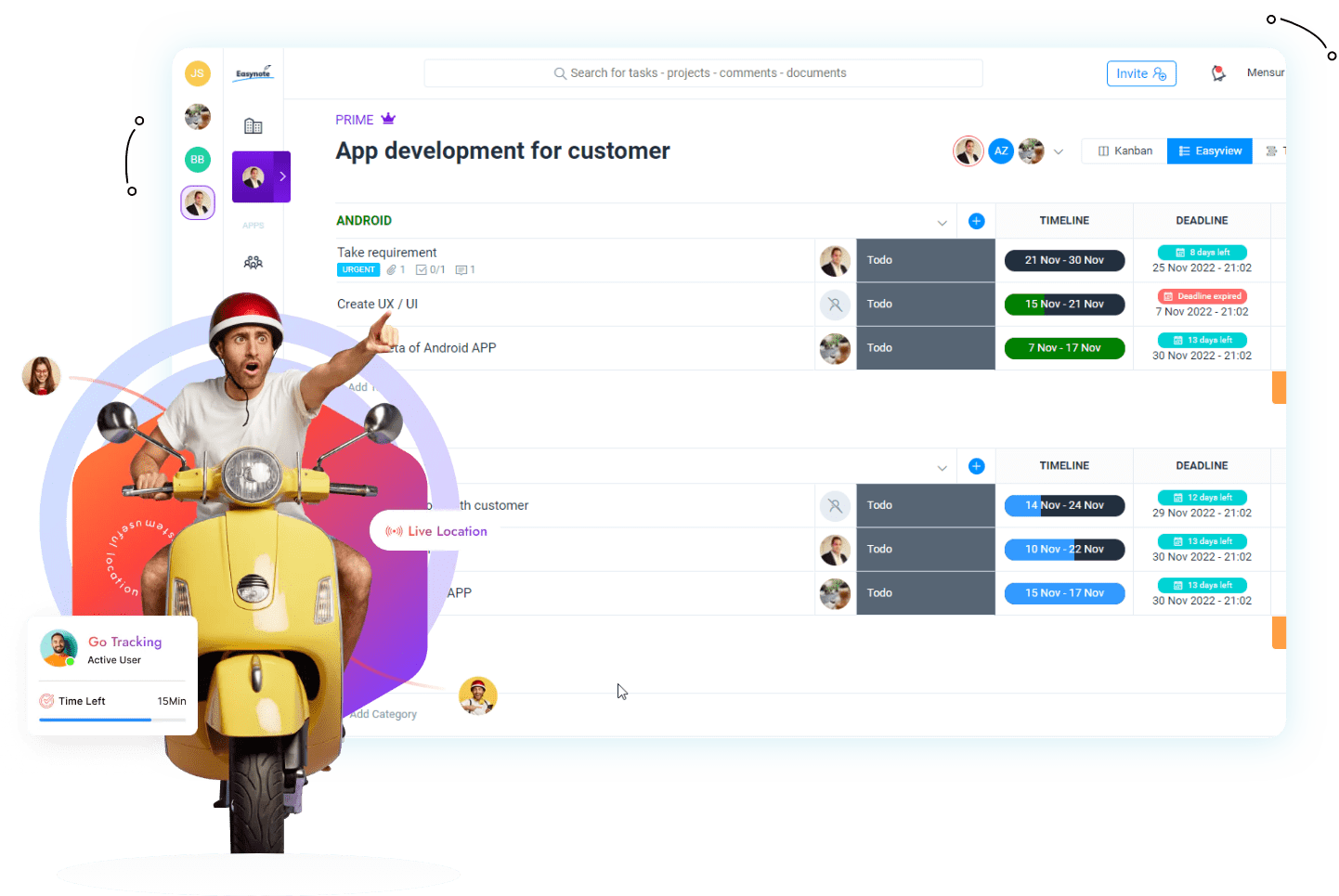 Its user-friendly and clean interface will let you start using it in a few moments. There is no need to learn how to use it as its interface is pretty logical. No matter which industry you work in, you will always be able to organize your teams and projects.
Instead of using Excel for all your data and important information, you can use many of our widgets that will facilitate your workflow.

Integrations
Easynote offers many integrations with tools that are usually used by most businesses. Easynote will help you sync your Google or Outlook calendar which will make it easy to observe your private and professional plans.
How to sync Outlook and Google calendars?
Also, there are many other tools that are useful for project management such as Slack, Skype, Teams, etc.
Easynote Pricing
Easynote offers plans starting at 29$ per user. Also, there is an option of 59$ for 5 users. This is perfect for both small and big businesses that want to use a user-friendly and helpful tool.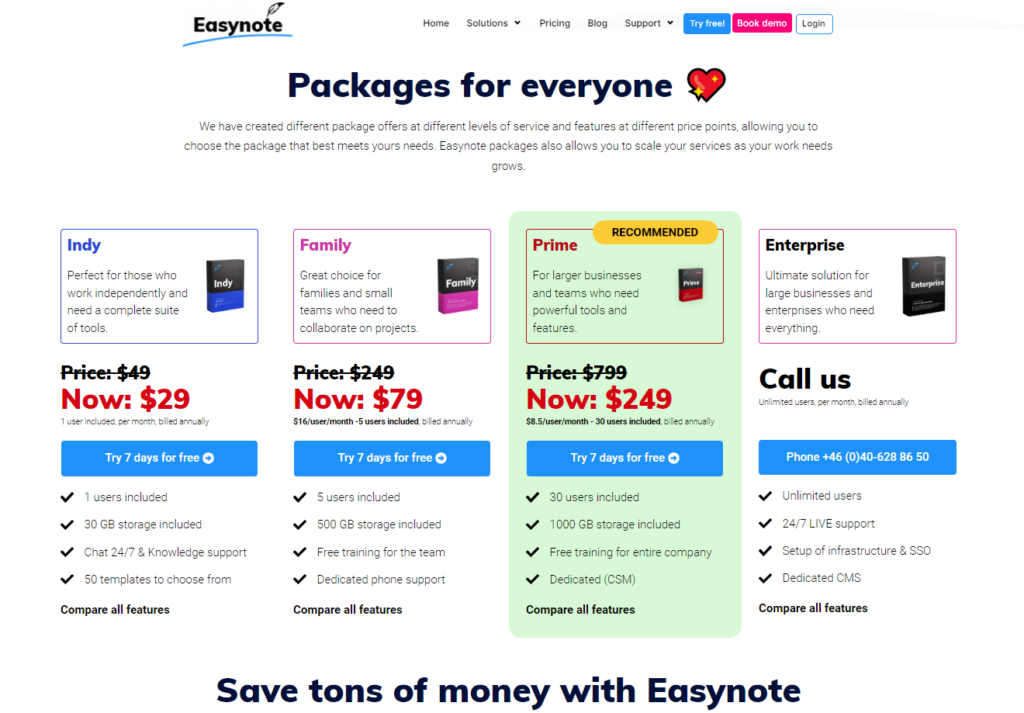 Additionally, there is a free trial available that you can use for 7 days. This will help you determine how well Easynote performs and if it fits your needs.
Ease of use- Easynote
As already said, Easynote offers one of the best user-friendly interfaces out there. Everything is simple and EASY. 😊
You can get a clear overview of everything you need to do for that day/ week/ month in just one click. You can store all your documents, meetings, and projects in a few seconds and share them with your team.
Want to work Agile or Waterfall way? No problem, Easynote lets you customize your dashboards and plans so they suit your eye and way of work.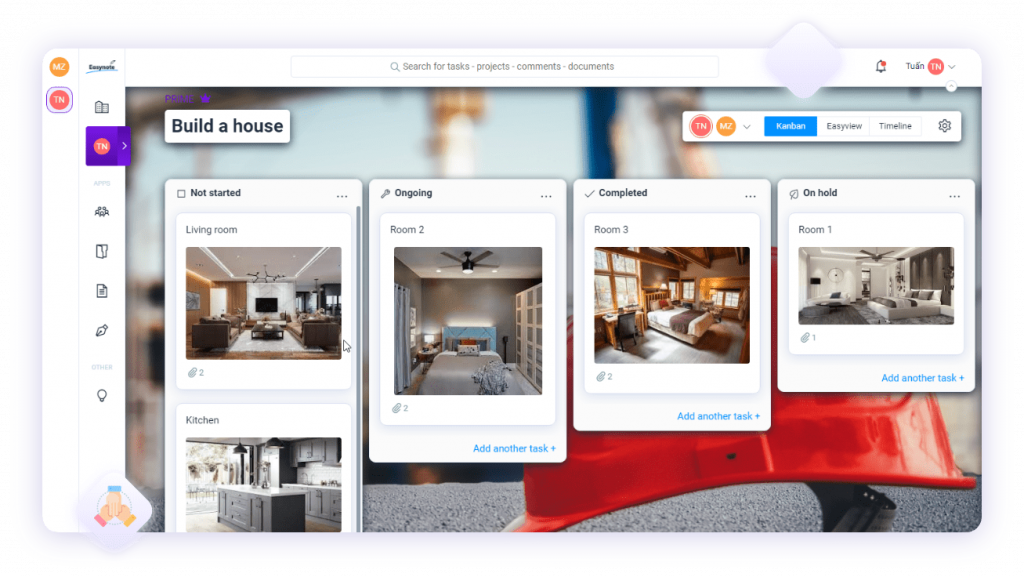 Conclusion
In case you were wondering which tool to use ClickUp or Wrike, we hope that this article has helped you decide.
If you are a big company that needs more complicated tools, ClickUp is the right tool for you. If you are also a big company that needs a little bit of an easier interface then Wrike is for you.
However, if you want both: ease of use and good project management features, then we suggest Easynote. As technology changes, we are assured that your ways of work are changing as well and that project management tools are extremely helpful for your team.
However, choosing the right one can be quite difficult because there are so many options out there. Do not let project management tools be an obstacle but rather let them help you with streamlining your workflow every day.
From collaboration to pricing, project management tools vary in the most basic features but do not need to be too different. If a tool has something you need, for example, some basic features, then you will be satisfied with many other alternatives.
Whichever tool you decide to choose, we are sure you will be satisfied with it and use it to lead a more organized, stress-relieved work and life.