ClickUp vs Monday– a battle of two amazing project management tools. In case you were wondering which tool is better, keep reading and find out which tool offers the best features for you or your team.
As more and more companies change their way of work, and as more employees choose hybrid or remote work, it is important for businesses to have the best project and time management tools. Whether you are an employee or a business owner, it is almost impossible to work properly without good tools.
Back in the day, a good computer or a good notebook was used to help you with some daily tasks and were considered good and helpful tools.
However, as technology advances, project management tools offer the best support in today's work life. They help you manage your time, and your projects, and help you streamline your workweek. So, as there are many project management tools out there, we can easily get lost in between these tools and decide which one is the best.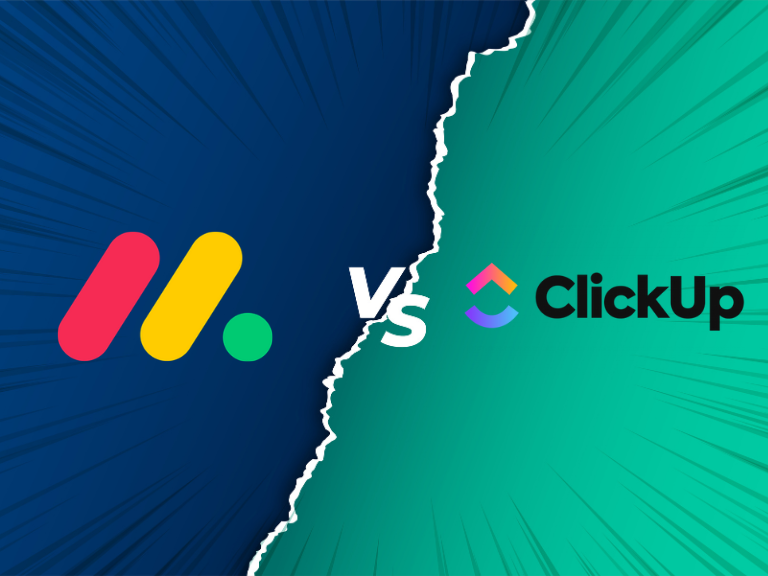 After reviewing both ClickUp and Monday, we have come to the conclusion that both tools are excellent for project management. However, there are some differences that may be critical for you when using good project management.
Front Summary
As there are many users that have used both ClickUp and Monday.com and after collecting several ratings and opinions, we have found that users prefer Monday.com's ease of use and how it meets the needs of their business.
But, both tools come with some unique strong features which will help you, so ClickUp is also great for the audience that wants a detailed approach to project management that is far less expensive.
In case you want the best alternative for both of these tools, we think that Easynote will be the right choice for you.
ClickUp vs Monday: Similarities
Let us have a look at some of the similarities these two powerful project management tools offer.
| | |
| --- | --- |
| | |
| Kanban board | Kanban board |
| Live chat | Live chat |
| Timeline | Timeline |
| Gantt charts | Gantt charts |
| List | List |
| Calendar | Calendar |
| Spreadsheet view | Long-term planning |
| Workload planning | Workload planning |
| Multiple project management | Multiple project management |
| Dependency management | Dependency management |
| Set user permissions | Set user permissions |
| File storage | File storage |
| Time-tracking | Time-tracking |
| Built-in integrations | Built-in integrations |
| Reporting features | Reporting features |
| Free plan | Free plan |
| Web app | Web app |
| Windows | Windows |
| MacOS | MacOS |
| Android | Android |
| iOS | iOS |
| Support | Support |
| Ticket-based support | Ticket-based support |
| Tutorials | Tutorials |
| Knowledgebase | Knowledgebase |
| Forum | Forum |
| | Free trial |
As seen from the table, there are many similarities between these two tools which can be useful for anyone working in project management and businesses that need to plan or track their tasks, time, and progress.
The similarities include but are not limited to the following features:
Kanban board
Live chat
Timeline
Gantt charts
List
Calendar
Workload planning
Multiple project management
Dependency management
Set user permissions
File storage
Time-tracking
Built-in integrations
Reporting features
Free plan
Web app
Windows
MacOS
Android
iOS
Support
Ticket-based support
Tutorials
Knowledgebase
Forum
However, there are also some differences that make these two tools different from each other and which may make them more suitable for different audiences.
So, let's have a look at these differences and compare the features these tools possess.
ClickUp vs Monday- Differences
As we have seen, both ClickUp and Monday.com include some features that are different and unique for each tool. These differences are usually what makes you decide which tool is a better option for you as a user.
Pricing
There are differences in pricing when it comes to ClickUp vs Monday. Both offer free forever options that include limited features and they both charge per member or seat.
ClickUp offers free and paid plans. The free plan is great as it allows users to create 100 lists per space. Plans start at 5$ the lowest and go up as seen from the photo below.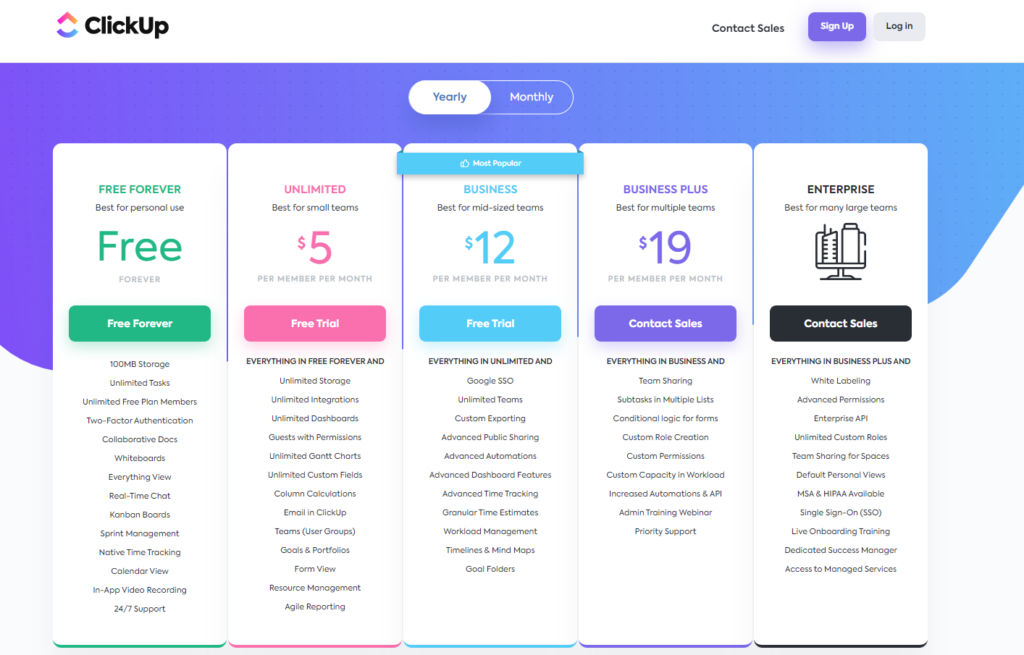 Monday.com offers free and paid plans as well, but the free plan offers less than ClickUp's since it only lets you create three boards.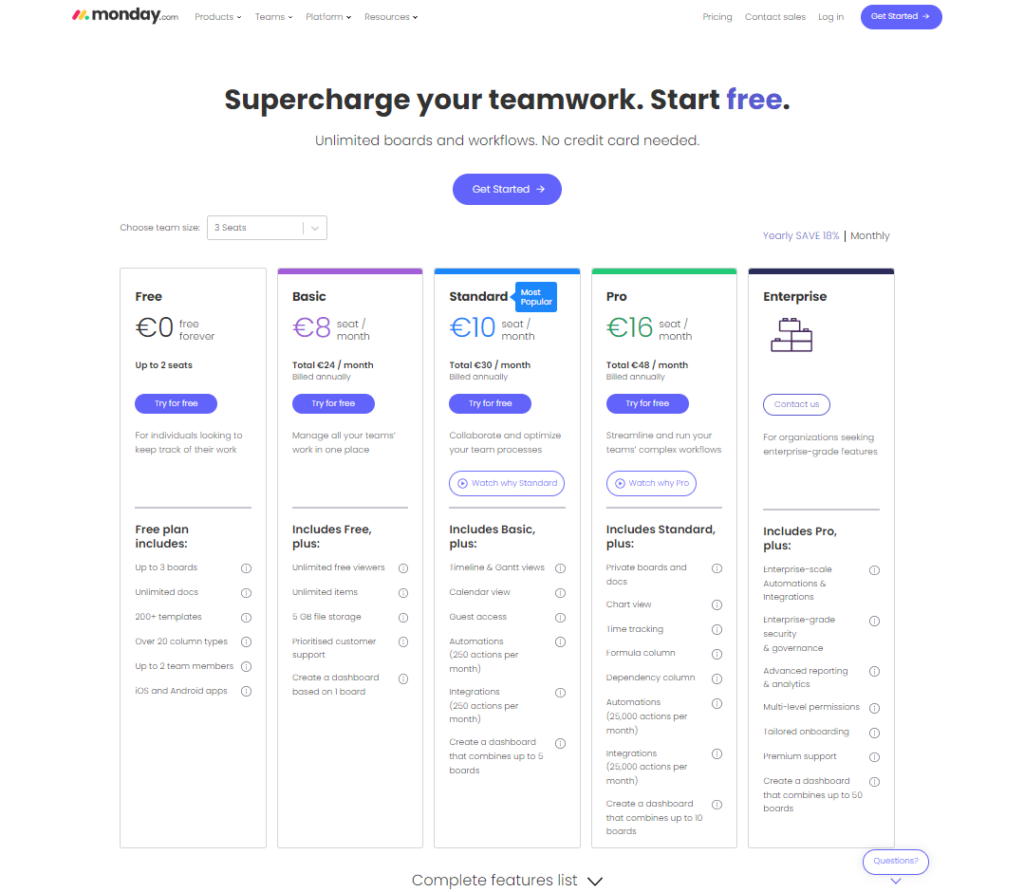 Integrations
Both tools offer some amazing integrations which can help you streamline your work and help you with your complex tasks.
ClickUp integrates with tools such as:
Slack
Loom
Zoom
Microsoft Teams
Discord
Google Hangouts Chat
Google Calendar
Outlook Calendar Sync
Apple Calendar Sync
Calendly
Youtube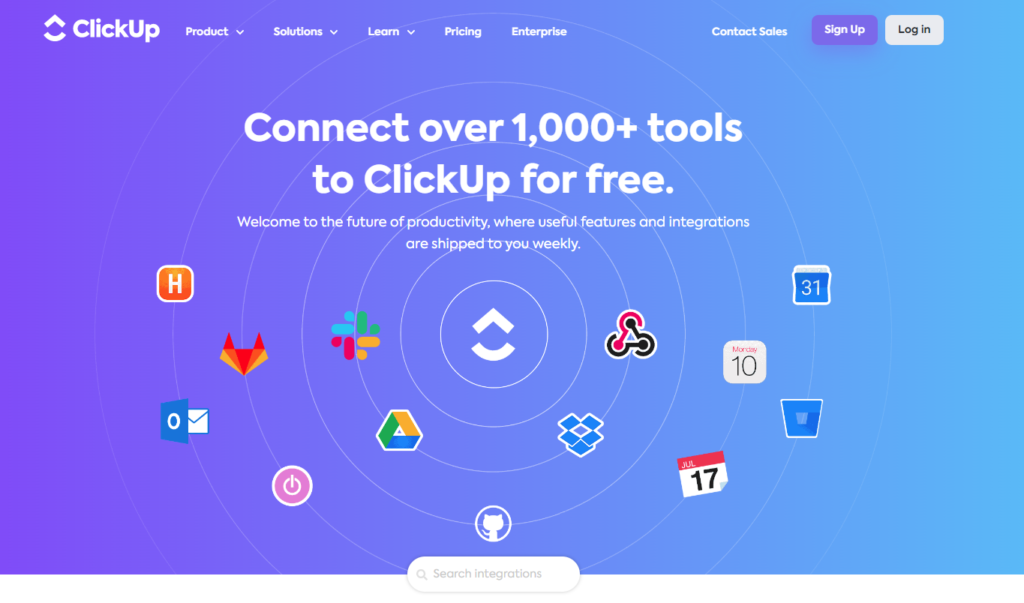 Integrations for Monday.com include many useful features as well and they might be needed by bigger companies. These features include apps like:
Slack
Zoom
Discord
Microsoft Teams
Twilio
Google Drive
Dropbox
OneDrive
Adobe Creative Cloud
Pandadoc
Google Calendar
Hubspot
Salesforce
Google Data
Pipedrive
Copper
Zendesk
Mailchimp
Facebook Ads
Aircall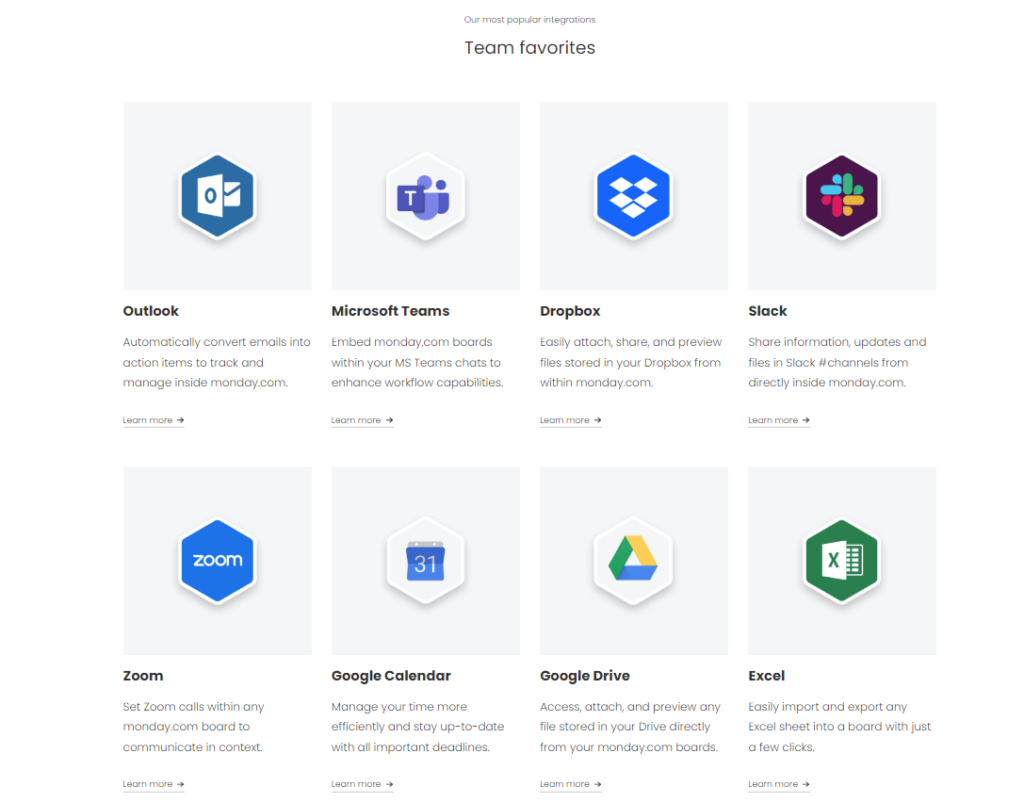 While both tools integrate with some of the most popular apps out there, there is a difference in approach.
ClickUp is great if you need time-tracking integrations or design tools like Figma or Miro.
On the other hand, Monday.com integrates with apps that are more suitable for marketing, payments, and sales.
Ease of use
Many users have reported that getting used to ClickUp requires more time than Monday.com. ClickUp's interface requires more time to get a hold of.
However, both tools let users manage several projects and teams. This is great for those that work on multiple projects such as freelancers.
Additionally, Monday.com asks you to provide some information, such as which industry you work in, so it can offer useful tools that are targeted at an audience like yourself.
ClickUp dashboard offers some progress charts that are very useful for tracking your project and team progress.
Also, you can decide if your tasks are Completed or Incomplete and sort them accordingly, which will help anyone who wants to know which tasks to prioritize.
Both tools offer excellent template options that are facilitated by these tools. You can simply create any template you want and add custom details to it.
After reviewing these two tools, we have come to the conclusion that both are very similar. However, if you do not find either of these tools useful, we will present to you the best alternative- Easynote.
Easynote
When searching for alternatives, we are sure you will come across so many tools that are similar to ClickUp or Monday.
However, there are tools that offer similar features but are unique in their own way and a tool like that is Easynote.
Easynote is a 5-in-1 tool that offers loads of useful features and widgets that will help anyone who needs a good project management tool.
There are several features that you will love and find extremely useful.
Easynote Dashboards
The Ultimate Dashboard is Easynote's useful feature that allows you to have a clear overview of everything that is important- from timelines to tasks. You will be able to navigate through all your projects and find all the useful things that need to be examined.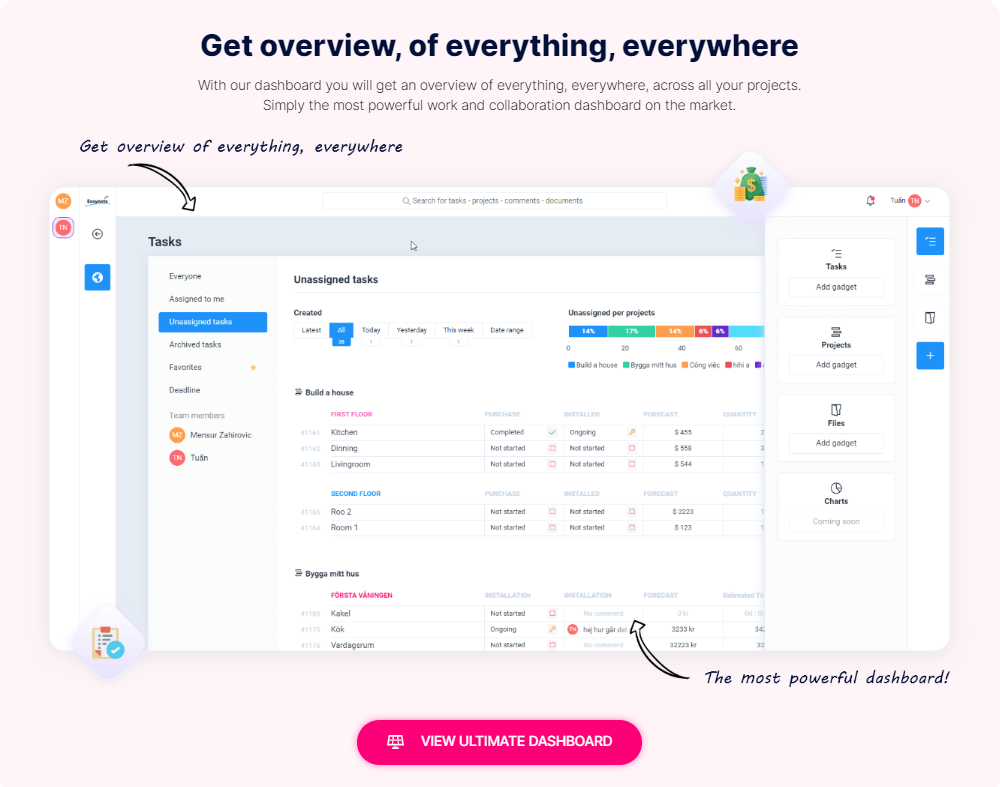 You can create dashboards and customize them to your liking.
Scheduling & Ease of Use
Easynote's user-friendly interface will help you get used to it in a few minutes and you will quickly be set to go. Everything is organized in a way that leaves no room for confusion.
Scheduling is done through the schedules feature which lets you sync Google or Outlook calendars. This way, you can connect your personal and professional schedules and know at which time you need to do which task or meeting.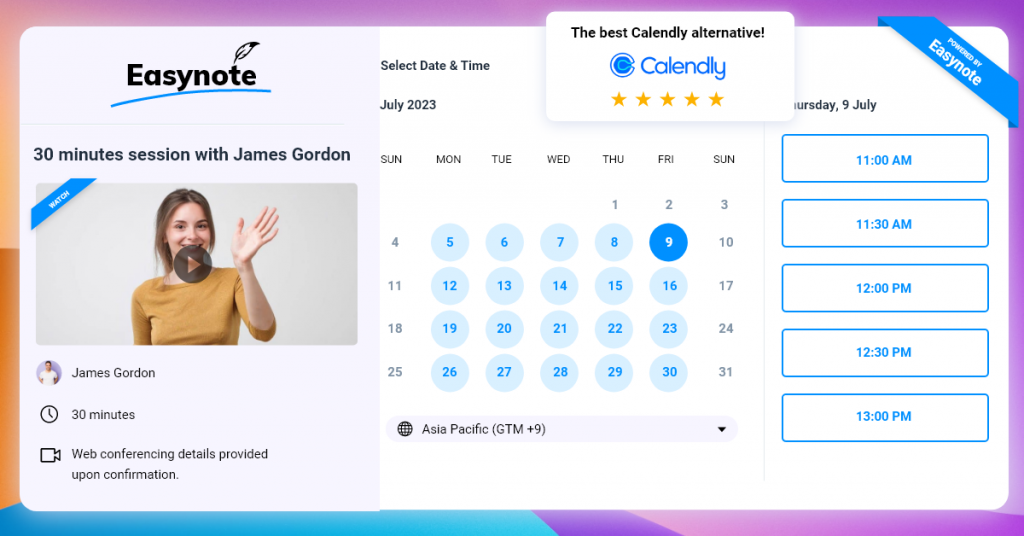 Also, if you want your clients to contact you, you can set up your public scheduling page where they will see your availability. Also, you can add a personal video that will introduce you to your possible clients. This is great for freelancers or remote workers who cannot meet face-to-face with interviewers or clients.
Pricing
When it comes to pricing, Easynote is definitely the best choice since it offers plans which are only 79$ for 5 users. Also, you get a free trial for 7 days and everything is available- without any limits.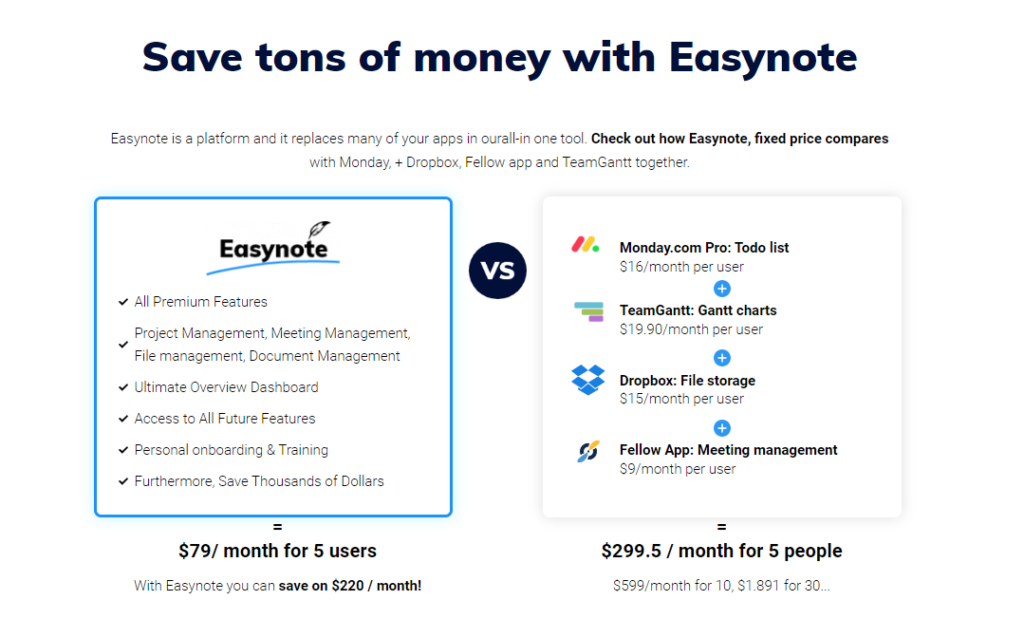 Conclusion
All in all, ClickUp vs Monday is a tough battle between project management tools, so ultimately, you will be the one who decides which tool is better for you.
As already mentioned, Monday.com is perfect for users who prefer an easy approach to their business with many tools, integrations, and features that will let you have all the possible help you can get from a project management tool.
If you prefer a detailed approach and find it nice to have many options when it comes to graphs and tracking, ClickUp might be your option.
Also, if you are not satisfied with these two tools, Easynote will be your best alternative. As seen from the examples, it offers a user-friendly interface with many options, integrations, and features that will help you navigate through your workweek without any problems.
All these tools will help you, it is up to you to decide which one is the best and which one you find fit for your needs.
Technology Advances
As technology changes and as our work becomes more complicated, it is always nice to have a few handy tools up our sleeves that will facilitate all your tasks. Why not be organized and help yourself facilitate your tasks? Staying organized will affect you positively and you will be more productive and focused.
It is the same with your teams. If your teams use a good management tool, it is more likely that they will be motivated and more organized which is always a positive characteristic. These tools promote reliability and accountability which is useful for all teams and businesses.
You will know exactly who is assigned to what and you can even track the progress of the other team members. That can also motivate you or your teams.
We hope that this article was helpful and we wish you luck with any tool you choose.