Are you looking for a new project management tool? Well, you have probably come across ClickUp vs Trello and you are not sure which one to look into.
We are here to help you decide. Which one of these project management tools is the best for you? Before we decide which one is better, let's look at their similarities and differences and see if there are some good alternatives to them as well.
Front Summary
If you're someone who loves a detailed project management tool and loves a tool that is complex with many different features, you will definitely choose ClickUp.
If you're someone who likes a more simple approach, you will choose Trello.
In case you like to blend both of these things, your choice will probably be Easynote.
With the advancement of technology, we are bombarded with new tools coming out every day and we're not even sure which one is the best for us.
With this review of the mentioned tools, we will help you decide which one is for you and which one will help you manage projects and productivity better. Now let's look at some of the features these tools offer.
Table Of Comparison
| | |
| --- | --- |
| | |
| Access Controls/Permissions | Time Tracking |
| Agile Methodologies | Collaboration |
| Alerts/Notifications | Gantt Charts |
| Billing & Invoicing | Percent-Complete Tracking |
| Budget Management | Task Scheduling |
| Calendar Management | Task Planning |
| Client Portal | Task Tracking |
| Collaboration Tools | Progress Tracking |
| Commenting/Notes | Recurring Tasks |
| Cost-to-Completion Tracking | |
| Customizable Templates | |
| Document Management | |
| File Sharing | |
| Gantt/Timeline View | |
| Idea Management | |
| Issue Management | |
| Kanban Board | |
| Milestone Tracking | |
| Multiple Projects | |
| Percent-Complete Tracking | |
| Portfolio Management | |
| Prioritization | |
| Project Planning/Scheduling | |
| Real-time Updates | |
| Reporting/Project Tracking | |
| Resource Management | |
| Status Tracking | |
| Task Management | |
| Task Progress Tracking | |
| Task Scheduling | |
| Third-Party Integrations | |
| Time & Expense Tracking | |
| Traditional Methodologies | |
| Workflow Management | |
As seen from the table above, both these tools offer some basic project and task management tools, but ClickUp definitely exceeds the number of needed features within one tool.
So, if you are someone who does not want all these features, and is satisfied with the simple, basic time and task management features, your choice will be Trello.
If you want more complex things and your team members are tech-savvy, you will probably choose ClickUp.
Now, let's dive into the similarities and differences between these two tools and see how they both fulfill certain needs you might have.
ClickUp vs Trello- Similarities
There are several features and similarities that both ClickUp and Trello offer.
Both are project and task management tools that will let you plan, organize and track your projects and tasks between teams. They will help you facilitate your workflow by setting deadlines, assigning tasks, and collaborating.
Both tools offer useful features like:
Time Tracking
Collaboration
Task Scheduling
Task Planning
Task Tracking
Progress Tracking
With these features, you can easily plan and track your projects across different teams and stages. However, there are many differences between ClickUp and Trello that go more beneath the surface level. So, let us examine them and see which tool fits you better.
ClickUp vs Trello- Differences
Although there are some similarities, differences are what make Trello and ClickUp different tools that may not fit everyone's liking. Let's see what makes them different and how they perform when it comes to certain features.
Pricing
When it comes to pricing, both tools offer free plans that include several useful features.
Trello offers a free plan that lets users have access to:
Up to 10 boards per Workspace
Unlimited cards
Unlimited storage (10MB/file)
Unlimited Power-Ups per board
Custom backgrounds & stickers
250 Workspace command runs per month
Assignee and due dates
Unlimited activity log
iOS and Android mobile apps
2-factor authentication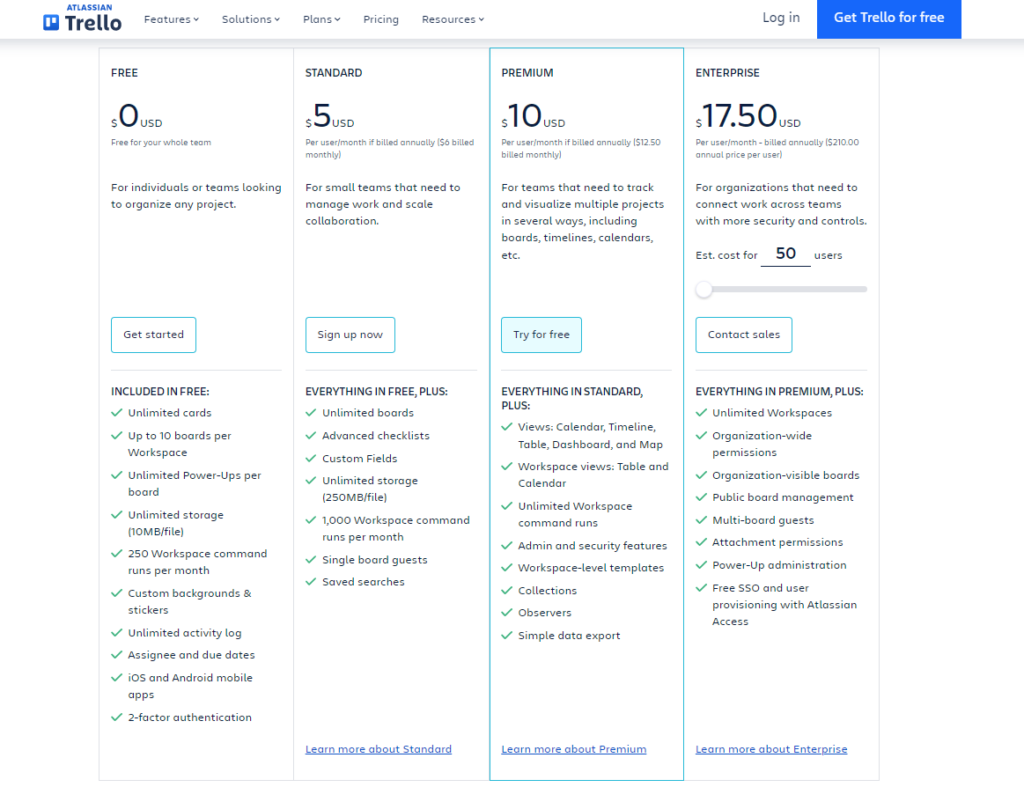 There are also Standard, Premium, and Enterprise plans which are extremely helpful for big companies and teams.
ClickUp's free forever plan offers:
100MB Storage
Two-Factor Authentication
Unlimited Tasks
Unlimited Free Plan Members
Whiteboards
Collaborative Docs
Kanban Boards
Everything View
Sprint Management
Native Time Tracking
Real-Time Chat
Calendar View
In-App Video Recording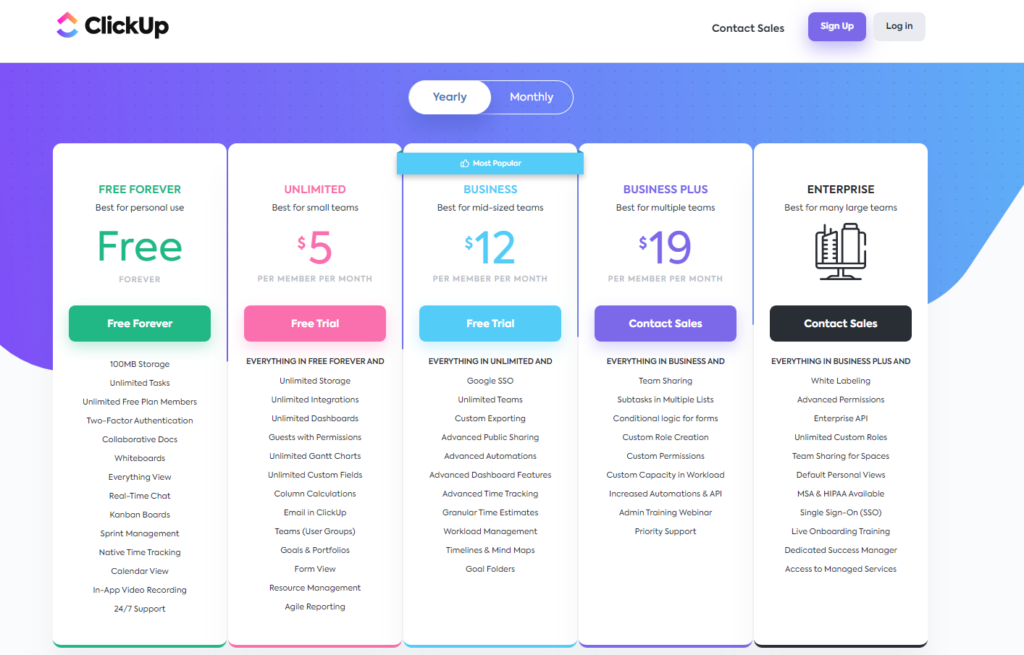 ClickUp also offers Unlimited, Business, Business Plus, and Enterprise plans which are also extremely useful for larger companies and teams.
Meetings
As we know, meetings are an important part of any tool because they facilitate users to set up and hold meetings, especially with those that work remotely.
Meetings with Trello
Using Trello for meetings is perfect when you want to schedule them. Trello does not have an integrated meeting app or a feature that you can use to launch a meeting.
However, you can create a board specifically for your meetings. After that, you can use cards to create an agenda for each one of the meetings on your list.
Additionally, you can assign tasks to your colleagues during some of your meetings if you wish and add comments/ notes or action items to the cards.
In case you want to create meeting minutes, you can create a new card that will have the meeting's name, time, and date.
Also, you can use this card to add notes or important things that were discussed during the meeting. This will facilitate your meeting reports and help your team members who were not attending the meeting to easily access these important updates.
Meetings with ClickUp
Meetings can be easily set up with ClickUp. You can go to the Meeting template and add it to any of your boards. This section will have many different lists and options that you might find helpful for making and holding meetings with your teams.
The Notepad feature is useful for creating meeting minutes and any other notes or important updates you might want to write down during a meeting so you can be easily reminded of what had been said and decided.
ClickUp offers a chat view, which can be used for talking to your team outside any meeting for any questions or agendas.
Dashboards
The biggest difference between ClickUp and Trello is that they offer two different approaches to visual representations of your projects and tasks.
Trello offers dashboards and charts but only on its most expensive plans.
How to streamline your workweek using Trello?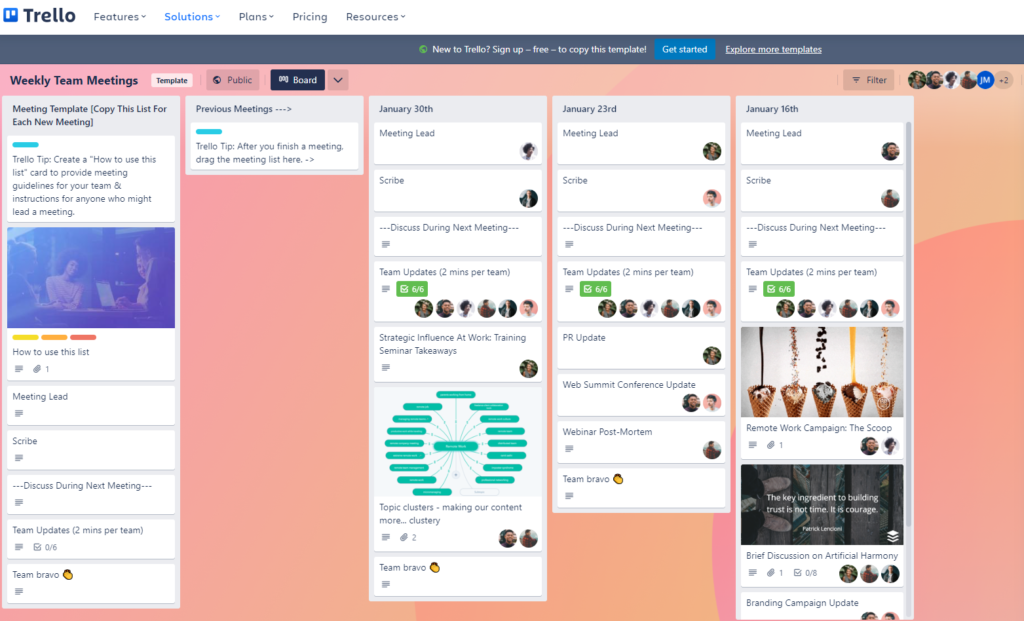 ClickUp offers dashboards, charts, and many widgets on free plans and all other plans offer custom charts and widgets.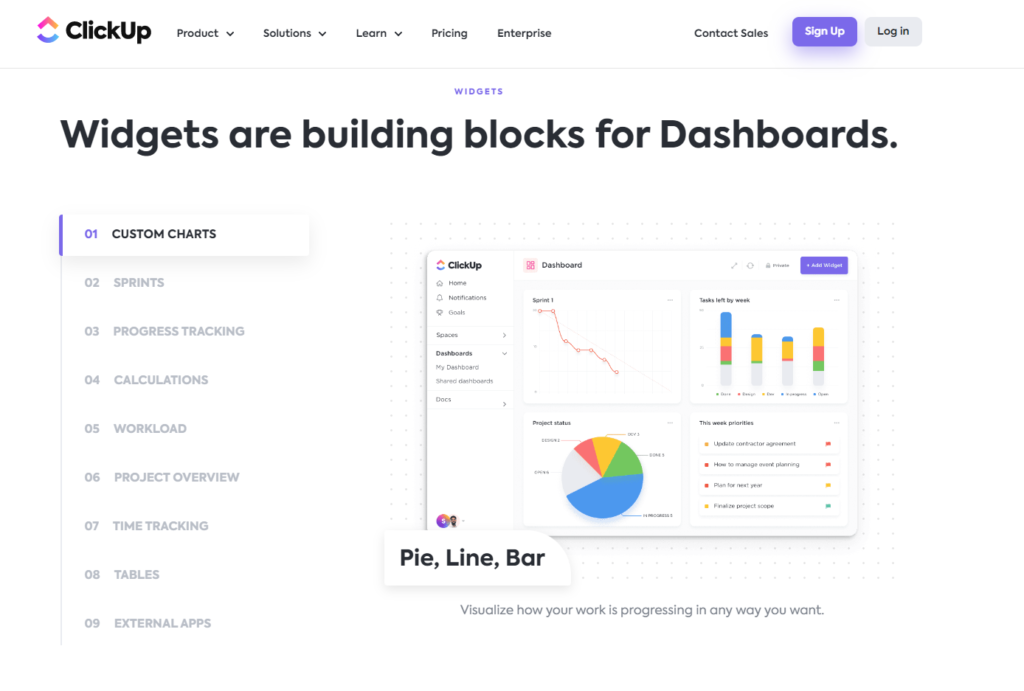 ClickUp offers more options than Trello even on its free plan, which can be useful for people who do not want to spend too much money on additional features.
Audience
Teams and businesses that love a basic and simple tool might find Trello much easier to get used to.
Those teams that need more complex widgets and more detailed tools, might find ClickUp much more appealing.
However, if you need both simplicity and useful features, you should look into Easynote.
Easynote as an alternative to ClickUp and Trello
Easynote is one of the fastest-growing tools on the market at the moment. There are many useful options it offers that will make it easier for you and your teams to track all your projects, tasks, and timelines- at once.
It offers both simplicity and a user-friendly interface as well as many useful features that you might like after trying it out.
Pricing Easynote
Easynote plans start at:
29$ per user or
59$ for 5 users.
This is very useful for both big and small businesses as it offers great value for money.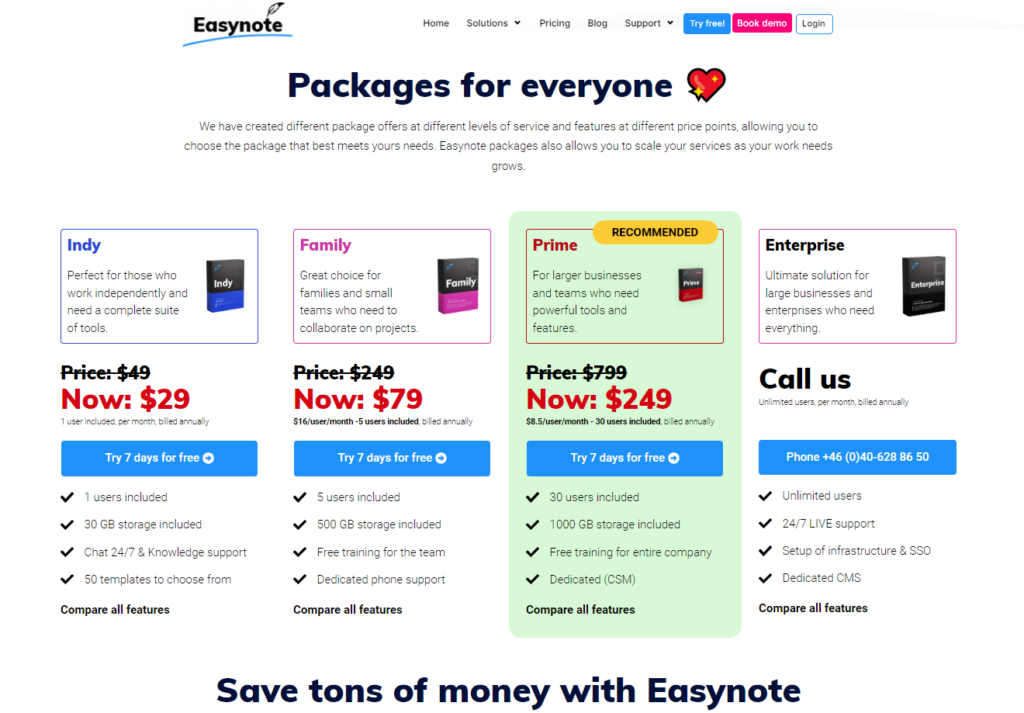 You can also use a free trial version for 7 days and see how Easynote performs and if you enjoy its widgets and features.
Meetings with Easynote
Easynote offers an amazing meeting system that can be useful for your team's everyday small meetings as well as bigger meetings that you hold monthly or yearly.
The system makes it easy to schedule your meetings and tag anyone who will attend it. This way, your team members will immediately get notified of the meeting you created and know when and where it will be held.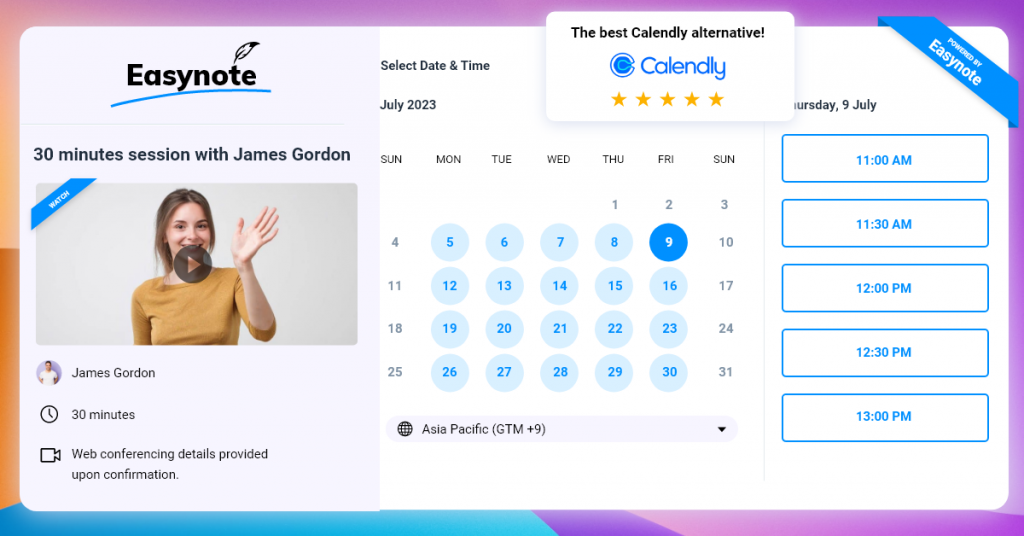 Using this system, you can easily create meeting minutes as well. Simply go to the meeting in your calendar and you will find a blank notepad that can be used for meeting minutes during or after one of your meetings.
Also, there are other useful features that will make your scheduling process easy. For example, you can create an introduction video which will be shown on your scheduling page and it will be easy for people to access it and see you even before they schedule a meeting for you.
This is useful for freelancers and others who might have many interviews with potential clients or businesses.
Easynote Dashboards
Easynote's Ultimate Dashboard is one of the best on the market. Why? Because it offers an overview of all your tasks and timelines across all your projects in just one overview.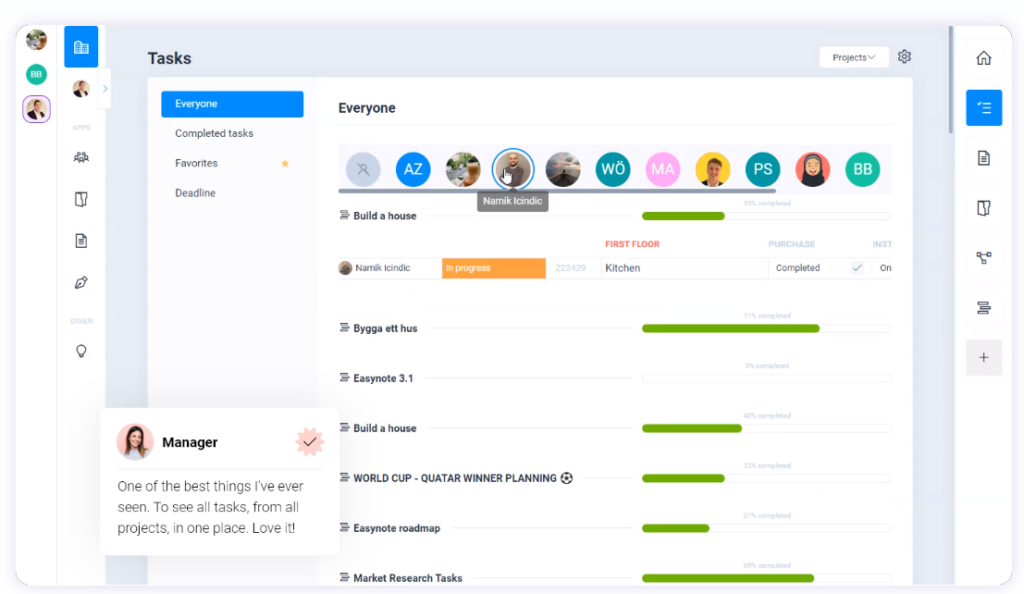 This will make it easy for you to see an overview of your days or weeks, and even months upfront and know when to expect all your important tasks, meetings or deadlines.
You can simply access many useful widgets from your dashboard and add anyone you wish to jin you on a task or a project. This boosts collaboration as well as productivity.
Conclusion
ClickUp vs Trello is a battle of two very popular tools.
There are many positive sides to both ClickUp and Trello, however one may be more useful for you than the other, it all depends on what you are searching for.
As already said, if your goal is to have an easy and simple tool that is good for basic tasks and projects, Trello will probably be your choice.
If you want to have a more complex tool that offers many more options, your choice will be ClickUp.
If you need a tool that offers both, you might want to take a look at Easynote.
All these tools will offer great help and navigation needed for your projects. However, you might find one or the other much more helpful depending on your own needs.
As technology advances and as we are constantly changing the way we work, we need to be even more organized and connected than before. This is mostly due to the changes in the ways we work. As most teams choose to work remotely, we need tools that will facilitate all your tasks and work-related issues.
We hope this article was helpful and that you will enjoy your next project management tool.