Monday vs Trello is a battle of two very popular project management tools. If you are somehow related to project management and you need to manage your daily tasks effectively, you have probably come across both Monday and Trello.
Chances are, you are wondering which tool is better for your needs and offers more. Well, that is why we are here 😊. This article will give you an overview of all positives and negatives of both tools and help you decide which tool fits you best.
Before we start, we need to see what both tools offer and how they compare to each other.
Front Summary
If you are someone who prefers a simpler way of managing your time and projects, and you prefer a visual representation of your tasks, Trello might be a better option.
However, if you want a more detailed tool that offers more features, your choice will probably be Monday.
If you are someone who wants both good features and ease of use, Easynote might be your option.
So, let us see all the features these tools offer:
| | |
| --- | --- |
| | |
| Brainstorming | Brainstorming |
| Calendar Management | Calendar Management |
| Communication Management | Communication Management |
| Contact Management | x |
| Content Management | Content Management |
| Discussions/Forums | Discussions/Forums |
| Document Management | x |
| File Sharing | File Sharing |
| Mobile Access | Mobile Access |
| Project Management | Project Management |
| Real Time Editing | Real-Time Editing |
| Screen Sharing | x |
| Task Management | Task Management |
| Version Control | x |
| Video Conferencing | x |
As seen from the table above, there are several features that both tools have in common, as well as some differences.
Monday vs Trello- Similarities
As we have seen from the presented comparison, there are several features that both tools offer. In case you are looking for a tool that offers:
Brainstorming
Calendar Management
Communication Management
Content Management
Discussions/Forums
File Sharing
Mobile Access
Project Management
Real-Time Editing, or
Task Management
…then both tools are going to be enough for you. These features are more than enough in case you need some basic project management help and you will be satisfied with Monday and Trello.
Both tools are project management tools that will be useful to you or your team.
Also, both tools are good for all team sizes. However, smaller teams might prefer Trello while bigger teams might prefer Monday.
However, if you need different approaches or some other features within your project management tool, we suggest you read further and decide which tool fits you better.
Monday vs Trello- Differences
Even though they might seem similar at first, Monday and Trello offer some differences which make them distinct and fit for different types of audiences.
Ease of Use- Monday vs Trello
Users have found that it takes more work to learn how to use Monday, compared to Trello. So, if your team is not tech-savvy and does not have time to learn how to use a new tool, Trello might be a better option.
However, once you learn how to use Monday, you will be set to go and it will become much easier for you.
Why You May Prefer Monday over Trello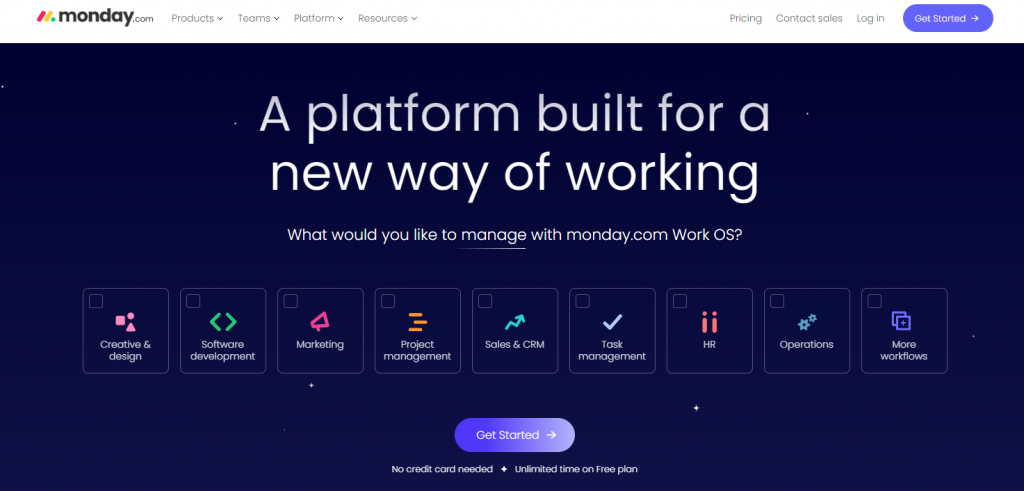 Monday offers more customization options and more flexibility.
Monday allows users to create custom dashboards which are great for monitoring all important progress and metrics.
You can visualize your work in lots of different ways, whether you prefer a timeline view or a Gantt chart
Instead of using e-mail and chat, you can easily request status updates on projects.
Why You May Prefer Trello Over Monday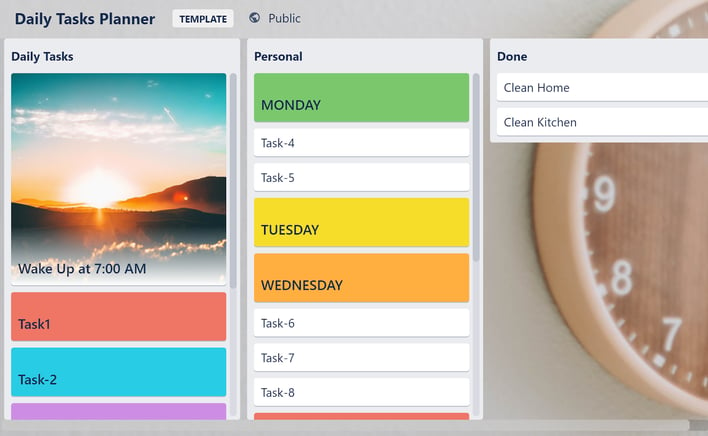 Trello is much simpler than Monday. It does not have a lot of distracting features such as buttons or menus.
Trello is much easier to get started with, as it does not require a lot of time to learn.
Trello's interface is easier to go through, so new users will not have many problems navigating through it.
Trello's integrations are more extensive compared to Monday's.
Trello offers a free plan that offers much more than Monday's, and it lets an unlimited number of users (while Monday's free plan lets only two team members use it).
Integrations Trello vs Monday
Trello works perfectly with many popular apps that many businesses use daily. Some of these are:
Zoom,
Google Drive
Google Docs,
Slack,
WordPress,
MailChimp,
DropBox,
Salesforce Sales Cloud,
Basecamp,
Microsoft OneDrive,
JIRA Software,
SurveyMonkey,
GitHub,
Evernote,
FreshBooks,
HubSpot Marketing,
ClickUp,
Monday.com.
Monday alternative?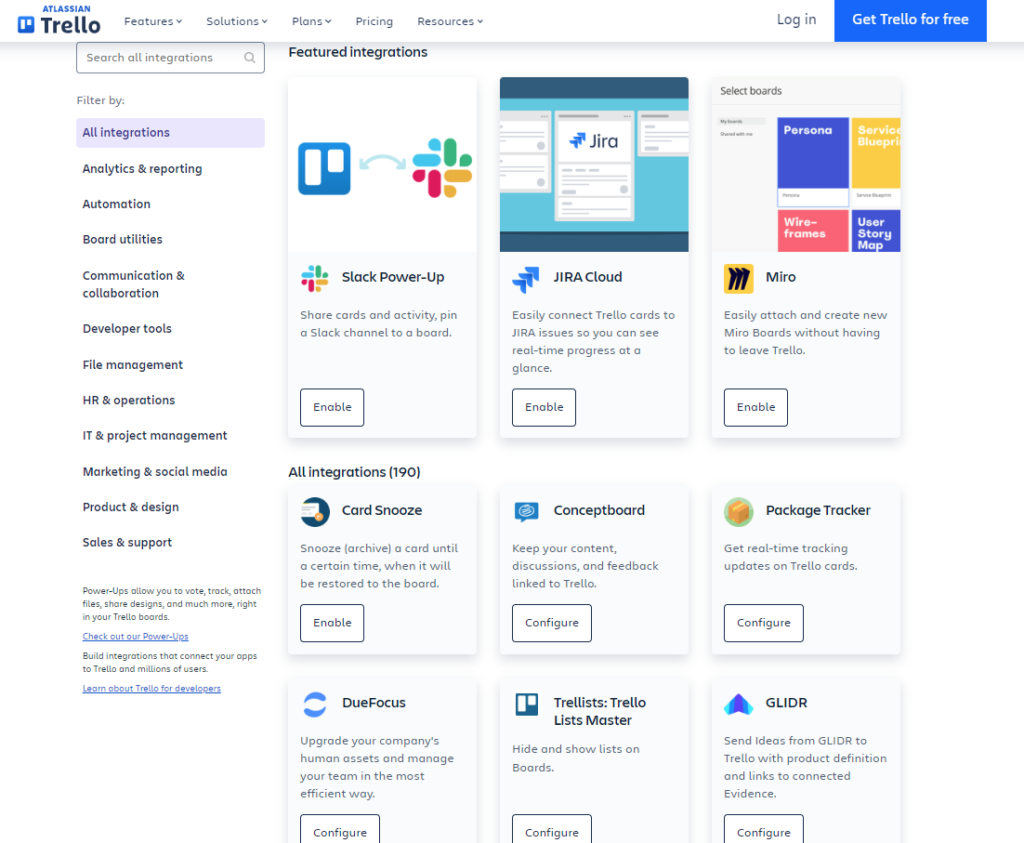 Monday works well with popular apps for project management, such as:
Slack,
Google Drive,
Microsoft Excel,
Microsoft Teams,
Todoist,
JIRA Software,
DropBox,
Google Calendar,
Trello,
MailChimp,
Basecamp,
Asana,
Microsoft OneDrive,
Zapier,
GitHub,
Shopify,
PipeDrive,
Box,
Zendesk,
Gmail,
BitBucket,
and Stripe.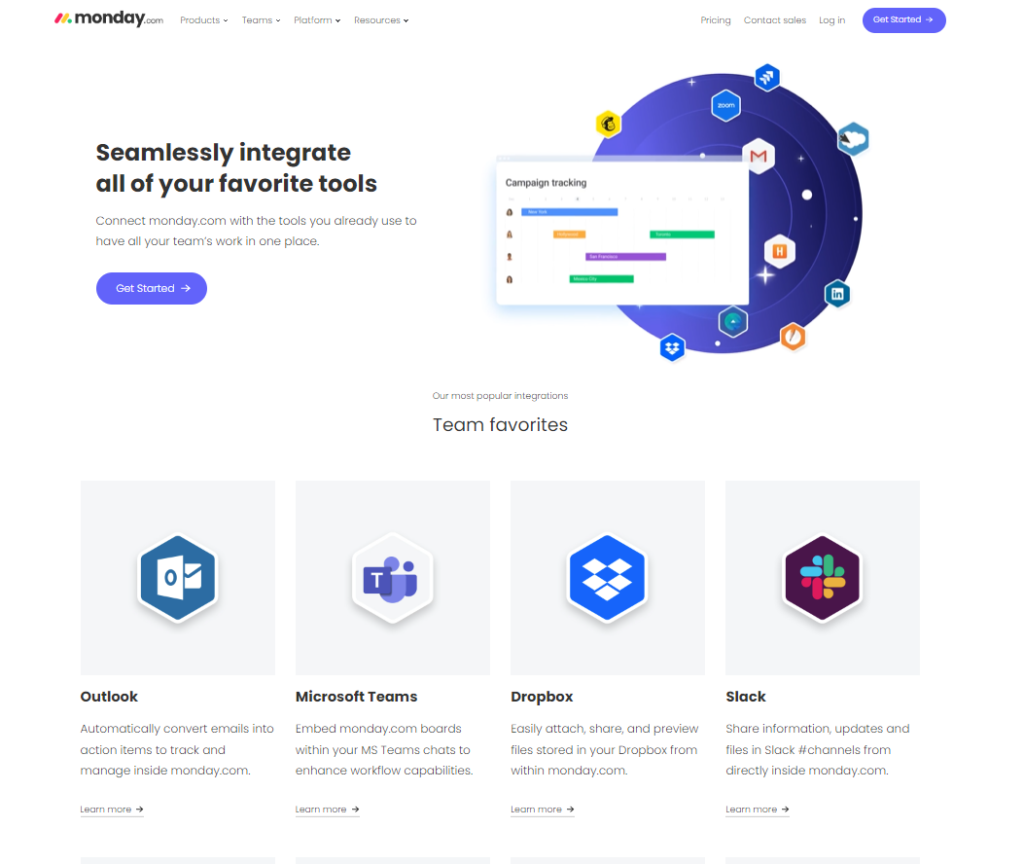 As you can see, both Monday and Trello offer some great integrations for project management that you can use daily and save a lot of time on switching through different apps.
Pricing Monday vs Trello
Monday offers a free forever plan that is free for up to 2 seats. This plan offers 200+ templates, unlimited docs, and more. Basic, Standard, Pro, and Enterprise plans are also available.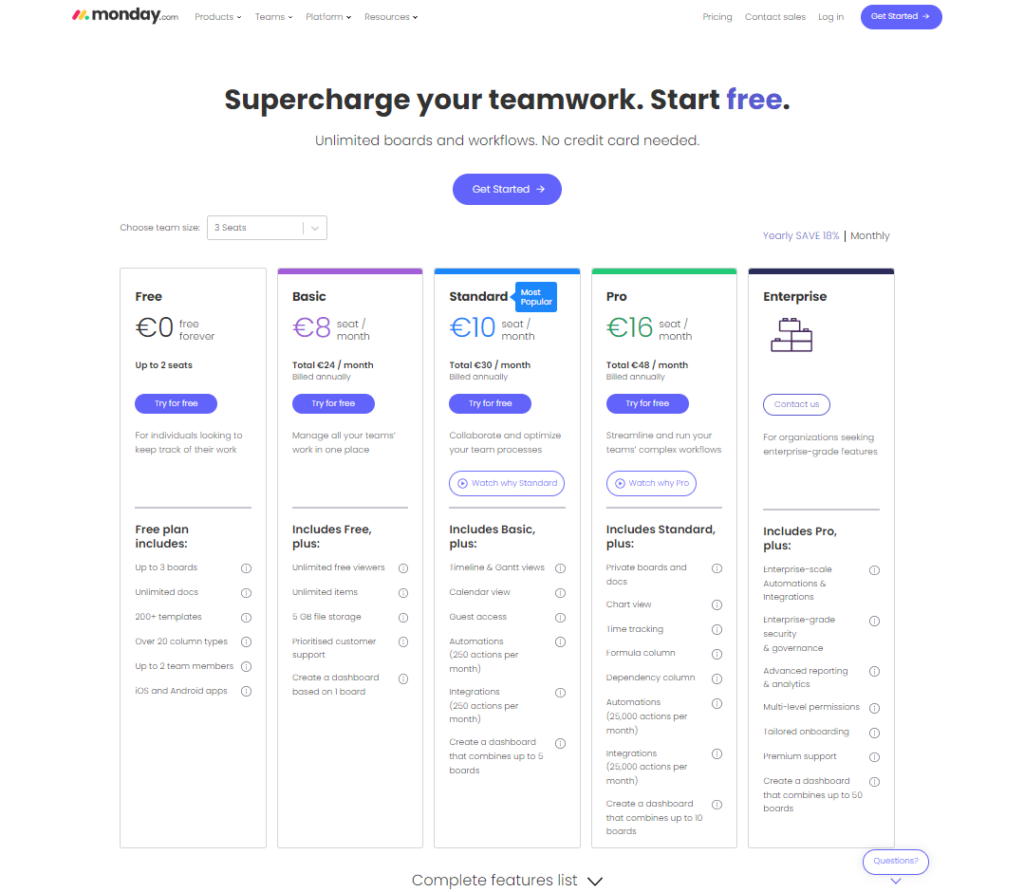 Trello offers a free plan for a whole team and it offers unlimited cards, up to 10 boards per Workspace, unlimited storage (10 MB/file), and more.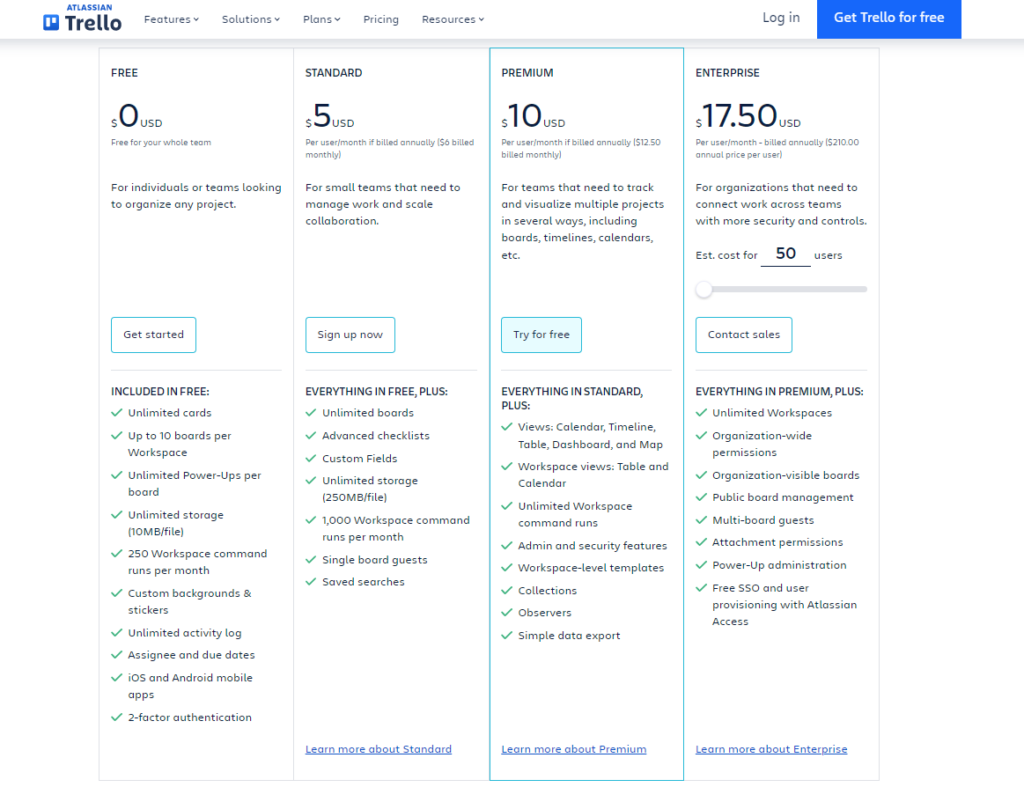 There are also Standard, Premium, and Enterprise plans as well.
Collaboration- Monday vs Trello
Both tools, Monday and Trello offer great collaboration features and let your team communicate and collaborate easily.
Trello might be better for smaller teams that love its Kanban boards and the visual representation of daily tasks, as well as its easy drag-and-drop feature.
Monday is perfect for bigger teams because it can show multiple projects at once that you are working on and it shows them all in one overview. Many tasks and progresses across different projects and timelines are presented as well so you will not be lost in any of them.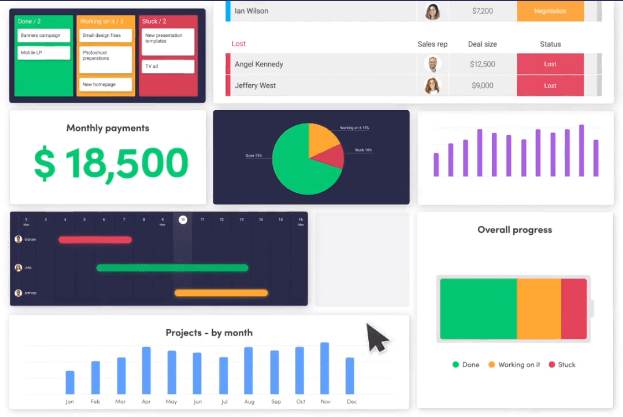 If you want a tool that offers multiple timelines on one dashboard AND is easy to use, you might want to consider Easynote.
Easynote as an alternative to Monday and Trello
Easynote offers one of the most user-friendly interfaces on the market, and it offers a lot of useful features for project management that your team might find useful.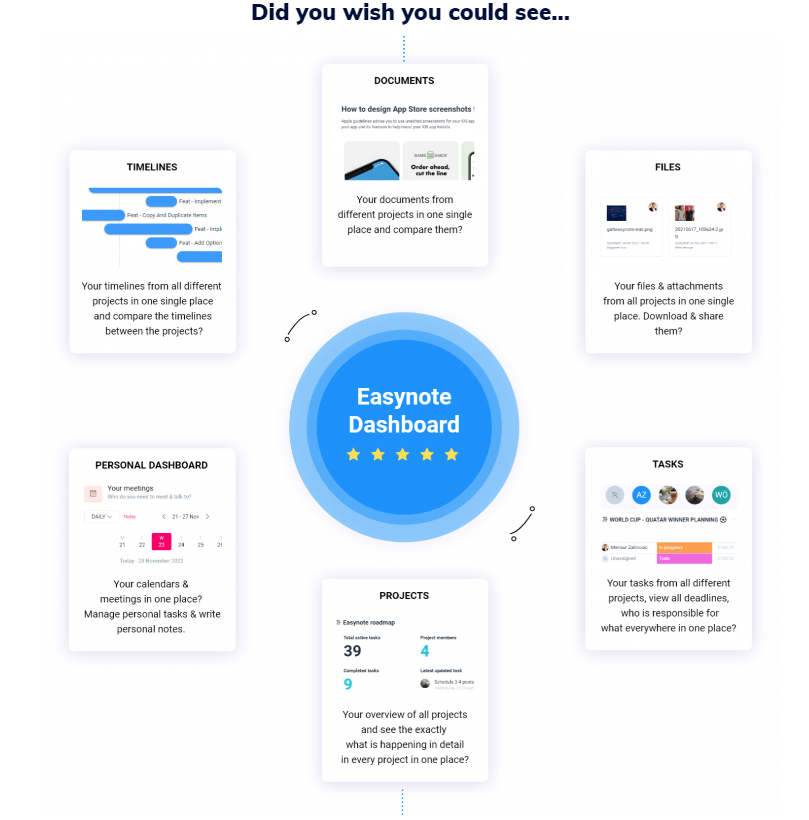 That is why, Easynote is one of the best project management tools on the market, as its growing community testifies to its excellent usability and powerful integrations.
Collaboration with Easynote
Easynote is a tool that offers some of the best collaboration features. It is simply all you need in one project management tool. These features will allow you to work together with your team members on many different features, such as tracking progresses, editing documents, or communicating.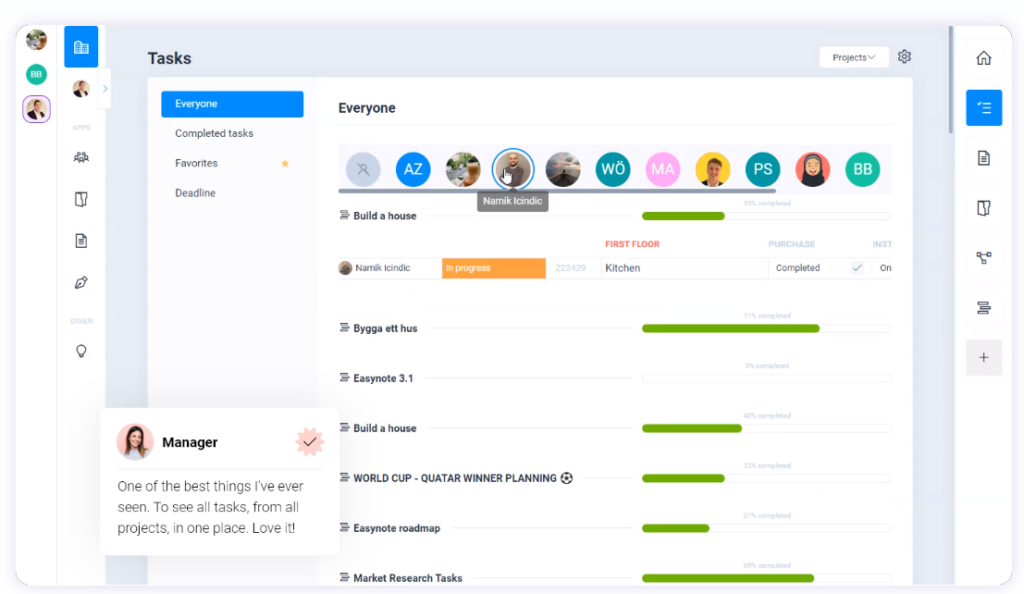 Your team will know exactly what they have to do as they will see all your team members' tasks and track their progress towards the common set goal.
Ease of use- Easynote
Easynote is simply- as its name says- easy 😊. It does not over complicate things and it lets users see everything they need to know in one overview. It can be used by people who are not tech-savvy or those who are- it is the ultimate PM tool.
If you need a tool that you can start using after a few minutes, you will be more than happy to start using Easynote, as it does not require any learning time.
The Ultimate Dashboard will let you access all your tools and integrations easily. It shows a detailed overview of all your important tasks and timelines as you will be connected to all of your colleagues, clients, etc.
Meetings are also easily scheduled as you can sync your Google or Outlook calendar with Easynote. Another cool feature that you can do inside the app is meeting minutes. These will let you take notes before, during, or after the meeting and you can save, or share these minutes with the rest of your team.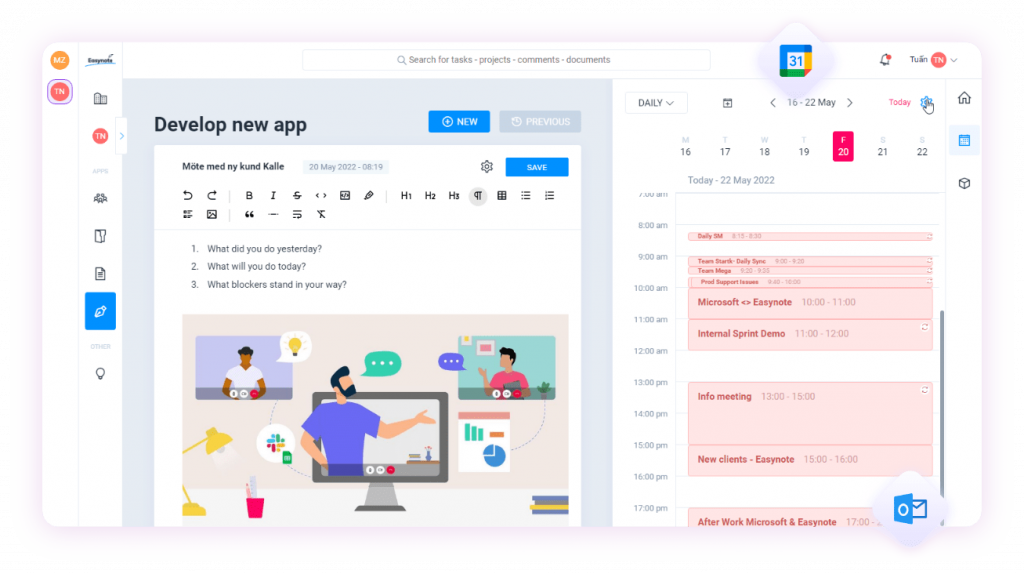 This is useful for teams that have remote employees who are not always able to attend all the meetings, so you can easily forward them and go back to the important ones that you took; especially if you need to remind yourself of some essential details for your next meeting.
How to sync Google and Outlook calendars?
Easynote Integrations
There are many Easynote integrations that will facilitate your workflow. If you need to start a meeting, you can easily access some of the most used meeting apps, such as Skype or Microsoft Teams.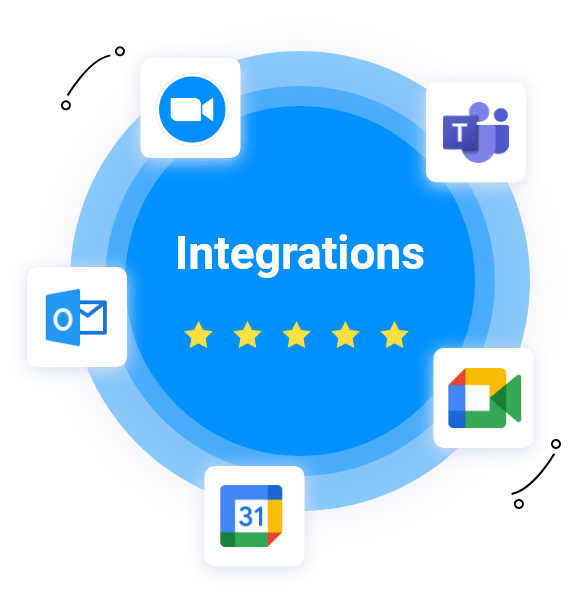 Also, you can use apps like Slack, Google, or Outlook Calendar, Monday, and more.
Easynote pricing
Easynote offers a free 7-day trial plan that is unlimited for all users and it lets you get an overview of the app as you can use everything it offers.
After that, you can subscribe to a $29 plan per person per month, or $79 for 5 persons per month and save a lot of money for your small or big teams. It is worth giving a try and fining out all the useful options it offers.
Conclusion
After reviewing Monday vs Trello features, we have come to the conclusion that both tools are great for project management. However, Trello might be better for those who prefer an easier tool that offers a cleaner overview and lets users focus on one project at a time.
However, Monday is great for those teams or users that love a tool that offers more and takes some time to learn but is still not overly complicated.
Which project management tool is better- Monday vs ClickUp?
But, if you want a mix of both, you will most likely find Easynote more useful.
The Importance of Project Management Tools
As we have seen from this article, there are many positive sides to any of these project management tools. They are designed to help us facilitate our work as it has become more complicated to keep track of all important tasks during the day- especially if you work on multiple projects, or in different time zones from your team.
They should be easy and not complicate your work week even more. That is why all the tools mentioned are useful in their own ways and they are what will make your teams more productive and motivated.