Chances are, you are already familiar with both of these calendars in some way since Google Calendar and Outlook calendar are the two most famous calendars on the web. Over 70% of adults nowadays rely on digital calendars.
If you are a diligent person who needs to manage time online, one of these calendars is most likely your best option. Both of these calendars are full of unique options and unique features. But which one is more popular among users and which one would be the best suitable for you? How to sync Outlook Calendar with Google Calendar in case you want to use both?
Google Calendar
As its name says, Google Calendar is connected to your Google account. It can be found in your Google Apps section. This makes it one of the easiest calendars to use since everything you schedule on your phone calendar or other apps connected to your Google account, is shown on your Google Calendar. It is available both on Android and iOS platforms.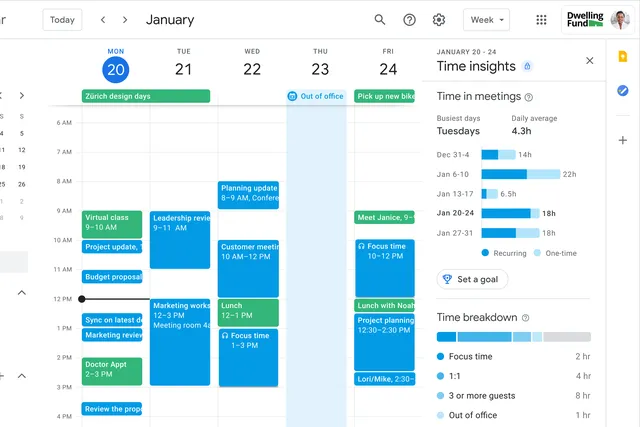 It offers a clean and easy-to-use overview of all important dates and scheduled tasks for you. Simply by clicking on a certain date, you can easily create a new appointment, goal, or plan.
Additionally, the app automatically shows holidays that are important in your area. Also, it recovers dates of birth from your Google contacts and shows birthday cards for a full year.
Some of the main features of Google Calendar are:
Easily create or edit events- your events can be set to a certain time during the day, or if you are not sure when the event will start or end, there is an "all day" option.
Adding color- you can add different colors to different events to differentiate them from one another. If you want to mark your dentist appointments as blue or your after-work dinners as yellow, it is easy to visually see what your plans are, without knowing the exact details.
Notifications- you can set notifications for the events on your Google Calendar and they can remind you of an event 5 minutes or 24 hours before it is due.
Invitations- other Google Calendar users can be added to your Calendar so you can remind yourself of whom you have plans with that week.
Family Calendar- in case you have some plans with your family members, who are also users of Google Calendar, the Family Calendar option offers you to easily set or see all planned events with your family by syncing your calendars.
Other calendars- Google Calendar allows you to connect and sync it with other apps such as Easynote, Trello, Asana, Booking, etc.
Outlook Calendar
Microsoft Outlook Calendar is available if you are an Outlook user- that is if you use outlook.com as your main e-mail provider. Most companies and most people started using Outlook as soon as Microsoft launched it, so it is a globally popular provider.
Outlook Calendar is also very easy to use and can be found as a widget on your Outlook site. It offers many options that can help you manage your time, tasks, plans, and e-mails.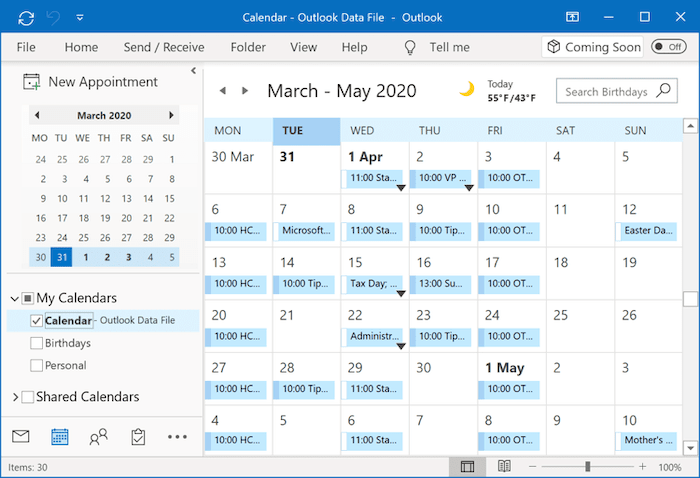 Some of the main features of Outlook Calendar are:
Creating events and appointments- simply clicking on a slot and typing your event details creates it automatically and syncs with your other calendars.
Organizing meetings- just like with your Google Calendar, Outlook Calendar lets you schedule meetings at a set time and add other members that need to attend the meeting with you.
Group Schedules- if you need to create a calendar that shows different schedules and tasks of a certain group of people in one, you can use the Group Schedule and organize meetings that suit everyone in just one click.
Side-by-side calendar view– all the calendars that you created can be viewed at once using the side-by-side view. This helps you have a clear overview of all duties and plans you have already made. Another app that offers this more easily is Easynote, which lets you sync your calendars, but we will talk about it later in the text.
Sending your calendars to other people– Outlook allows you to send your calendar to any mail recipient, but you can have control over how much information you share.
Google Calendar and Outlook Calendar Comparison
Although they are very similar, there are a few similarities and differences between Outlook Calendar and Google Calendar which make them the two top calendars out there. These programs are always changing and upgrading, but for now, here are some of the main things that differentiate them:
Similarities
Both Google Calendar and Outlook Calendar are free services.
Both are used primarily to schedule events, organize time, and set reminders.
Both calendars can be accessed through different other apps (from Outlook or Gmail for example).
Both have mobile apps available.
Both calendars can work online and offline.
Both offer Multiple Calendars option
Differences
Google Calendar offers an Address book, while Outlook Calendar does not.
Google Calendar has an Online Booking option while Outlook Calendar does not.
Customizable templates are available with Outlook but not with Google Calendar.
Task management is offered with Google Calendar but not with Outlook.
Availability management is available with Google Calendar but not with Outlook
In case you want to transfer event ownership to another user of Google Calendar, you can simply change the event's owner. However, in Outlook, you have to remove an event completely to create a new one.
Which Calendar is More Popular and Which One Is Better for Me?
Google has got more users than Outlook, so it is safe to say that Google Calendar is used much more. However, reviews vary from person to person. Some people prefer Outlook Calendar because they do not need the features that Google calendar offers, and they are daily Outlook users. On the other hand, Google Calendar also receives praise for some features, and critiques for others.
It is not up to us to decide which one is better for each user- it is up to you. Depending on your preferences and needs, you can compare the two and see for yourself which one suits you better.
However, there is an option of syncing Outlook Calendar with Google Calendar, and this option may help you if you want to use both.
How to Sync Outlook Calendar with Google Calendar?
In case you want to sync your Outlook Calendar with Google Calendar, this part of the article will show you a step-by-step guide to do that.
Since both platforms use the same format, syncing the two calendars is done by simply obtaining an Outlook link.
These are the steps you should follow:
Go to Outlook and click on Settings, and then View All Outlook Settings.
Click on Calendar, and then on Shared Calendars.
Look at the Publish Calendar section.
Select Calendar, then select Can view all details, and then click on Publish.
Copy the ICS link (the one below the HTML link at the bottom).
Now you've got your Outlook calendar link. Open Google Calendar.
Click on Other calendars + at the bottom of the page.
Click on From URL
Paste the link and click on Add calendar.
Now, your syncing process is complete. You can now save this calendar, rename it, or change its colors- customize it however you like.
Yet, there is an app that we mentioned before that makes this process much easier for you.
Easynote Will Help You Easily Sync Your Calendars
What is so great about Easynote that it is worth mentioning in this article?
With Easynote, you can sync and connect unlimited Google and Outlook calendars. Easynote is one of the best alternatives to calendar and meeting management apps.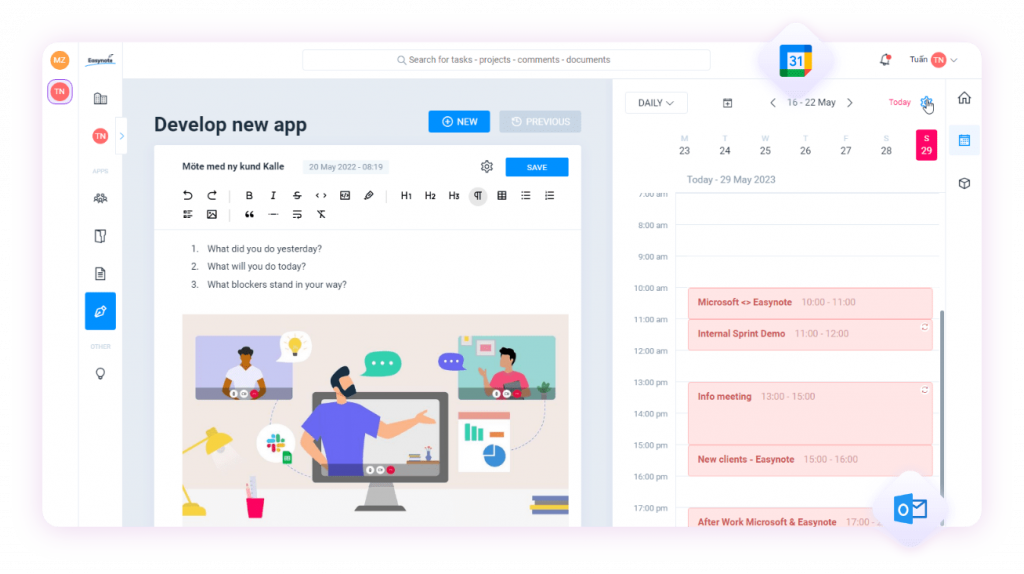 This 5-in-1 AI-powered tool offers everything in one place. You will save so much time on switching between different apps and calendars with Easynote. All your calendars, important meetings, scheduled tasks, or projects are in one place.
Meeting Management App is almost like your personal assistant. You can view your calendars in a daily or weekly view. Also, you can join the scheduled meetings immediately from Easynote. This tool makes your work and your obligations much less stressful since you can find everything easily in one place.
Since you may have more calendars, you can easily show or hide the ones that are important to you at that moment. Additionally, daily view lets you focus only on today's tasks and meetings, which can help people who get distracted easily.
If you wish, you can add calendar events with Easynote. This will sync all your calendars at once, and you can add Skype, Google Meet, or Teams to a meeting which will use one of these apps for it. How practical is that?
After your meetings, you can create Meeting Minutes with Easynote, and save them in your Calendar as well. Meeting Minutes can be compared, moved, and personalized. It is important to know what was scheduled during a previous meeting you had, so Meeting Minutes come in handy when you are not sure what had been said.
So, if during a meeting you need to set a reminder for some task, or another meeting, you can do it easily with Easynote.
This comes in handy for all employees, Project Managers, Scrum or Agile Masters, or business owners. However, as daily life becomes busier and busier in 2023, even students and others can find Easynote useful.
Which Calendar Option Has It All?
Outlook Calendar and Google Calendar are both very useful when it comes to managing your time, tasks, plans, and projects. They both offer valuable widgets and features that can help you organize your day-to-day life. In case you want to use both, we have already established how to sync Outlook Calendar with Google Calendar.
However, there are other options that can sync these two calendars, as well as your other projects and tasks. With Easynote, you can have it all in one place, all your calendars in one single view. Easynote's Ultimate Dashboard is probably one of the most powerful dashboards on the market.
This helps you save time and work on other important tasks, instead of spending time being lost between different apps and risking them not syncing on time.
Easynote helps your productivity as well. But do not worry, even if you don't feel inspired at that moment, there is a Chat GPT tool integrated into this app which can help you research things or write quick notes much easier.
You can book your demo and dive into all the cool features that Easynote offers.
Use the technology to your advantage and let it do its magic when it comes to you staying organized and practical.