Scheduling Assistant is an essential tool for every businessperson who wants to stay organized and productive. Staying organized and efficient can facilitate a lot of the work you do and save you from unnecessary issues.
There are many options online, but in this article, we will mention Microsoft Outlook Scheduling Assistant as the most popular one, and other alternatives you may like for yourself or your business.
Microsoft Scheduling Assistant is a powerful scheduling tool that offers many beneficial features. It is designed to help people manage their schedules by managing appointments and meetings efficiently in a short amount of time.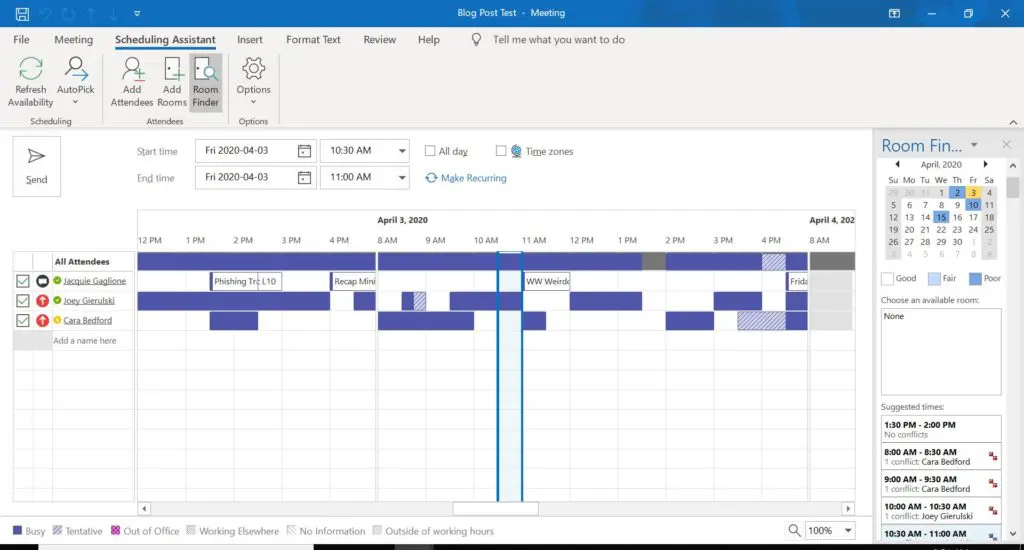 Microsoft Outlook Scheduling Assistant is a part of Microsoft Outlook. Microsoft Outlook is a commonly used email and calendar application, and it is used by millions of people all over the world. So, how to use scheduling assistant in outlook, what are its key features and why is it so beneficial?
Microsoft Scheduling Assistant's Key Features
There are several useful features that Microsoft Scheduling Assistant offers, and in this article, we will examine some of the most important ones.
Meeting Request
One of the most important features of Microsoft Outlook Scheduling Assistant is the ability to find the best time to schedule a meeting.
When you need to create a new meeting request in Outlook, you can use the Scheduling Assistant tool which will show you the time slot that is best for you and the other attendees by observing everyone's availability. The scheduling assistant will display a color-coded calendar that will show the availability of each attendee. Then, you can select any time that works for everyone involved in the meeting and send the meeting request.
Time Zone Management
The next useful feature of Microsoft Outlook Scheduling Assistant is managing different time zones. This comes in pretty useful when your team has employees who work remotely and in different time zones.
When you need to schedule a meeting with attendees who are in different time zones, it can be a bit challenging to find a time slot that works for everyone. Outlook made sure that this does not represent a problem for you. Microsoft Outlook Scheduling Assistant facilitates scheduling meetings across time zones. It automatically converts the meeting time to all attendees' local time. This ensures that all employees are on the same page and it also reduces the risk of any scheduling errors.
Integration
Microsoft Outlook Scheduling Assistant integrates with Microsoft Teams, which is a popular collaboration platform. It is used by many businesses and organizations around the world.
If you need to schedule a meeting in Outlook, you can choose to make it a Teams meeting. This will create a link to a virtual meeting room in Teams. This link can be used by any employee or attendee to join the meeting. This is especially useful for remote teams or remote employees. Also, it can be used by people who cannot attend the meeting in person. This an important feature of any time management app because you need to consider having employees who work remotely, and those who need to be notified f new tasks daily.
Recurring Meeting Management
If you need to schedule a meeting that happens on a regular basis and is a standard procedure for your company, Microsoft Outlook Scheduling Assistant can help you arrange that. For example, you can use it for weekly or monthly team meetings. This saves time for project managers and other people engaged in the scheduling. Additionally, it reduces the risk of some scheduling errors. Automatization is an important feature because it saves a lot of time on repetitive tasks such as meeting scheduling.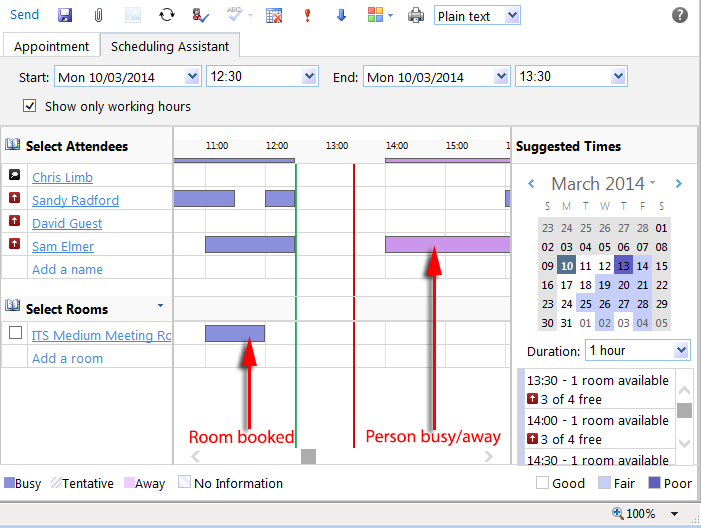 Customization
There are many customization options that you can use for your schedules. For example, you can choose to show or hide some of the details of the meeting, such as the subject or location. This means that you can customize all your schedules to fit your needs and your personal organizational style.
Downsides of Microsoft Scheduling Assistant
There are many positive sides to the Outlook Scheduling Assistant and although not very serious, there is a negative side.
One potential negative side of Microsoft Scheduling Assistant is that it is only accessible as part of Microsoft Outlook. This means that if you are not an Outlook user, you may not be able to use this scheduling assistant and its features. If you are not a fan of Outlook, then you may have to choose other alternatives that will be listed later in the text. These alternatives can offer very helpful features that you may use daily.
In conclusion, Microsoft Outlook Scheduling Assistant is a powerful scheduling tool that will help you stay organized and not pay attention to the possible problems in scheduling. It will take care of all your meeting schedules and time zone management.
If you are not an Outlook user, or you want to try out some other scheduling assistants, what are the other options?
Best Scheduling Assistant Alternatives
Before we start talking about the best alternatives for you or your business, let's see which features should one scheduling assistant have to satisfy your needs.
The Criteria For A Good Scheduling Assistant Alternative
User-friendly- it is important to have a user-friendly interface as many users might not be technically skillful.
Useful features- you should have all the important features that will help you organize and schedule your meetings and tasks.
Integration- a good scheduling assistant should integrate other apps that you use and that way make it easier for you to navigate through all your projects and meetings.
Collaboration- you should be able to collaborate easily with your team members and coworkers while using the scheduling software.
Reminders and notifications- your apps should send you important reminders and notifications. This will help you stay focused on your important tasks.
Good value for money – all the features and positive sides should help you save time and do half of the scheduling job for you. If it happens, then it does pay off.
Having all of these criteria in mind, we have found some of the best Outlook Scheduling Assistant alternatives. It is up to you to decide which one fits your needs the best.
Easynote
Easynote is one of the best time management apps on the market. It is a very successful tool that can serve as an alternative to the Outlook Scheduling Assistant.
It offers a variety of features. You can easily schedule any type of meeting or task with Easynote.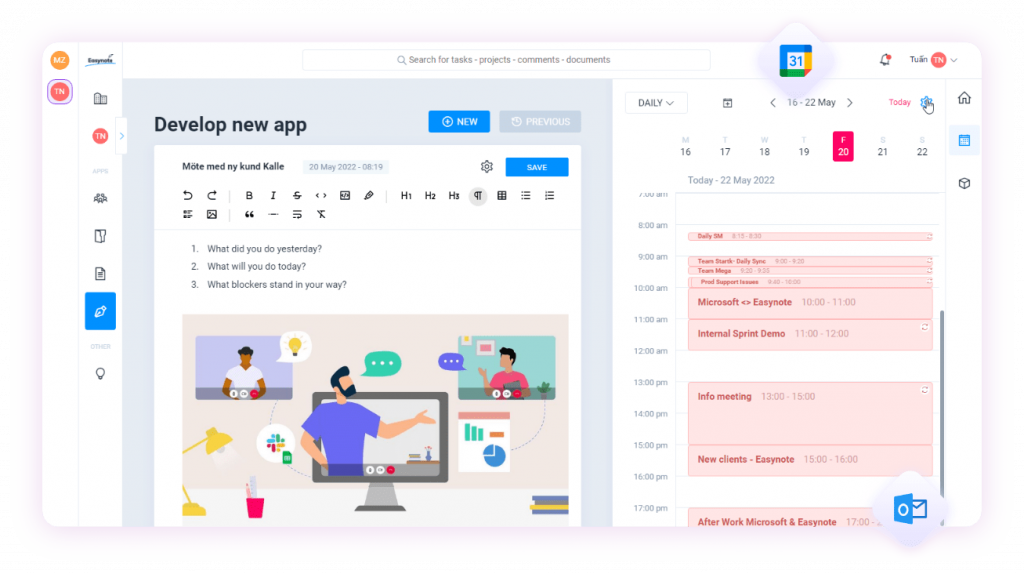 Its user-friendly and its clean interface will make it easy for you to adjust to this app. All you need to do is sign up for it and try it out for yourself.
Easynote facilitates the whole scheduling process. It makes your timelines and all your projects visible on the Ultimate Dashboard.
This way, you can immediately see all your tasks, progresses, and available times for your schedules and meetings. Additionally, you can tag anyone to your meeting by adding them to that time slot, and they will immediately get a notification to join you.
It also integrates meeting apps like Google Meets or Skype, so you do not need to spend time navigating through different apps. All you need is integrated within Easynote. It can manage meetings between multiple participants. It is very useful for remote workers.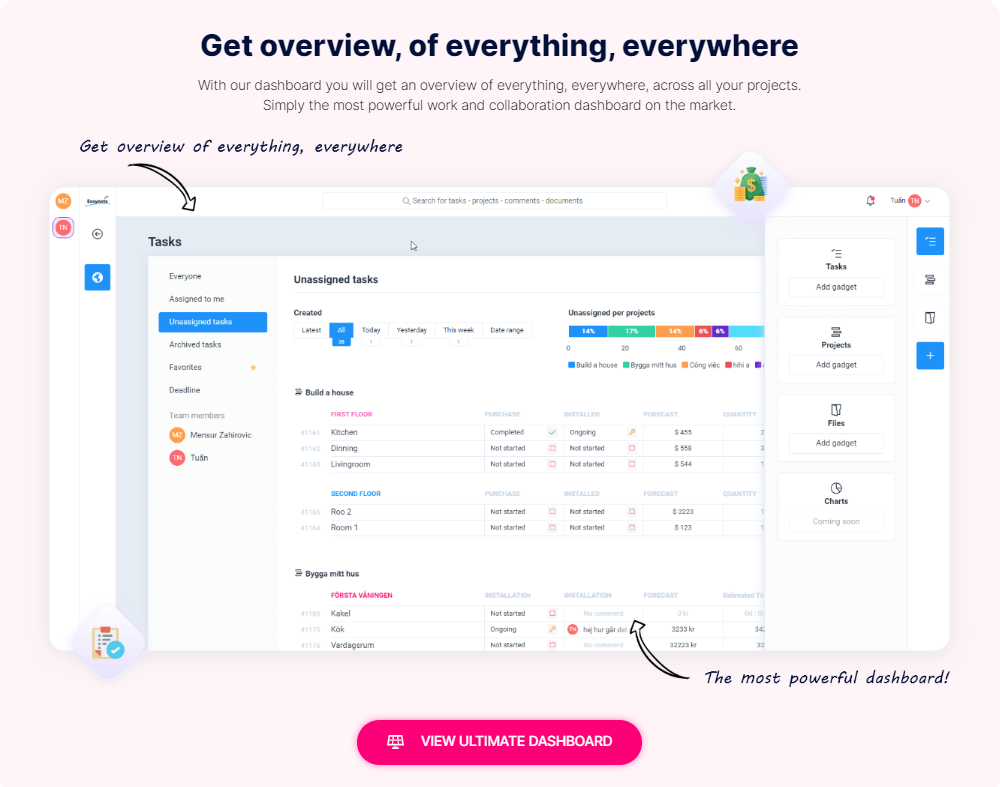 Easynote syncs Google and Outlook calendars which can save you a lot of time organizing between these apps. You can read more about it in this article.
After meetings, Easynote offers a Meeting Minutes feature which will let you write all your important notes and notices for your next meetings. It lets you easily collaborate with your friends or team members and reminds you of your goals, progress, and important meetings.
Easynote is a 5-in-1 tool that will make your workload much easier by organizing every meeting and important task for you.
Doodle
The next best alternative to the Outlook Scheduling Assistant is Doodle.
Doodle is an online scheduling tool that you can use daily to schedule meetings with a couple or multiple participants. One of the most important features of Doodle is its simple interface.
Just like Easynote, it is very easy to use and does not require any prior knowledge or training. First, you can create a poll with different meeting times and send it to your coworkers (participants).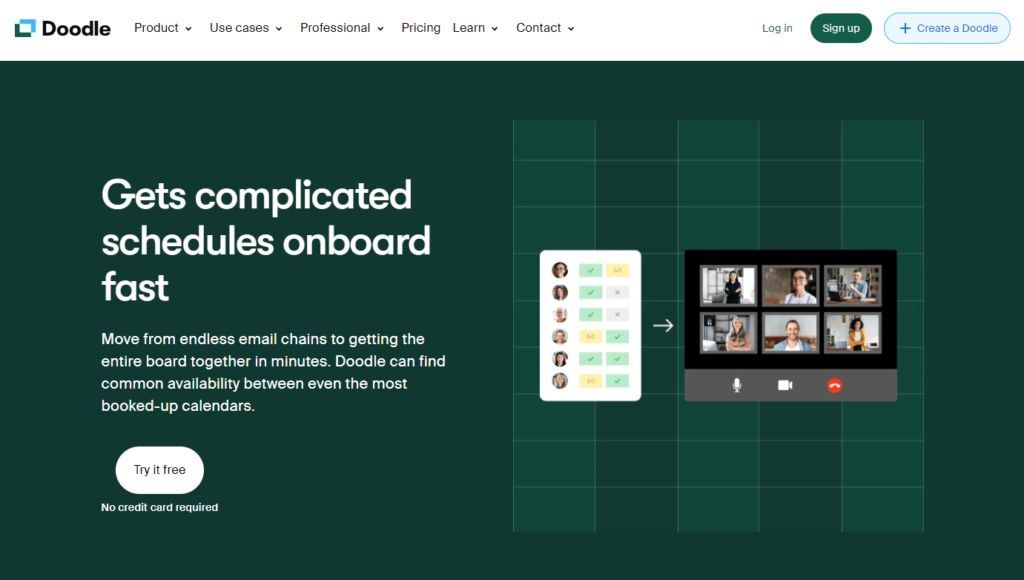 Then, they can then select the times that work for them, and Doodle can automatically schedule the best time for the meeting. This will save a lot of time on emailing, calling, and messaging all your coworkers. This is useful for larger groups of people and businesses who employ remote workers.
Doodle also integrates Google Calendar and Outlook Calendar which makes it easier to track your schedule and keep track of your meetings.
Also, Doodle will send you notifications and alerts which will make you stay aware of all the important meetings and tasks.
Additionally, Doodle offers many customization options. For example, you can hide participant names to guarantee anonymity.
One possible negative side of Doodle is that it is great for multiple people meetings, but sometimes lacks options for 1-on-1 meetings. However, this is just one small drawback among many other useful features.
Calendly
Another scheduling assistant that is worth mentioning is Calendly.
Calendly is an online scheduling tool. It is useful for both group meetings and 1-on-1 meetings.
It offers a lot of features that are similar to Easynote and Doodle, including automatic scheduling, reminders, and integration with calendars.
Calendly also integrates meeting platforms like Google Meets and Zoom.
Calendly is very flexible when it comes to scheduling systems. It allows you to set your availability and then it sends a link to all the meeting participants. Then, they can schedule a meeting at a time that works for them.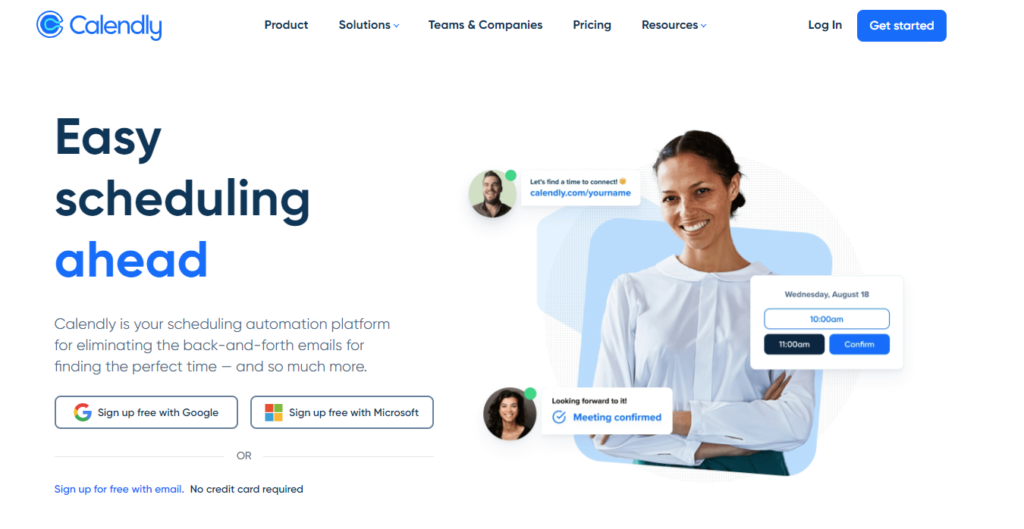 Another great feature of Calendly is a custom meeting setup. For example, you can make a different meeting type for team meetings, client consultations, or personal appointments. This lets you tailor the scheduling process to fulfill your specific needs.
There is a free version of Calendly as well as the paid one, so you can decide which features you need and act accordingly.
Conclusion
Having a good scheduling assistant app is a necessity for many businesses. It is easy to get lost in all your tasks, project plans, and meetings. It is good if you can move from endless email chains to organizing the entire board meeting in minutes. That is why scheduling assistants are the way to go.
There are many features you may enjoy with Microsoft Outlook Scheduling Assistant. It is one of the most popular scheduling tools because it offers many useful features.
Also, other scheduling apps offer similar features that will help you manage and navigate through your work week. They all have some unique things to offer that you might find useful for your business.
Having a well-scheduled week, month, or quartal saves you from a lot of hassle and gives you some sense of security. These things can assist your productivity and creativity since you do not have to worry about all other repetitive tasks. That is why these apps offer the best-structured scheduling systems which will let you enjoy the benefits however you choose to go around it. Here, you can find more about organizing your time the best way.
Whichever you choose, pay attention to the listed criteria and try to see which one fits your needs the best. We are sure you will enjoy all the time saved by all the correctly scheduled tasks and meetings.