The difference between product management and portfolio management is in the product(s) they have to manage. Both of these roles are very important for companies but there are things that differentiate them from each other.
Product management focuses on one product while portfolio management focuses on more products a company has to offer. However, this might be the main difference between these two roles, but there are several other important differences regarding mindset, approach, and strategy that we will discuss in this article.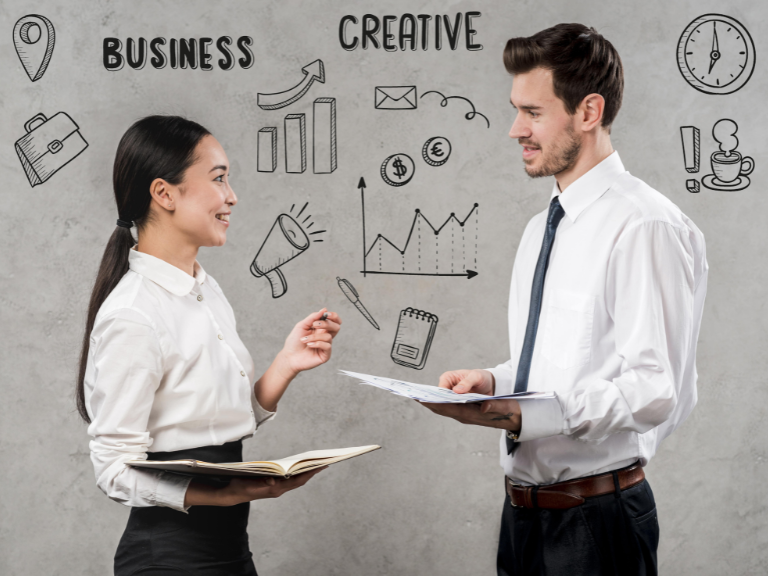 What Is Product Management?
Product management is part of a business that focuses on customers and their needs for a certain product. Whenever there is a new product on the market, there are groups of people who worked behind it to make it come to a realization. A product manager is a person who communicates the needs of a product owner to the team that will work on the product's realization.
Additionally, product managers know the needs of customers and they keep them as a set of rules the team should follow. They articulate what the success of a product looks like and want the team to follow that as their goal.
The Three Pillars of Product Management
There are three pillars of project management:
Product discovery
Product Planning
Product Development
These three pillars are what every product manager has to keep in mind when starting any new product plan.
Product Discovery
Product discovery is the first step you need to take in order to launch a new product. This step is crucial for all product managers because you need to think about something new and innovative. You need to start researching your niche and discover what it is that customers want. The important part is opportunity evaluation and user research.
Good product management navigates developers toward making value for customers.
Product Planning
Product planning is as important since it determines how the product will look like. Do not let bad planning result in a bad product if there is good potential.
As a product manager, you need to develop a product vision and a roadmap. The roadmap shows the steps needed towards realizing the goal.
Product Development
After product discovery and product planning, you need to put them together in order to develop a valuable product. You need to create a backlog- a list of prioritized tasks that need to be done.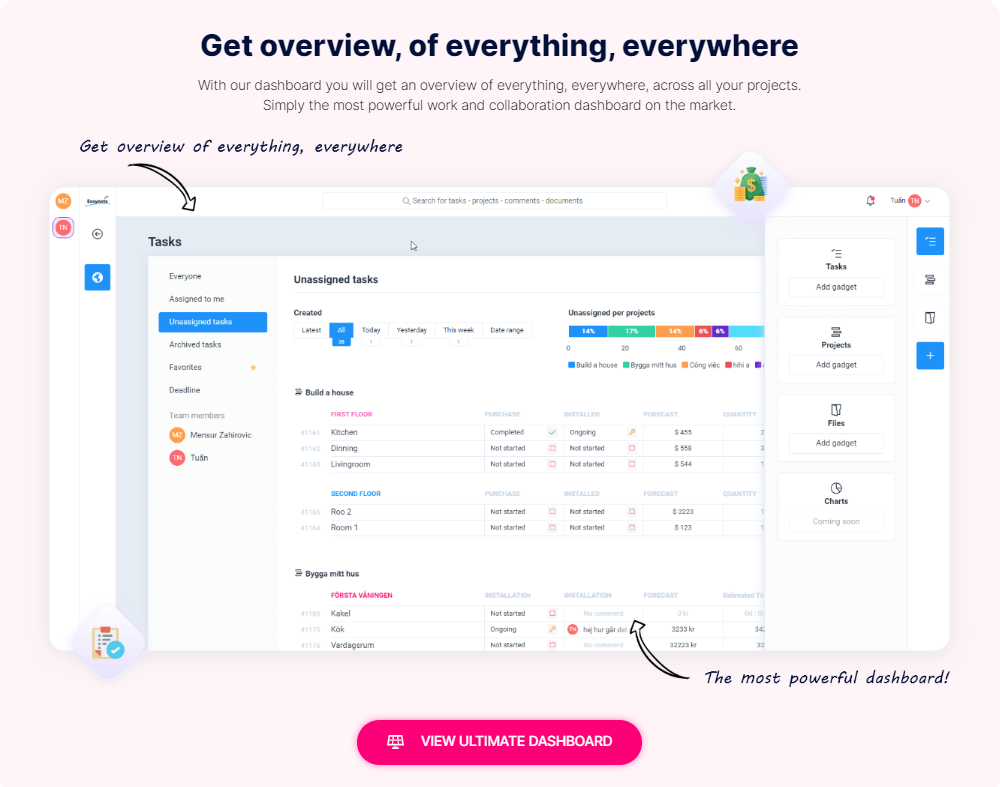 Some apps like Easynote may help you with creating tasks, backlogs, or project plans.
Product development also includes user acceptance testing (UAT), user feedback review, and post-launch testing.
What Is Portfolio Management and What Is The Difference Between Portfolio Management And Product Management?
Portfolio management is dedicated to managing a group or portfolio of products that a company offers. Portfolio managers need to assess the performance of the company's product, analyze market trends or opportunities, and make quality decisions about which products the company should invest in, which products need to be stopped, and which should be modified or enhanced.
Their goal is to maximize the overall value and profitability of the company's product portfolio, while also making sure that it supports the company's wider objectives and strategic goals.
So, if the company has a portfolio approach to decision-making, it needs a portfolio manager.
You may wonder if there is one product that the company offers, does it still need a portfolio manager? The answer is of course because there are multiple layers to one product. You may have one product, but that product may have different features, different parts for different audiences, etc.
For example, there are different things you may need to pay attention to, like different apps for one product, different features, etc., and all of this can be included in a product portfolio. As a portfolio manager, your job is to make sure the product portfolio offers quality and that the product owner is satisfied with the result.
The difference between product management and portfolio management lies in the customers, the scope of the product, and all its features.
Why Should Companies Hire Portfolio Managers?
Several very successful companies hire Product Portfolio Managers like Paypal. These companies repeatedly improved revenues while reducing costs by having effective resource allocation, purposely investing in impactful projects, and generally improving efficiencies.
Portfolio Risks
There are a few risks that you should think about before starting a project. These risks are possible so it is good to keep them in mind and prepare for these possible risks.
Strategic Misalignment
There is a risk that two different teams work on the same product and want to solve the same problem, but they use different strategies that oppose each other and this may result in multiple problems. In order to address this, product managers need to develop a Strategic Framework to be a guide when making decisions for products.
Top-down strategic alignment is achieved when leaders come up with certain strategies. They define goals and then collaborate with the next levels to decide on important strategies needed for product realization. Teams can also come up with strategies but they need to communicate them with the next levels above so they can approve these propositions.
It is important that the leaders always know which strategies will be used for certain products and that all teams know what other teams are doing. With Easynote, you can enjoy the best collaboration software on the market and make your job easier.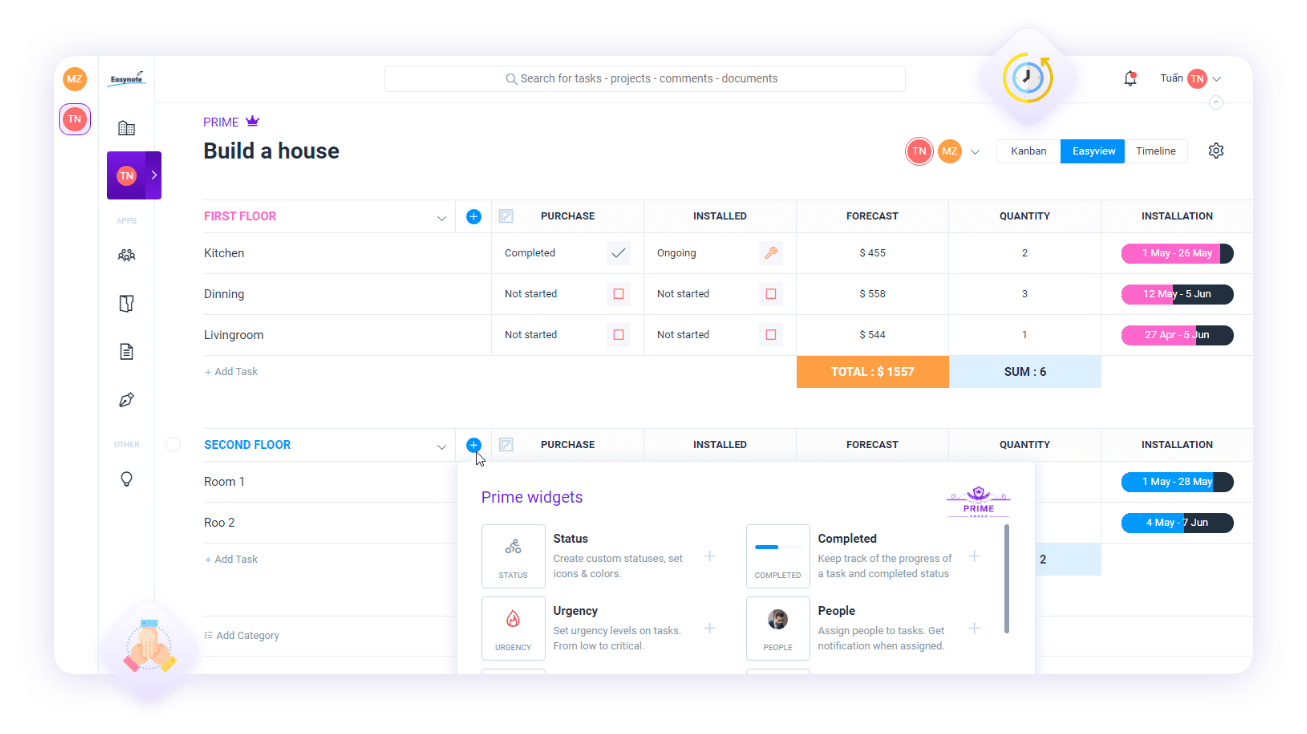 Prioritization
If you have an 'isolated prioritization' you are not doing things correctly. This means that your prioritization does not involve a bigger picture and this may lead to a bad customer experience. It is hard to focus only on some features while other features may stay neglected and then these errors might affect the overall product.
You should evaluate portfolio scenarios in order to see if this is the case. Also, you should collaborate with other teams and discuss different product solutions.
It is important to connect the features to the customers and product goals.
The Delivery
There are several factors that may affect your delivery risk. These usually include interruptions, bad estimation, loss of resources, etc. You need to pay attention to these things early on in order to stop them from happening.
Spot the dependencies during planning (roadmap planning).
During the portfolio planning, try to include the potential monetary losses.
Unplanned interruptions may always happen, so it is best to count them in when doing your plan as well.
Track progress in order to spot problems early.
Communicate with your team and predict what the potential problems might be.
Opportunity
Portfolio allocation is an important part of portfolio management. As a portfolio manager, you need to update the portfolio allocation from time to time. If you do not, you can easily ruin your progress. Roadmaps need to change from time to time if your initial plan changes. New problems could arise when it comes to employees, funds, or tech.
Easynote Can Help You With Your Management Skills
Differences between product management and portfolio management have already been listed, but no matter which one you are, you will need a useful tool for your business. As already mentioned, Easynote is a time-management app that is perfect for people who work on projects. Even if you work on more projects at a time, this 5-in-1 app will help you with your management skills.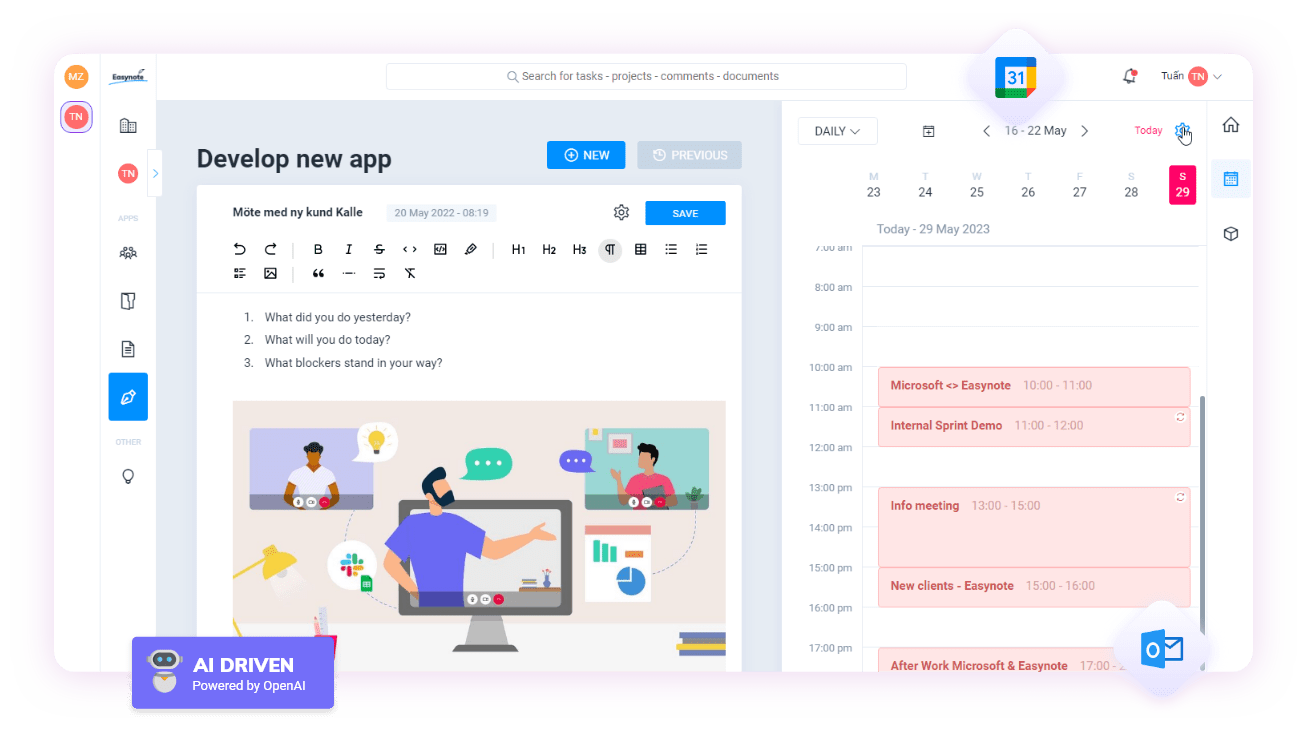 There are many useful features that you can immediately start using since this software is very user-friendly. It gives you a clear overview of all your tasks and projects in one place.
It also facilitates your work because collaboration is done easily when you can communicate with your colleagues within one app. Easynote lets you tag your colleagues on a certain task and it automatically shows on their dashboard.
You can customize your dashboard however you like as well. If you have many meetings during the day, you might get lost in what was said and when. Easynote lets you create meeting minutes after every meeting so you can have the best orientation and not get lost in everything and prepare for your next meeting.
You can sync your calendars with Easynote and have all meetings and appointments visible on your dashboard. Also, there are many useful templates for managers, HRs, and other employees.
Which Career Is Better (Difference Between product Management and Portfolio Management)?
Both product managers and portfolio managers are vital roles in the management world, but they have different approaches, focuses, and responsibilities. If you need to choose between these two careers it will depend on your individual interests and career goals.
Differences between product management and portfolio management may give you the answer because you need to decide which career sounds more like you.
Portfolio managers manage investments, such as mutual funds on behalf of their clients. They try to minimize the risks that we have already mentioned in this article. They might adjust the given portfolio according to the market trends or some changes in the client's goals. Portfolio managers need to have good analytical skills and a good understanding of the financial market.
Product managers' main focus is overseeing the development of a particular product or service. You will work with different teams, including engineers, designers, and marketers, and try to ensure that your product is acceptable to the customers and that it agrees with the company's overall policy and strategy. Product managers usually need to conduct market research, define product requirements, and set promotion strategies and pricing.
If you ask yourself which career is better, it really depends on your preferences and skills. Both careers are rewarding and give you opportunities for improvement and higher salaries. Portfolio managers usually analyze financial data and make important investment decisions while product managers are usually more interested in the creative part of developing products.
It is worth mentioning that both product management and portfolio management should implement strong communication, decision-making, and leadership skills. Both roles need a lot of collaboration and working effectively with teams. Also, as technology develops, it is important to always stay in touch with new technological updates and new software that might help you work easier.
All in all, the choice is up to you. Product management and portfolio management are careers that can offer new opportunities and a way to success if you have the right skills and passion for these career paths. Try to find several courses or forums where you can discuss these matters and decide.
How To Start As a Product or Portfolio Manager?
The product portfolio manager's job description sums up your main responsibilities. As we already mentioned, managing a group of products, or one product's different features is your main role. You should figure out where to invest time and resources while examining the portfolio in order to achieve significant results.
Product managers usually need to have good communication skills as well as good organizational skills. You need to analyze your customers and be good at delivering what customers want. You should be a strategic and progressive thinker who sees the bigger picture.
It is always good to find some online courses on Udemy or Upwork and get to know the basics if you have not had an opportunity. This will help you decide if you find these careers interesting or if you want to advance your skills.
Also, you should join communities where other product or portfolio managers talk about their experiences and find some ideas or tips on how to become better at the job you do. This article will give you an insight into project manager's duties.