Working on a project can be challenging. It requires proper planning and teamwork. Without these, you might find yourself missing out on deadlines and putting out low-quality output. To avoid such a fate, you might want to start looking for the right project management tool for your business.
According to Statista, 65% of businesses claim to have felt the positive impacts of project management tools. It increases their overall productivity and helps them accomplish tasks and goals on time. Most importantly, it ensures that everything goes smoothly from start to finish.
And with the rise of cloud technology, having access to such solutions is easier than before. A quick search on the internet will give you a wide range of options to choose from. However, searching for the best could be an overwhelming and time-consuming task. You might find yourself at a loss with where to start.
So to help you with your search, here's a quick guide on how to choose the best project management tool for your business.
Identify your business needs
First, you have to determine what your specific needs are based on the project and its required processes. Various methodologies could fit what your team is looking for such as waterfall, agile. If you need a combination of agile and waterfall, you can opt for a hybrid approach.
Other factors to consider include your company size, the number of employees and teams you have, what types of projects you usually handle, what systems do you currently use, and how much IT support you can provide for the software.
Knowing what your business would need for its projects makes it easier to determine what to look for in a project management tool, helping you narrow down the list of tools and features you need for your business.
Evaluate available tools and functions
Each project management tool has its own unique set of features and functions. Nonetheless, some essential project management tools that you should look out for include project planning and scheduling, team collaboration, tracking, and reporting.
When managing team projects, you should have the right tools to keep track of tasks, agenda, goals, and deadlines. Your teams would need to access a centralized calendar or dashboard so that everyone is aware of the project's progress. Likewise, collaboration tools such as live editing and real-time messaging or commenting could help improve team productivity in the long run.
And with the currently available technologies, you can also keep an eye out for software powered by artificial intelligence. This can help your teams further streamline their workflow and lets them work less while still being more productive than ever.
Consider customization
Customization is another essential criterion for selecting a project management tool. This includes having control over what type of methodology you can use for your project. From Kanban boards and Gant charts, you would need a wide range of options to choose from to help your teams handle any types of projects.
Features such as a drag-and-drop editor can make it easier to reassign tasks, reschedule deadlines, and move around priorities within teams. This also makes it easier to rearrange your project boards to accommodate various changes. Widgets can further improve personalization by adding optional functions such as notes and reminders for personal use.
Through this, your teams and projects can be flexible enough to adapt to any workplace's rapidly changing environment. Likewise, it gives you the freedom to tailor-fit your software according to your projects' specific needs.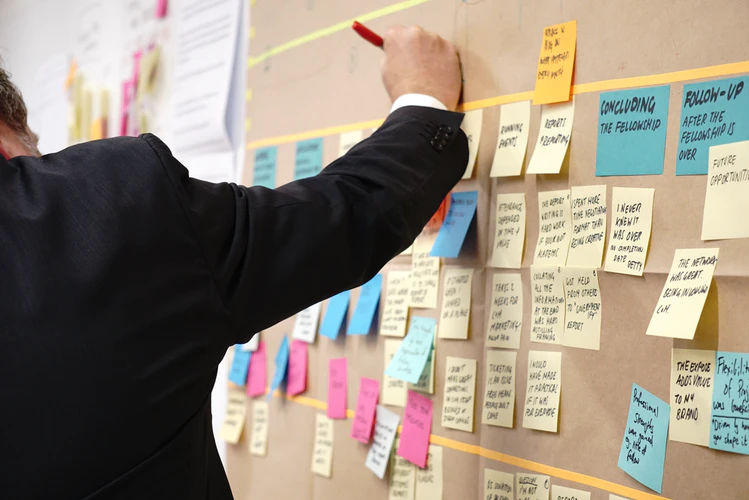 Take into account your budget
With so many project management tools available out there, your goal is to find the most cost-effective one. After all, you will surely have a planned budget before your search. But don't let the price tag hold you back from finding the best one.
You might think that investing in more expensive software for your business would guarantee a better user experience and results. However, you can find some decent, if not great, project management tools for an affordable price.
Some offer a subscription-type of payment for their services that allow you to cancel anytime you want. This makes it easier for you to control and manage your expenses in the long run. EasyNote, for example, offers different pricing plans or subscriptions to accommodate your needs while also taking account of your budget.
Consider multi-platform compatibility
Flexibility is the name of the game nowadays. As 25-30% of the global workforce begins to shift towards the remote setup, your project management tool should be able to run on any type of device regardless of size, specifications, and hardware.
With multiplatform compatibilities, your teams can work on their projects anytime and anywhere. They can seamlessly carry over their tasks from their computers from the office straight into their smartphones or tablets at home without disrupting workflow.
This can greatly increase their productivity and ensure that everything is done on time. Furthermore, this flexibility paves the way for easy scalability since it allows you to open the software on multiple devices.
Consider integration capabilities
To keep your entire processes streamlined, you must also consider your software's integration capabilities. After all, project management is just one aspect of your business operations. You might have other software assisting you in other processes.
For example, you can integrate your project management tool with G Suite to help enhance your project management software's collaboration functions. This gives your teams access to a collection of cloud computing and productivity tools marketed by Google, making collaboration easily accessible through your web browsers.
Integrating your software has several benefits. It gives you access to more tools and functions that are beyond what your project management tool offers. Likewise, it lets you move on from one task to another without disrupting workflow or compromising data integrity.
Test its usability
Nowadays, there are many ways on how to evaluate project management tools. You can research them on the web or read customer reviews and feedback from various sources. However, these alone might not be enough to give you the whole picture.
Fortunately, more and more service providers offer demos and trials for their software. It gives you first-hand experience with the product itself without having to pay for anything. In this way, you have an idea of how it works and what it can do to help your teams.
So, before you can purchase a project management tool, take advantage of the demos or trials available. After all, expectations can diverge wildly from reality. It's better to give it a try first before fully committing to it. To give you a head start, here's a long list of project management software examples ranked according to user satisfaction and its usability.
A better way to manage your projects
Technology has changed the way businesses handle their projects. It has provided you with tools and software to help your teams avoid common project management mistakes out there. And with the prevalence of cloud technology and SaaS, project management tools are even more accessible than before.
Working on a project can be tough. Without proper planning and teamwork, your teams might end up performing poorly, resulting in delays and other issues. To prevent that from happening. It is high time that you consider getting project management tools for your business. And with these tips in mind, you'll find the best one for your business in no time.
How Easynote can help you
Since Easynote is developing all the time, new features are being added for you as project manager to manage your daily project. New list of features are being developed and you can find them here.
We have also created a list of best projectmanagement tools in 2021, and a servicenow project management alternatives.