Managing projects, activities, and resources is made easier with the ServiceNow Project Management software. Projects ranging from a few simple tasks to vast portfolios including several interrelated and interdependent activities may all be created and managed with the help of Servicenow Project Management.
After going through this blog, you will be able to decide whether ServiceNow Project Management software is suitable for you or not as we will depict both the great and bad sides of ServiceNow Project Management.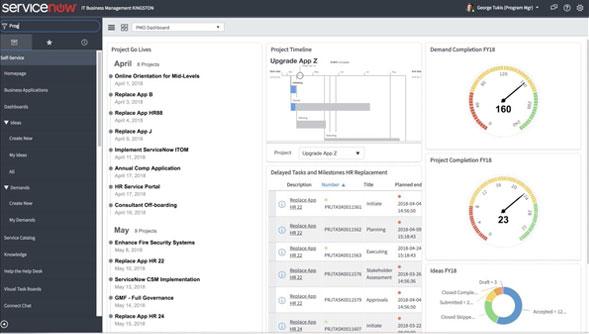 Compare ServiceNow Project Management to others best project management software
It's clear to understand why ServiceNow Project Management ranked so better when drawing comparisons to other project management tools.
Unlike its competitors, ServiceNow Project Management automation tools are more efficient and cost-effective, and it is adaptable enough to fit your company model instead of the other way around. Moreover, other top project management software such as ClickUp, Wrike, Trello, Workzone all are doing fantastic jobs.
To compare ServiceNow Project Management with them, we can easily say that ServiceNow Project Management is one of the top tier project management software.
Unique Features of ServiceNow Project Management
Investment Funding
An investment fund offers a bigger range of investment options, more management skills, and fewer investment costs than just an individual investor could receive on their own. Based on strategic objectives, portfolios, and business services, ServiceNow Project Management allocates funds from the top down.
Innovation Management
The process of managing an organization's innovation method, from the first step of ideation to the last stage of effective implementation, is referred to as innovation management. ServiceNow Project Management Inspires and motivates your teams to interact, build concepts, and transform ideas become expectations.
Scenario Planning
ServiceNow Project Management scrutiny analyze the scenario and provide probable outcomes. By determining different scenarios, it will help you to make effective business strategies. ServiceNow Project Management uses what-if analytics to assess numerous possibilities in order to better align investments with your company strategy
Servicenow Project Management: The Good Sides & The Bad Sides
Each and everything has its downsides, just like any other. ServiceNow Project Management isn't any different. In spite of this, its advantages far exceed its disadvantages.
The Good Sides Of Servicenow Project Management
Very Easy to Use
It's easy to use, and it covers all of the steps involved in managing a project or a portfolio. Intuitive process for notifying stakeholders and updating project milestones and tasks. Importing data is comparatively quick. It's the only source of accurate information for the entire company.
Team Collaboration
There are a lot of project management systems out there, but they don't have enough collaborative features to satisfy our needs. ServiceNow Project Management ensures that all stakeholders, from IT to sales, are on the same page at all times. Condenses a complex subject into an accessible piece.
Flexible & Work Faster
Automated processes provide you with the information you need to prevent project delays, so you can get back to work sooner. Java and JavaScript are supported on the back-end development side. It has a lot of flexibility. Saas and Paas are both supported by ServiceNow. Enables attachment of papers and other items to a full-featured tracking system.
Centralization
It's amazing to have one source for all information. Because of the frank and transparent nature of this program, better decisions are made and the project's goals are more closely aligned. Project management, it has the ability to help us to see progress more clearly. Your investment has a higher chance of success when you can get it immediately. ServiceNow Project Management is much more efficient than other available project management software in the market.
Efficient
The UI is straightforward and easy to use. It's a methodical approach to keeping track of customer service difficulties. It's easy to use and get about. Config the tool's process to move code packages to production, as needed.
Provide Precise, Up To Date and Automated Data
This tool provides stakeholders and managers with up-to-date data and trends via pre-existing and customizable reports, allowing them to make informed choices. Data and status are easily available, dependable, and automatic when stored in a single system.
Data such as due dates and percentage finished are included in the Project Status Portal's high-level summary. Users can select from a variety of which was before status reports or customize their own reports with a few mouse clicks. Shared and exported reports are also options available. Risk is reduced by reporting accurate and up-to-date data, which allows for educated and competent decision-making.
The Bad Sides Of Servicenow Project Management
Insufficient Tutorials
Users might benefit from more tutorials so that they can get up and running more quickly. There is a lack of tutorials regarding the usage of ServiceNow Project Management software. For this reason, users feel trouble getting used to the software. For the average user, there are too many alternatives. All users should be given formal training via tutorials. Without assistance, it's difficult to lift.
Not Versatile and Dynamics
A project number must be assigned before it can be linked to your PPM profile. You also have to log in each time you visit. It doesn't keep track of your passwords. A timesheet might be difficult to remove or alter once it's been submitted. A flexible and scalable way to manage projects and resources throughout the company is provided by ServiceNow Project Portfolio Management (PPM). In my opinion, there are no downsides to ServiceNow portfolio management. Thank you for making it possible for us to do so.
Other Best Alternatives
Easynote
Easynote is another prolific project management tool. Perhaps, one of the best and easiest to use on the market. This software's main motive is to assist companies to solve their crucial project-related challenges. Project management software Easynote is an excellent pick for those who work in the information technology (IT), Construction or Manufacturing industries.
What makes Easynote unique is its GRID-Based system called Easyview which is scalable and adaptable to any project or industry. Thanks to its widgets Easynote can be adapted into anything.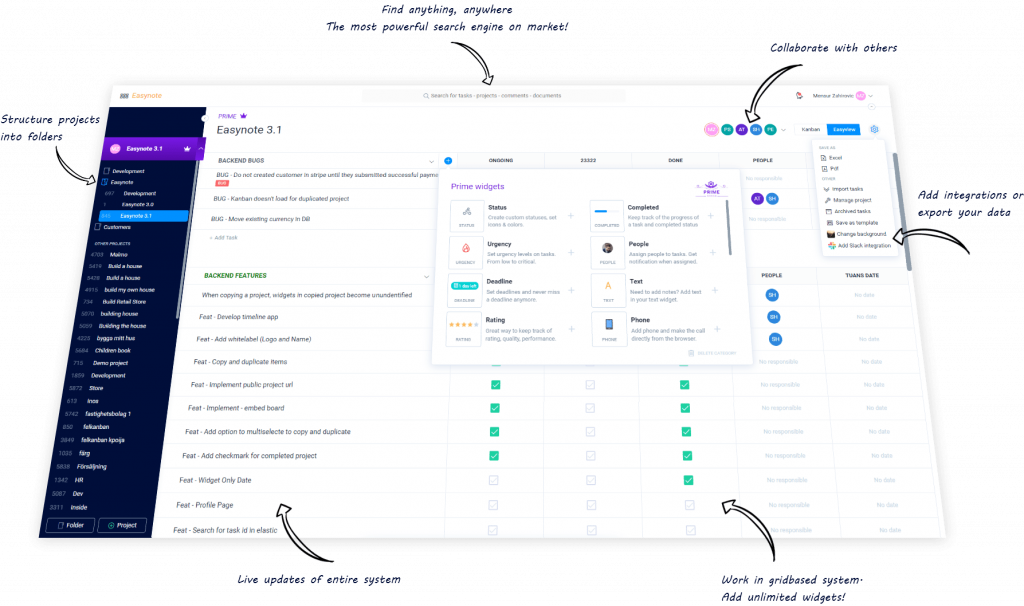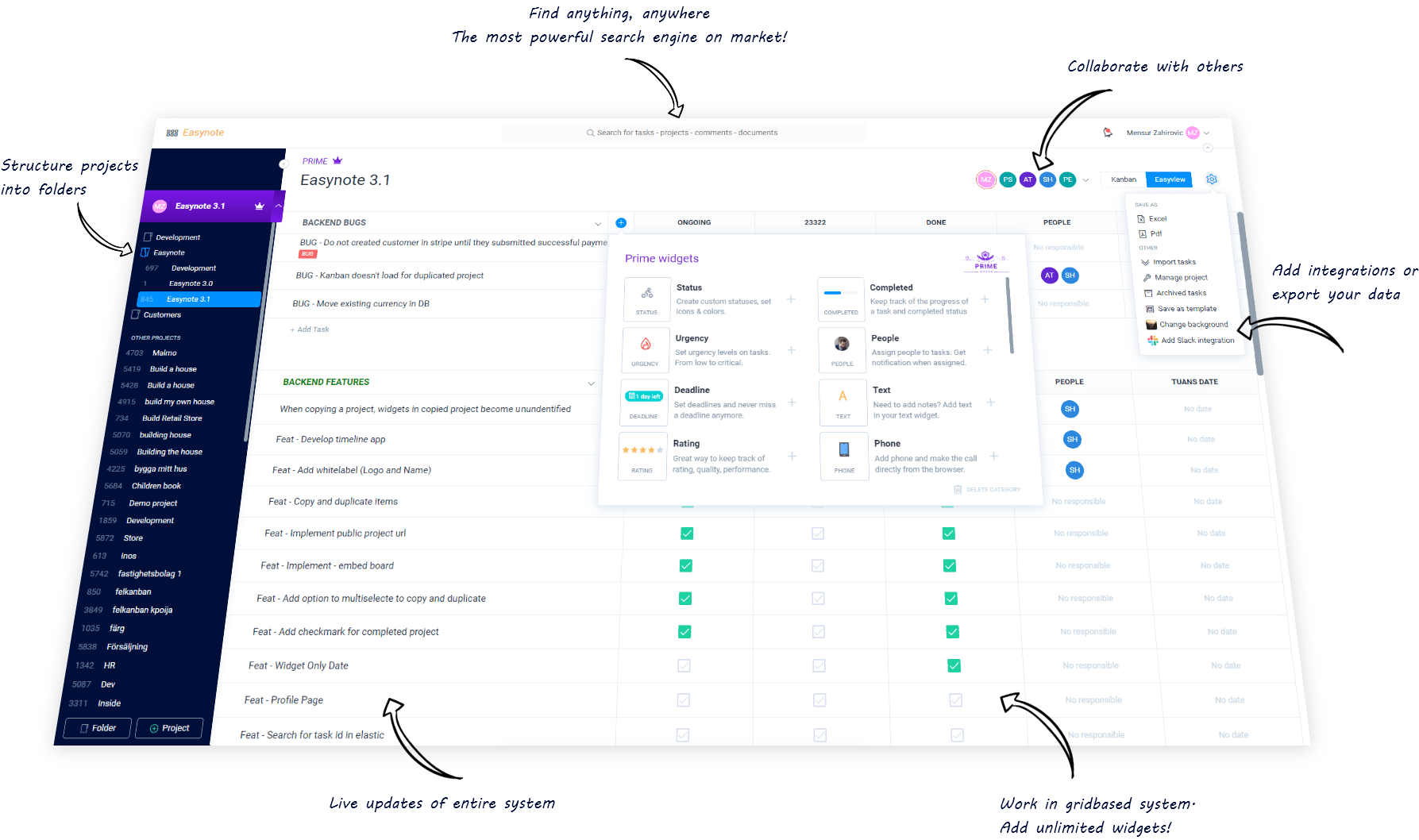 The exclusive features of Easynote are given below:
Work and Collaboration
You can work with your fellow partners simultaneously. Each and everyone can view their work progress and barriers to accomplishing the projects. It allows combining work with others. Everything you need to keep track of all your projects in one spot.
Timeline (Gantt Chart)
Easynote has created one of the best-looking and easiest Gantt charts on the market. It is very easy to get started with at the same time, it is easily connected to your project in Easyview so you are on top of your project no matter what view you are using. It's a great way to get an overview in a more visual way.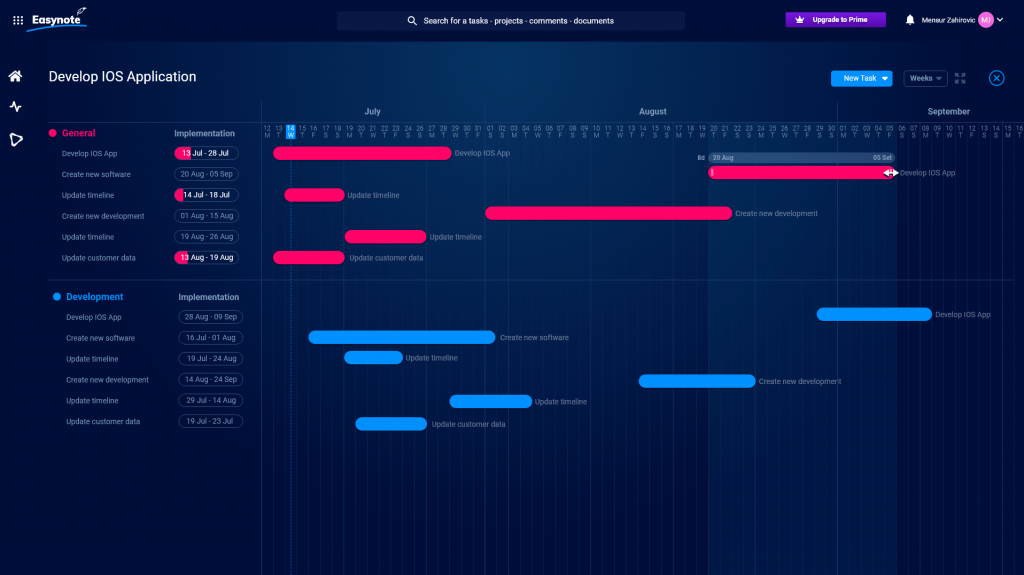 Templates
With Easynote's template, you are ready to get started in a second with work. Easynote comes with over 50 pre-defined templates which you can use, so no matter the industry, you will be able to get started within seconds.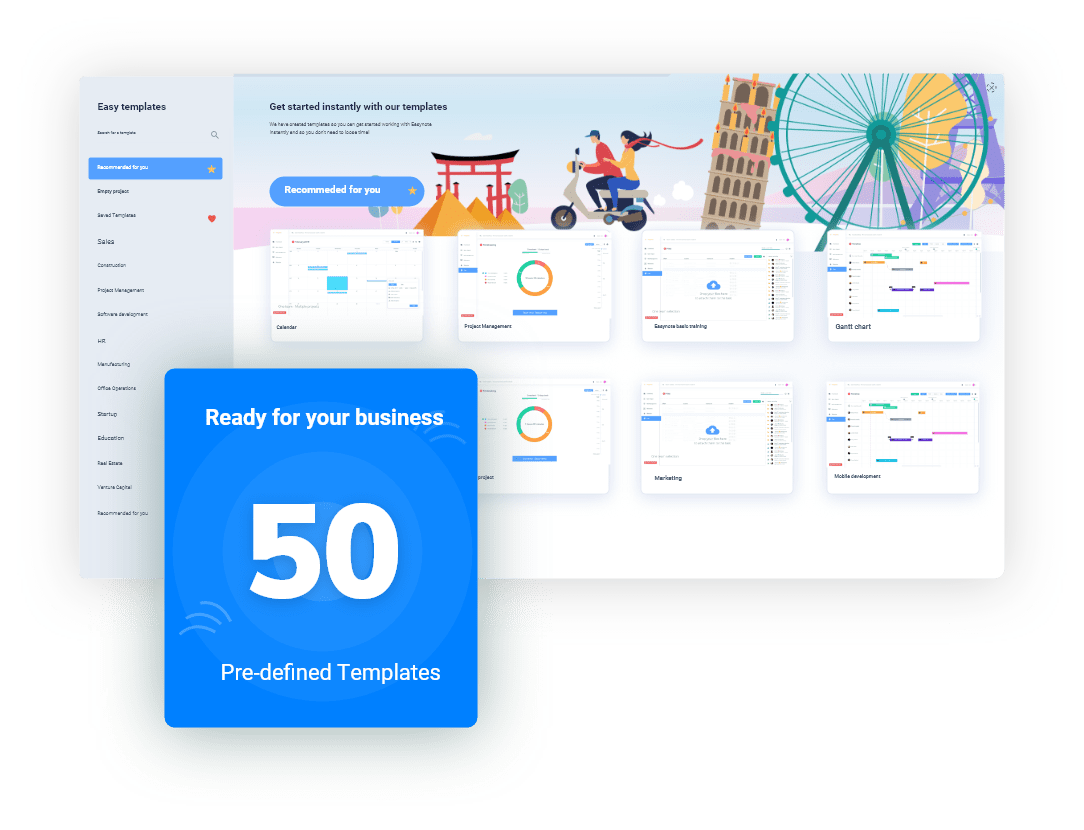 Ultimate Dashboard
Web application dashboards are typically the first page that users view when they log in. Statistics, trends, summaries, and more are all displayed on this page. It dynamically displays essential information from web applications in many circumstances. Here, the dashboard of Easynote gives an overview of the works of any certain project.
To read more about the dashboard visit the website: https://easynote.com/dashboard/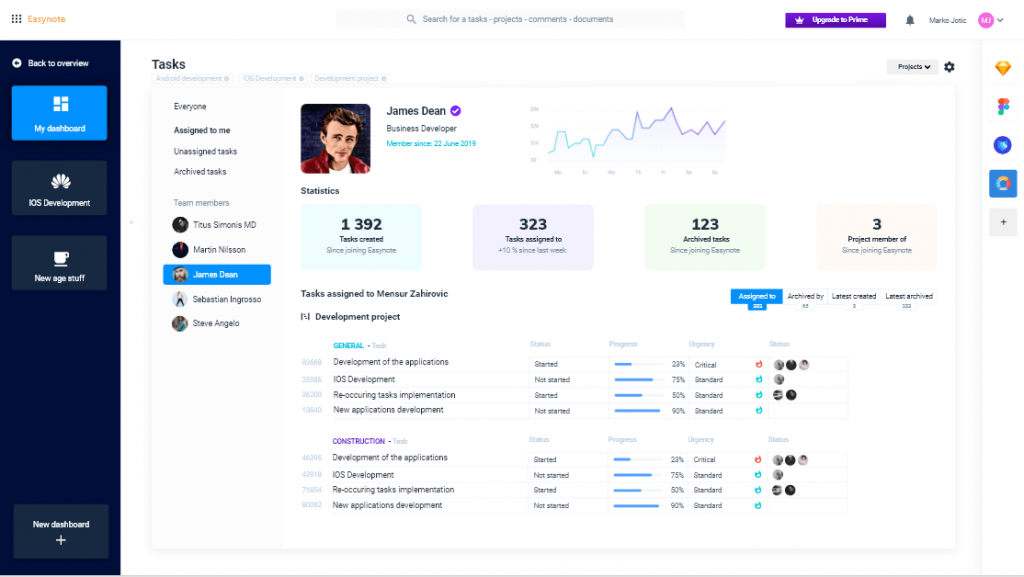 Knowledgebase and Tutorials
It seems that they have focused quite a lot on giving the best support to their customers.
We have seen that they have created over 100 articles in their knowledge (help.easynote.com) base for their customers on help.easynote.com and they have created fantastic video tutorials so users can see the tool in action and what different features do. This can be found on easynote.com/tutorials/
ClickUp
ClickUp has three unique features: Visualize & plan, Collaborate, and Track progress. 
An easy-to-use tool for planning and visualizing projects of any size, from start to conclusion, is available. Assign remarks to action items and stay on top of everything with alerts that bring everything together in one spot. Aside from that, it provides visual widgets for the members of the team as well as for the projects they are working on. The Gantt charts provided by ClickUp are state-of-the-art.
Project progress is seen from a high altitude, making it easy to map out future work. It's ideal for managing project portfolios. Automated Gantt charts are also included in the ClickUp Gantt charts, so you may not have to spend hours tweaking your project charts.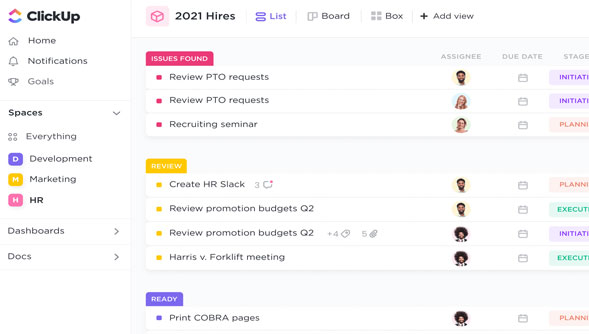 Wrike is a web-based tool for project management that has won several awards. Collaboration tools like this one are more commonly utilized in the major leagues than the other options on our list. For large teams and organizations, it's ideal. The features of Wrike are Three panel view, Analytics, Forms, and request. Time-tracking and file-sharing are only two of the many built-in functions. For calculating deliveries, it also provides comprehensive reports and insights.
With Wrike's strong analytics, project managers have access to a wealth of information about their project and their colleagues. They've put up a list of two of their most popular reports.
Analysis of task data from eight distinct categories in a global report. It Keeps track of expenses and predicting future resources is useful. The chart of performance refers to overtime, a visual representation of your project's progress. With Wrike, you can get all the information you need in a matter of seconds. Project management in its purest form.
The Kanban-style user interface of Asana clearly exceeds rival project management software in terms of ease of use and simplicity. It's packed with functionality, yet this just takes a few minutes to get begun and onboard your staff. While Asana doesn't make our list of the best project management tools, it's our top choice for firms that want more advanced customization possibilities.
Out of all the project management tools we looked at, Asana had the best free plan. The free plans of most other PM software are so limited that they are useless for small firms. Even with the free version of Asana, there are no limits on the number of teams or projects that may be created.
Asana's user-friendly UI is one of its most appealing features. It's simple to use and straightforward. You have a lot of control over the way it appears and can quickly move your to-do list around. There is an activity stream on the dashboard for you to see what your colleagues are doing. Simple projects benefit greatly from this kind of project management.
Visual project timelines in Asana are Gantt charts. It shows you when tasks are due, who's in charge of them, and how far along you are. Gantt charts, on the other hand, can only be created with distinct Gantt chart software. Using this visual project timeline, you'll be able to see exactly what's going on with your project and make any necessary schedule modifications.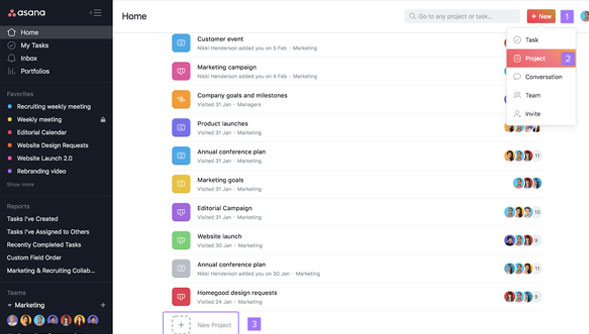 To put it simply, Trello is an easy-to-use application for project management. Like a supercharged sticky note, Trello's cards are recognizable. While they're fun to look at and convenient when you need them, they're not as thorough as, say, sticky notes.
Each task has a "Board" assigned to it in Trello. These boards may be accessed by a project manager via their dashboard and they can make any modifications they choose. With a single click, they may add keywords, custom fields, and priorities. This is the pinnacle of Kanban project management, it's simple and it works.
It's possible to give each project work a power-up based on the situation. Like other freemium apps, you can get additional functionality for some of these power-ups by purchasing paid upgrades. Google Drive connectivity, calendar views and file sharing are just some of these additional capabilities. "Butler" is Trello's most popular feature, which allows it to automate a collection of tasks.
Workzone
Workzone has been in use since 2000 and is a well-known web-based application. When it comes to project management, Workzone is old-school. The status of all of your projects may be viewed at a glance from your project dashboard. When you open a project, you'll see all the subtasks, due dates, and assignments associated with it right away.
Working with Workzone, you'll have access to comprehensive reports on a wide range of issues. Individual performance reports, project statuses, and time management reports are all included. Each report may be customized as well. As a standard bar graph, a pie chart, or even a table, you may see the results. Your desired information is sent in your preferred format.
Because Workzone is a product of a previous era, it provides straightforward project management. The status of all of your projects may be viewed at a glance from your project dashboard. If you need reminders about upcoming deadlines, you'll get them as well. Workzone focuses solely on the essentials, with no unnecessary bells and whistles. Besides, Workzone's text box makes it easy for your project team members to collaborate. As a result, all of your discussions are organized and placed in the most appropriate location.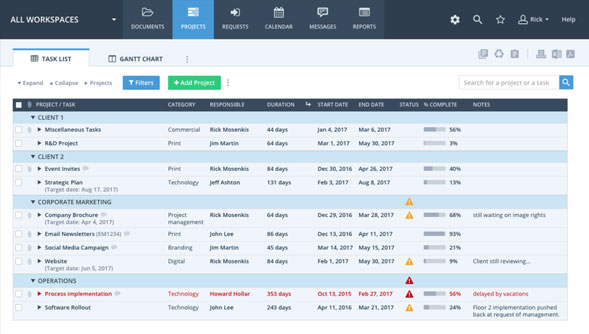 ProofHub
ProofHub is a well-known project management company. If you're looking for an excellent online proofreader, this is the one. Nevertheless, it comes at the cost of not being the greatest project tracker out there. No hard attempt is required to use ProofHub. From the dashboard, it's easy to manage tasks, teams, and projects. With the press of a button, ProofHub allows you to establish status alerts for projects, making it simple to keep track of them.
Using ProofHub, project managers may create customized roles for staff. Custom roles allow employees to have different levels of access to your software. For confidential projects and valuable information, this is an excellent method for restricting access.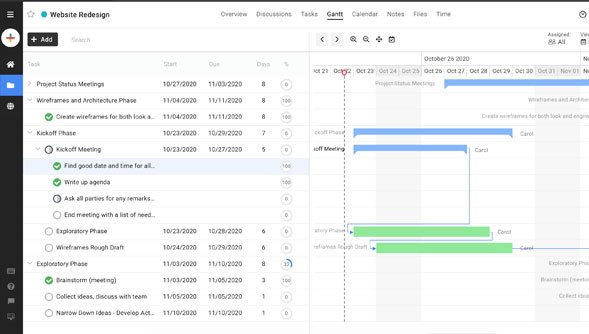 If you would also like to see the list of best project management tools in 2021, you can do it here.