Project management is one of the most important skills you can possess. It's how you manage and monitor projects. The best project management software like Asana makes it easy to manage and monitor projects.
Asana is one of the finest project management software on the market. But maybe you have some questions in mind, Can small companies afford Asana? How much does Asana Cost? If you're not familiar with Asana, it's time to be familiar with the Asana pricing model and plans.
In this article, we're going to take a look at the complete overview of Asana with cost and help you figure out whether it is a good fit for your business or not?
Let's get started!
What is Asana?
When it comes to managing and organizing activities and projects for your company, Asana is an excellent option. It's a cloud-based task management solution. Multiple projects may be handled at once and can be used by businesses of all sizes. Also, it is a web- and mobile-based application that helps teams organize, track, and manage their tasks.
Asana has a free plan. Most alternative project management software's free plans are such restrictive and limited access members that they are useless for small businesses. There are no restrictions on the number of teams or projects created in Asana's free version. You will get all the advanced project management features in the paid Plan.
Let's have a look!
What is Asana Used for?
Remaining on track and meeting deadlines is easier with Asana. Ensure successful project launches by tracking project progress and tracking individual activities. Asana allows you to track the status of your projects from being started to being completed. Besides, Asana is used for the following:
Project management
Remote work
Work management
Task management
Manage workflows
Team collaboration
Project planning
Agile management
Program management
Increase productivity
The Main Features of Asana
Asana is packed with advanced features, yet getting started and onboarding your workforce just takes a few minutes.Some great features of Asana are given below:
User Interface
Asana's user interface easily outperforms competing in terms of simplicity and convenience of use. The user-friendly interface of Asana is among its most attractive features.
You have a lot of control over how it appears and can quickly move your to-do list around. In addition, there is an activity stream on the dashboard for you to see what your colleagues are doing. Simple projects benefit greatly from this kind of software.
Visual Project Timeline
Gantt charts are used to visualize project schedules in Asana. It displays you when tasks are due, who is responsible for them, and how far you've progressed.
You'll be able to monitor what's going on with your project and make any necessary schedule changes with this visual project timeline.
Lots of App Integration
Asana has the potential to merge with everything. All of your company operations may be managed using Asana's integrations with various other programs. It's compatible with several popular applications such as Slack, Google Calendar, Dropbox, etc.
Automation
Automation can perform anything from the routine activities you and your staff perform every day to the monotony that no one enjoys. With automation, you can streamline your processes, ensure that your team doesn't miss out on important tasks, and provide value faster. Asana's automated features reduce errors, simplify workflows, and save your time.
Boards
Many of you familiar with the concept of a Kanban board or who have used software like Trello will welcome this new feature in Asana. Columns on a board often reflect the stages of a project's lifespan, from conception to conclusion.
Custom Rule
Custom rules may be created in a matter of minutes using Asana's builder. You can be certain that everyone follows the correct procedures and that processes are running as planned. It merely appears to be magic at first.
Templates
Asana has a variety of templates. So, you don't need to spend too much from where to start. Asana's template supports all kinds of project management. Using Asana's customizable templates, you don't have to set up processes or project management systems from scratch, which saves both time and money. Using templates helps you save both time and effort.
Workload
The Workload provides a high-level view of internal team capability. To consistently deliver high-quality creative materials, you must be process-driven and adaptable enough to take on extra projects and adjust workarounds to meet deadlines.
Your team's Workload and each individual's capacity to complete tasks are viewed using Workload.
Custom Fields
It's easy to use Asana's custom fields to display crucial information, such as priority level and approval stage. Marketing projects may be kept on track and budget by using this method.
Calendar
You'll be able to track all of your team's work in a single online calendar, ensuring that you always meet your deadlines. There are times when a customer, client, or anybody else may want to see what you've been working on. It is possible to export tasks and due dates from Asana to your calendar.
Is There a Free Version of Asana?
There is a free version of Asana. It is called 'Asana Basic.' It is free to sign up, and you can create a free account. You can collaborate with 15 members. Here other features include:
Organize your projects and tasks.
Split up the work among your team members.
Get access to a wide range of free templates.
Observe your tasks from a variety of viewpoints (board view, calendar view, and list view)
Create two distinct types of accounts (a workspace or an organization)
Use Asana's mobile app to keep track of tasks while you're on the move.
What Makes Asana a Great Project Management Tool?
Simply, Asana is one of the finest project management solutions available on the market. Previously, we have discussed in detail the key features of Asana. These features make Asana great PM software.
Now, we would like to share some reasons about what makes Asana great:
Communicate in a single place
Imagine not having to go through your email inbox to find a single piece of important information by browsing through hundreds of threads. Asana includes a built-in email inbox, which is why we like it so much. You can discuss a task with others, such as your clients or colleagues. It's possible to talk about projects and teams, and individual tasks on the same platform.
Break down tasks
Multiple tasks can be broken into subtasks in Asana. You may guarantee that your key responsibilities are more manageable and feasible by doing so. Subtasks can also be assigned to various persons, allowing you to outsource and save time.
Track progress
When you're working on a large project involving several individuals, it might be challenging to keep track of everything that has to be done. Keep everyone informed on the development of the project using the Assana function. The traffic light system is a great way to communicate status changes.
Should You Pay for Asana?
The straightforward answer is 'Yes.' With these premium features, it is worth paying for Asana. Furthermore, paying for an Asana subscription is certainly worth it, given how many customization possibilities it provides. Therefore, it is recommended that you should pay for Asana.
We think Asana is well worth the money if you enjoy it. Many medium-sized teams will probably be happy with the Premium tier, while larger organizations may upgrade to Business at a reasonable price. Asana's unpublished Enterprise pricing, which we can't verify without contacting Asana, is likely the same.
How Much Does Asana Cost?
Asana has 4 pricing plans to choose from. Asana has 3 price tiers, the first of which is free. The free Plan is 'Asana Basic,' as explained above. Now let's see the complete Asana pricing guide. The other Asana pricing tiers are:
Asana Premium
Asana Business
Asana Enterprise
Asana Premium Costs & Features
The cost of Asana Premium is $10.99 per user when it is billed annually. At the same time, the Asana Premium plan costs $13.49 per user when it is billed monthly. There is no limit on users in the Asana premium plan.
The top features of the Asana premium plan offer:
Unlimited task management
The ability to run as many projects as you like and keep track of them (including Boards project view)
Project start dates are shown in a timeline perspective (i.e., Gantt charts)
Reports from the advanced search
Custom Fields and Dependencies can be added.
Personalized Templates
For non-Asana users, a straightforward approach to create tasks in a project is using forms
Enhanced privacy protection
Integrate as many apps as you want
Admin rights
Asana Business Costs & Features
The cost of Asana Business is $24.99 per user when it is billed annually. At the same time, Asana costs $30.49 when it is billed monthly. There is no limit on users in the Business plan.
Asana Business contains the following features in addition to those available in Asana Premium:
Portfolios
Workload
Custom Rules
Proofing or Annotation
Adobe Creative Cloud Integration
Customization
Custom Fields
Exclusive Assistance from Asana by customer success manager
Asana Enterprise Cost
To get a price for Asana Enterprise, you'll need to contact the company sales team. The IT staff may also select who can and cannot use the company's Asana subscription through user provisioning and de-provisioning.
Best Asana Alternatives in 2022
Because we understand that Asana isn't for everyone, we can accept that! There are so many wonderful Asana alternatives, don't worry if you don't feel like it's the right match for you. You may expect to find some of the greatest project management software.
Easynote
By all means, you can manage projects and teams with ease with Easynote. With Easynote's support, you can remain on top of your daily to-do list and meet deadlines. It is one of the prolific PM tools on the market.
Important to realize is that Easynote loads rapidly, creating new projects or activities quickly, and assigning priority to different tasks is super easy.
Key Benefits of Easynote
Most user-friendly software
Work and Collaboration
Unlimited Templates
Ultimate Dashboard
Knowledge-based Tutorials
Timeline (Gantt Chart)
kanban Style Board View
Pricing
Another key point is that, Easynote comes with tones of the features in the Prime Unlimited package.
Some of the features include:
Anysearch
Easyview
Templates
Kanban (Agile view)
Easy activity
Custom backgrounds
Re-occuring tasks
Save as Excel / PDF
Labels
Task dependency
The complete list of features can be found here.
Features
Different from other, Easynote comes at a low cost for only a price tag of $99 unlimited number of users.
Monday assists a project team in the running and accomplishes its project confidently and flawlessly. Members of a team can communicate with one another and share information using the collaborative tools provided by monday.com. In addition, Monday.com has various features to make working together with others exciting and convenient.
Key Benefits of Monday
Management & Planning
Collaboration
Budgeting
CRM Software
Documentation
Pricing
Monday.com Basic package starting $8 per month
Monday.com Standard is a medium package with a price tag of a seat of $10 per month
Monday.com Pro is for professionals with a cost of $16 per month and per user
On the other hand, Jira Software makes operating system delivery easy. In addition, Using Jira or other project management software will save your time and help you run your Business or activities smoothly.
Key Benefits of Jira
Agile Reporting
Kanban Boards
Roadmaps
Scrum Boards
Pricing
Jira Standard: $7.50 per user each month
Jira Premium: $14.50 per user each month
On the contrary, Trello is a Kanban-styled web-based platform to navigate, memorize, track and notify work progress and manage multi-personnel collaborative projects.
Key Benefits of Trello
Task Tracking
Checklist
Automation
Customization
Pricing
Free Plan: $0 (Best for small teams)
Trello Standard: The lowest packages starting at $5 per user each month
Trello Premium: For medium companies at $10 per user each month
Trello Enterprise: This is by far the most expensive package at $17.50 per user each month
What Makes Easynote a Better Alternative to Asana?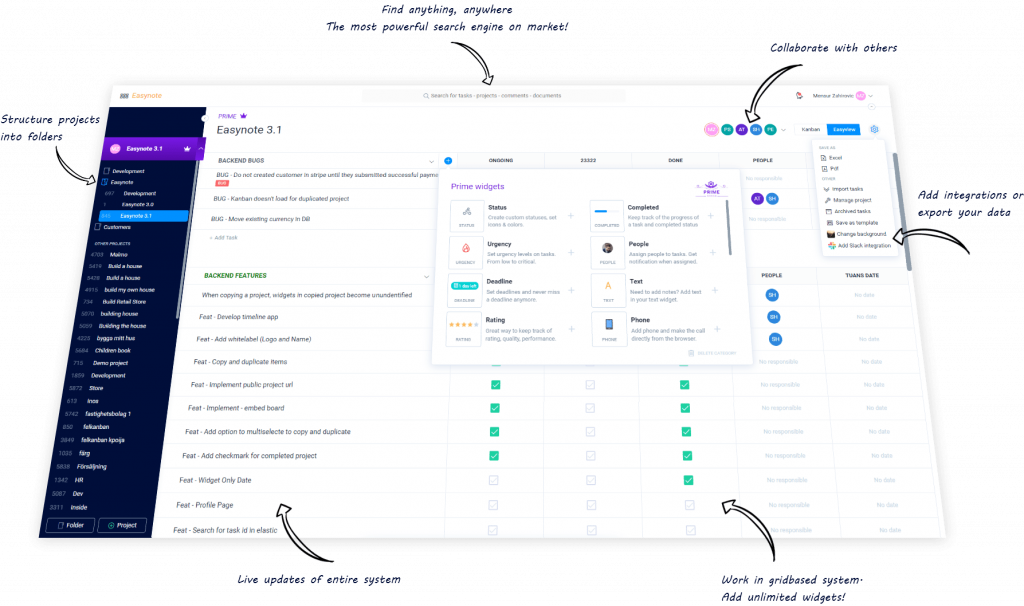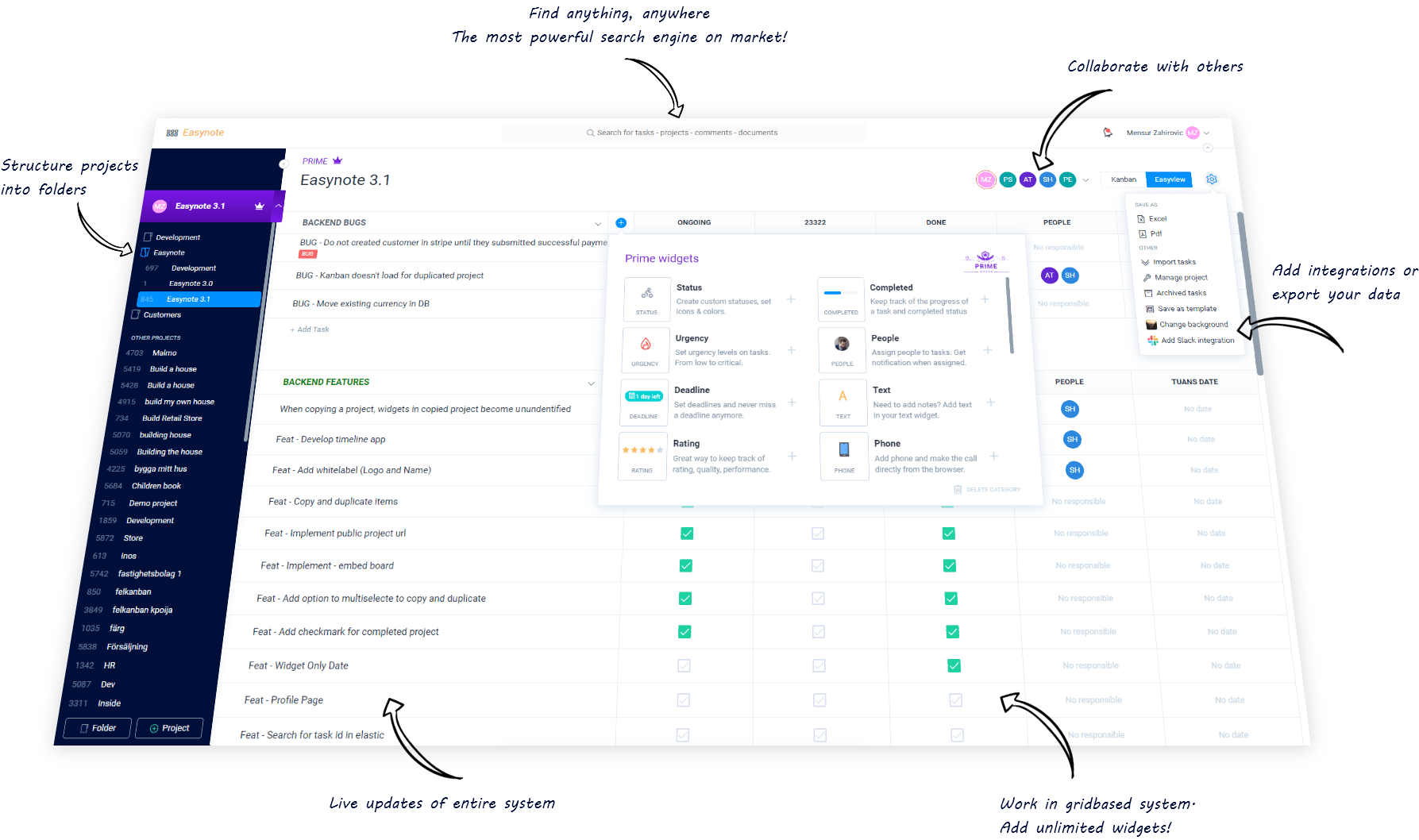 In Easynote, users can quickly and conveniently conduct searches across their saved tasks. The user interface of Easynote is straightforward, and it doesn't require any training to get up and run. Its grid-based layout makes it easy to keep track of all activities and data. Above all, there are no limits on the number of widgets that users can add.
Easynote may be customized to meet your needs regardless of your industry or business size. Easynote's collaboration mechanism improves the team's productivity and helps each member focus on the right things appropriately.
Let's see the best features of Easynote that make it different from other PM software:
Daily Updates
The software's constant updates and real-time notifications help keep employees informed about the progress of the project and encourage team collaboration. Using this software, you can create your daily activities and responsibilities, even if they are for work or personal use. Also, it is excellent for keeping track of your day-to-day activities.
File Sharing
It's a great way to share files. To finish your projects effectively and by their planned objectives and aims, you will benefit from this kind of monitoring, direction, and assistance. As a result, you can share project files with colleagues and other stakeholders.
Reminders and Alarms
You can set reminders to meet the task deadlines. Easynote ensures you that you will never miss out on any project tasks. In this case, you can also create reminders to warn members through pop-up messages or email when you're approaching the deadlines for tasks.
Task Dependencies
You can accomplish specific tasks that need to be done quicker than other tasks by using task dependencies features. Prioritizing your task is made easier with the aid of task dependence.
Gantt chart
Easynote has features that make it easier to finish assignments and projects on time. Assign due dates and deadlines to the project's activities using a customizable timeline.
Your entire team will be able to estimate how long it will take to finish each activity. And you will have a visual way of your entire project.
Pricing of Easynote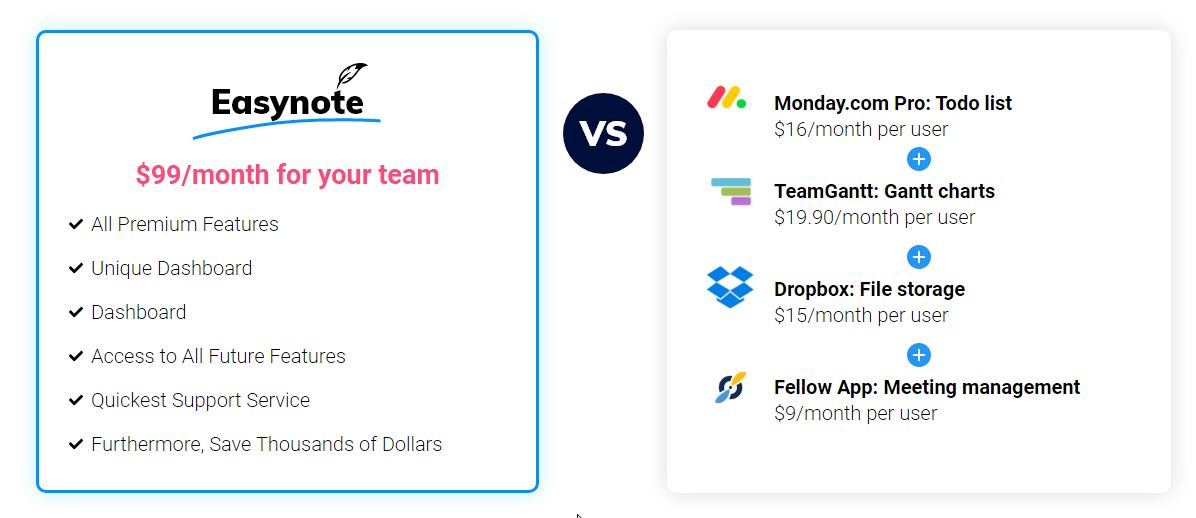 Easynote is affordable project management software for any size of Business. There are two tiers of price levels that Easynote is offering. Considering all the aspects, Easynote can be the better option to keep your team productive and stay focused.
Easynote Prime Unlimited
Easynote Prime Unlimited is for small, medium companies. It will charge $99 per month flat rate. That means that no matter how many users you have in the company, you will always pay same price. However, if you are 10, 50 or 500 people in your company, the price is the same. Here, you will obtain all the features of Easynote.
500 GB storage with 1 GB files uploading capacity.
All the prime plan features with 2FA Authentication, Priority support, Dedicated manager, Save project as a template, and so on.
Conclusion
Asana is one of the popular project management applications for managing projects. It is easy to use and effective for managing the most complex projects. In addition, you can use it for your company if you don't have budget restrictions.
But if you are looking for project management tools like Asana with affordable pricing and attractive features, we can suggest you go for Easynote.