As a business owner, you need to manage your projects with the best possible results. Therefore, you need project management software that will help you keep track of your progress, create and track schedules, and make sure that your team is working as planned. However, choosing the right project management software can be difficult. You may have heard of several different types of project management software, but which one is best for you?
This article will discuss one of the most popular project management software named Monday.
Let's get started!
What is Monday Project Management Software?
Project management software Monday assists a project team to run and accomplish its project confidently and flawlessly. Members of a team can communicate with one another and share information using the collaborative tools provided by monday.com.
Users may efficiently interact and manage project progress and recurring tasks across numerous boards with an integrated timeline feature. In addition, team collaboration and task management systems including Google Drive, Dropbox, Google Calendar, and more are supported by monday.com's integrations.
A cloud-based work OS, Monday.com allows teams to design workflow apps within minutes to operate their projects and routine work. Even if you're starting, you'll find that monday.com is a great place for your entire team to collaborate and stay on the same page in everything they do: from sales pipelines to marketing campaigns to project management tracking. Using Monday.com, you can easily visualize projects and switch between Kanban, timeline, Gantt, calendar views in a matter of seconds.
Is Monday a project management tool?
Yes it is! The reason for that is when planning a project, you are managing time, quality, costs, resources and many other things. With Monday you can plan your tasks, organize who needs to do what and easily follow up. You can also organize your tasks into different categories and this is super helpful if you are working different departments in your organisation. Another great thing that Monday has is the tool called Monday WorkDocs.
With Monday Workdocs you can write down all your documentation which is super important when you are managing a project. What is often happened in projects, is that documents is not kept up to date and even more important when a project is done, so you can hand over to other collegues how your project went, and it's super important to keep track of your document in easy way. This is why their tool Workdocs is coming in hand. So yes, I would definitivly say it's a project management tool!
Are Monday projects free?
They for sure are! Monday offer a free account called "Individual" where you can registerr and create unlimited projects, documents and also comes with 200 templates. It's free for 2 seats so you can invite a colleague or friend to use it today. You can check out their pricing here.
What platform is Monday built on?
Monday is built on a technology called React! It's one of the most popular JavaScript frameworks to build websites. Initial Monday.com was built on a framework called Backbone.js. It was the cutting edge techology when Monday was created, however as the time moves on, new techologies come forward they realized that they need to make the upgrade.
How can Monday Help Your Business?
Project management software Monday helps your business stay organized by reminding you and your team of upcoming deadlines and important activities. You can smoothly manage your finances, projects, tasks, inventory, customers, and resources all in one place with monday.com. Monday.com has been one of the top CRM platforms because of its ability to track an organization's full sales process and contact lists in real-time. There is no limit to what monday.com's CRM can do for your business.
Monday.com's CRM is scalable, versatile, and convenient to use. It allows you to build a CRM platform tailored to your company's needs. It is now one of the top CRM platforms on the market because of its ability to track an organization's full sales cycle and contact lists in real-time.
Key Features of Monday Project Management Software
For choosing the finest project management software, bear in mind not just your demands but also your company's values and culture. Monday.com has been a fantastic fit for many project managers. It has everything you need in a project in a straightforward package. Some key features of Monday.com are listed below:
Management & Planning
You can see the progress of the project very easily. Monday.com provides a calendar view of all of your project boards. It keeps track of upcoming deadlines by using a calendar app like Google Calendar. As a result, you can efficiently manage resources for the project.
The project managers get project planning with more than 200 ready-to-use project templates, monday.com makes it simple to get started right away without intensive planning.
Documentation
Through monday.com's file attachment button, you may keep essential project papers, photos, spreadsheets, or other relevant items.
Budgeting
With monday.com's dashboard features, you may construct budget dashboards with specific number columns. For example, a project manager can create budget forecasting for his project using formula columns.
Security
Project management software Monday has SSO (Single Sign-On) integration. You can control who has access to your assets by utilizing granular permissions controls to ensure only the right people have access.
Collaboration
It has a file-sharing option so that team members can easily share files and the project manager. Monday.com has all basic communication elements, including task comments and message boards. Using monday.com, you can also generate dashboards for just about any project.
Mobile access to Monday.com's software is available for iOS and Android users, allowing you to stay in touch with your team and keep track of project activities while on the go.
The Main Strength of Monday PM Software
You can get all the important features you need for managing a project from monday.com. Still, team management, visual planning, and CRM software are the main strength of Monday software.
Visual Planning
Monday.com brings you all you need to visualize projects depending on your preferences. Whether you prefer a big-picture look or want to see daily activities at a glance, you can effortlessly switch views and dig down or zoom out according to your needs.
A large number of views, including entirely tailored views, offers you all the data you need on project progress at a glance. So, you may stop wasting time seeking what you want.
Team Management
Each task item can be updated and commented on by team members. They can even conduct a Q&A to document the flow of information generated by each question. Each member of a team or group can benefit from these characteristics. In addition, users may collaborate on crucial documents using the file-sharing functionality and hyperlinks.
CRM Software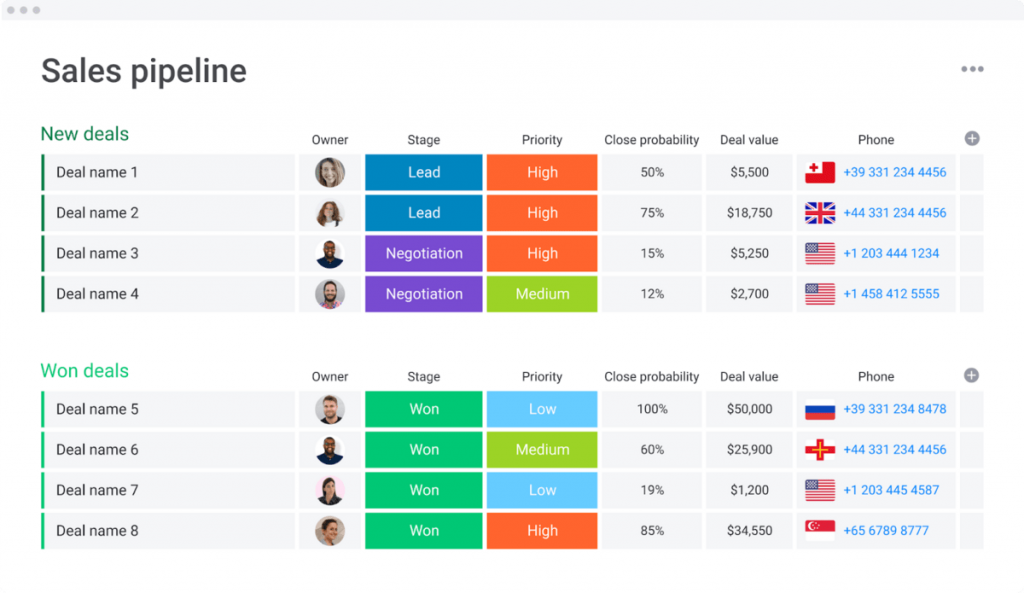 Project management software Monday gives you the perfect CRM software for your business. Clients and industry professionals both have given Monday.com high marks for its project management and CRM capabilities.
Everything from pre-sale through post-sale, almost everything in between, is tracked with Monday CRM. Managing the customers has become a critical aspect of the sales process. Phone conversations, emails, meetings, chat histories and support tickets are all kept in Monday CRM. To make the proper pitch at the appropriate moment, you can use this information.
Project Management Software Monday Reviews
Monday.com is the ideal project management software because of its adaptability, accessibility, affordability, and impressive feature set. Here are several good reviews as well as a few bad reviews about monday.com are given below:
Pros
Inexpensive & Affordable
Monday.com is inexpensive and easily affordable for a company. The pricing range is low, and the program is relatively straightforward to use. Because of its low price, it's a great choice on the market.
Fascinating Work Management Capability
It's a handy work management tool that may use in various situations. It aids in the management of your thesis or project plan. Creating projects from templates is also possible. It's an excellent tool for both small and large teams in a company.
Built-in Time Tracking
Time tracking is one of the features that Monday.com offers as a part of its project management skills, making it unique in the industry. Most project management software provides time tracking as an optional feature.
Trackers may be set or stopped with a single click, and the user can manually enter the time. With only a few touches on your smartphone, you can keep track of the time passing from any location.
Customizable Templates
Monday.com provides a template for any kind of project management, from simple ones with a couple of people to complex ones with dozens or even hundreds of people.
Monday.com's configurable templates make it unnecessary to set up procedures and project management systems from start, saving both time and money. You save time and effort by using templates.
Cons
Slow Support Service
Monday.com is simple to use, some users say that response times are excessively long. It is stated on the website that Monday's help personnel will respond within an hour. Although most of us want a live chat agent to reply much more quickly on this day.
Limited Task Dependencies
We found Monday.com's task dependencies lacking in contrast to other project management systems. In addition, dependencies are only provided on the two highest tiers, making them inaccessible to small organizations or those with a smaller budget.
Not User Friendly
It is not at all user friendly. The number of tutorials about how to use the software and articles on monday.com is not sufficient. Users always have to take a lot of time to get used to Monday. It doesn't provide a positive first impression and might repel newcomers.
Pricing of Project Management Software Monday
You can use monday.com free forever for up to 2 seats. Pricing ranges at monday.com are classified into four categories: Basic, Standard, Pro, and Enterprise. It offers a 14-day free trial for project management, regardless of the package you choose. You can use unlimited boards during the free trial without requiring a credit card.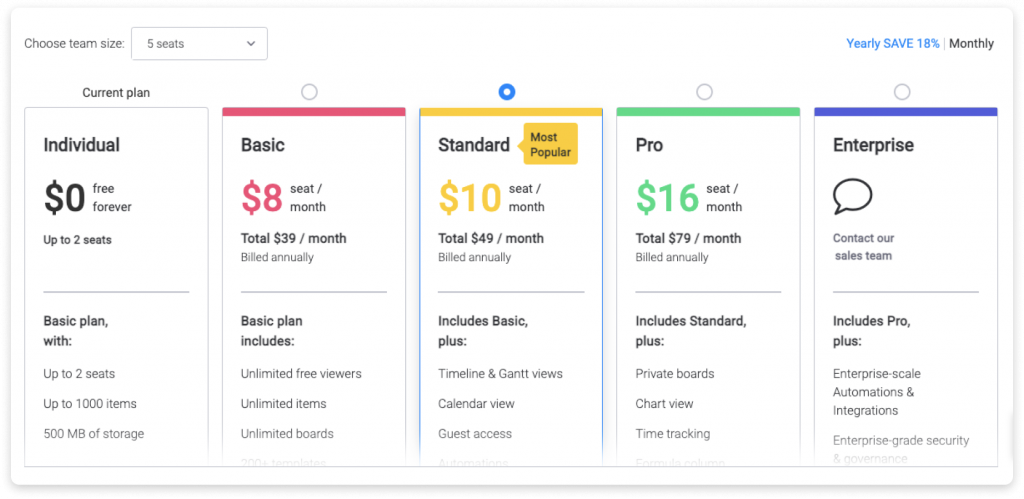 Unlimited boards and more than 200 layouts are included for an affordable price of $8 per user every month.
In Standard plan, you may construct a dashboard by combining data from five separate boards. It has a price tag of a seat of $10 per month.
You can manage your team's workload more accurately with the Pro plan. A chart view is also available in the Pro plan. With charts, you will get a clearer picture of your workflow's data. However, it has a price tag of a seat of $16 per month.
Designed for big and complicated businesses, Monday.com Enterprise is ideal. To begin, contact a member of the Monday.com sales team for a personalized Enterprise plan and package.
The Best Project Management Software Monday Alternatives in 2022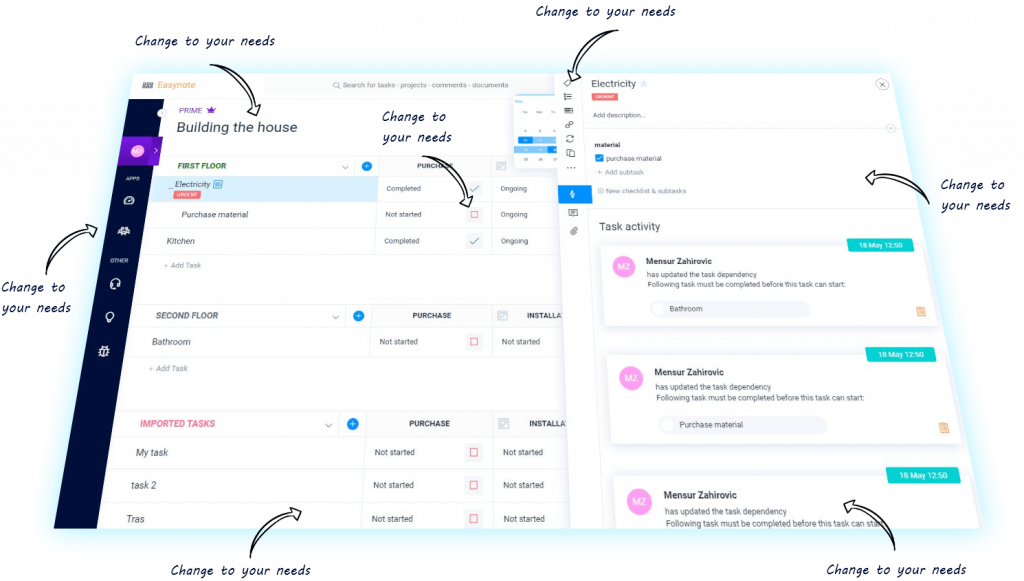 One of the most often used tools for project management is Easynote. The primary goal of this software is to assist businesses in overcoming their most critical project-related issues. People in the IT, construction and manufacturing industries will find Easynote a great choice for project management software.
It is a unique product since it is flexible and customizable to any specific project. For project managers, product managers, entrepreneurs, sales and accounting teams, Easynote is the ideal tool. It benefits all people who use it.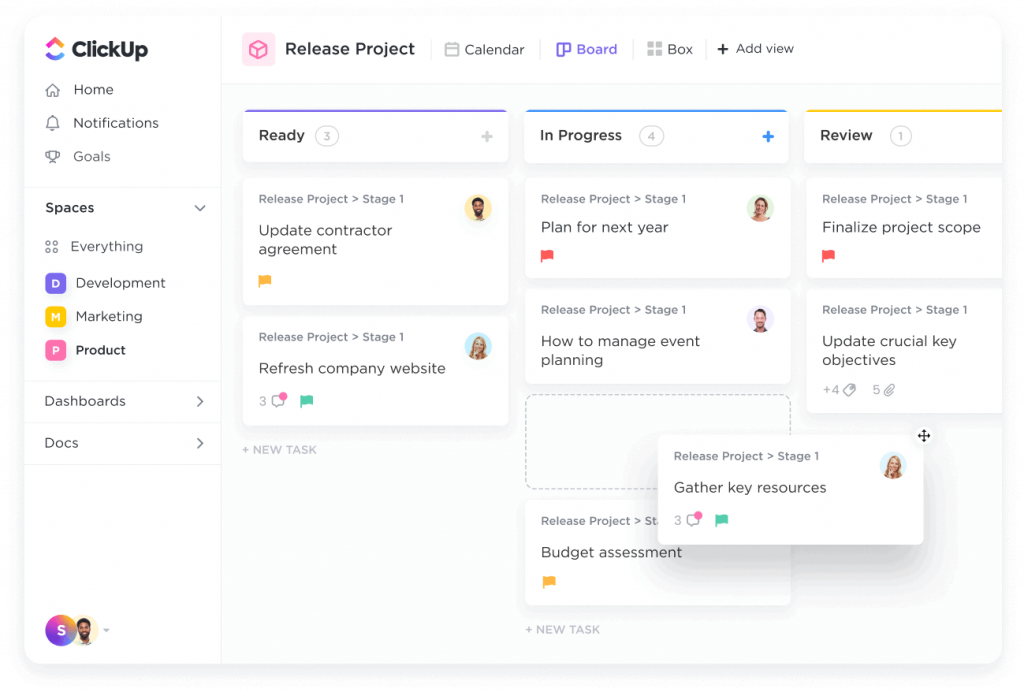 It is an easy tool for visualizing and planning projects of all sizes from beginning to finish. Make sure you assign comments to actions and keep track of the process by ensuring that everything is all in one spot. In addition it provides visual tools for team members and the projects they're working on. Visualize and plan, Collaborate as well as track Progress are the three distinct features of ClickUp.
Asana is easy to use and effective project management software. It has become a popular tool for managing even the most complex projects. In its early days, Asana was used by software entrepreneurs for project management. Now Asana is just what business owners are looking for
Trello is a simple easy application to use project management tool. Like a supercharged sticky note, Trello's cards are recognizable. Each task has a "Board" assigned to it in Trello. A project manager may access these boards via their dashboard and make any modifications they choose. For example, they may add keywords, custom fields, and priorities with a single click.
Workzone provides document management, project collaboration, customizable reporting, resource & task management reporting, and time tracking. In addition, automated emails with project progress updates are sent out via the cloud-based program.
You can access project data at varying degrees of detail, depending on your position on the team. An automatic and customized project to-do list for each project is available for users to see which tasks are due in the near future for all projects in the organization at any one time.
How can Easynote be the Better Alternative of Monday?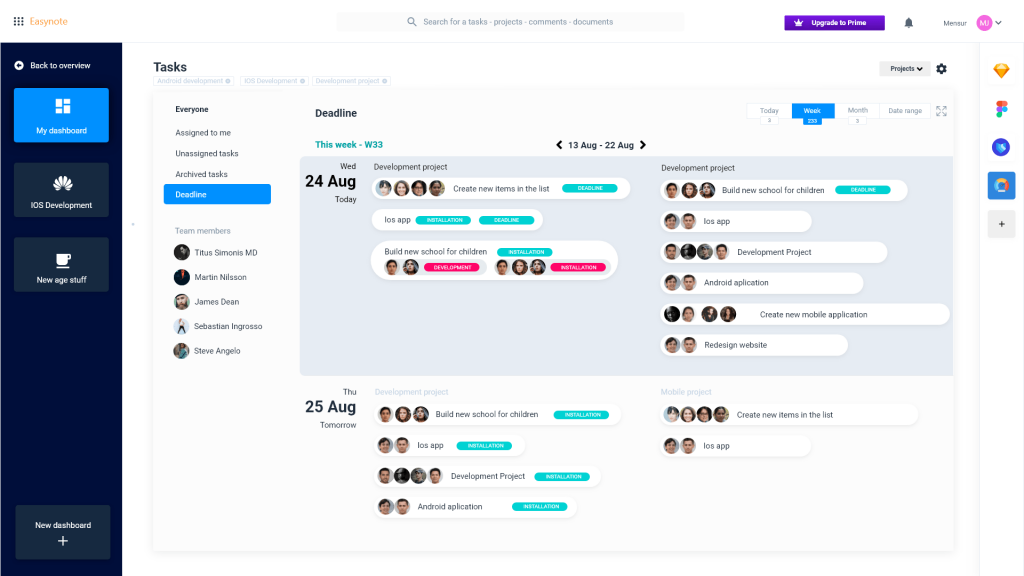 Easynote is one of the best project management solutions for project managers. It's simple to use, and you can manage every business project. Assigning tasks is the most excellent feature: you can add and define jobs, import or generate contact information or team members and allocate each assignment to various colleagues using the same tool.
The Key Features of Easynote are –
Kanban (Agile View)
If you want to work very swiftly, Easynote has a solution for you. Using the Kanban view, you can organize your tasks in an agile way. It is unique from any other project management software.
Timeline (Gantt Chart)
Easynote has designed a Gantt chart that is visually appealing and intuitive to use. You can be up and running with it in a matter of minutes, and it's tied to your project in Easyview, so you can always see what your team members are working on. Use it to receive an overview in a more visually appealing way. They appear to have put a lot of effort into ensuring their clients get the most satisfactory service possible.
Work and Collaboration
You can work with your team as well as track them. You can assign tasks and can give them feedback instantly. There is always a portal for communication with your team to know their progress. You can share them with any attachments. It is easy to export and import your files with others. Easynote is the best collaboration tool.
Powerful Dashboard
Easynote has the most powerful dashboard on the market. A dashboard is a web application that instantly shows critical information in various scenarios. The Easynote Dashboard will provide you with a comprehensive picture of your projects, including what is happening, where it is happening, and who is doing it. It is possible to create your custom dashboards and apply whatever criteria you choose to the underlying data inside.
Fascinating Templates
Easynote gives you more than 50 pre-defined templates to help you start your work instantly. Also, if you do some tasks repeatedly, you can save the templates from conducting that task super-fast next time.
Reminders
Using reminders, you may ensure that your tasks are completed on time. Using Easynote, you may be assured that you won't overlook any important project details. In addition, you can easily notify members when deadlines for tasks are closing.
Subsequently, Easynote is unique from other available project management software on the market. Easynote's GRID-based approach, which is scalable and adaptable to any project or sector, is what makes it stand out.
Conclusion
To sum up, Monday.com is a popular project management software. Having ample features, Monday.com is cheap and affordable to everyone. However, Project Management software Monday has some recommendations to work on and improve its service.
On the other hand, in Easynote, the Easyview, Gantt and Kanban views are all connected, so all of your information is constantly up to date no matter which one you use. For these reasons, Easynote is the best option than other available project management software on the market.