What is Confluence?
Confluence is a wiki collaboration tool developed by Atlassian. Confluence is meant to be a knowledge management and collaboration hub where everyone is supposed to come together and work on a project. It is a software platform to manage online content, such as reference documentation, meeting minutes, file tracking, and versioning, enabling multiple users to collaborate and contribute to the same content.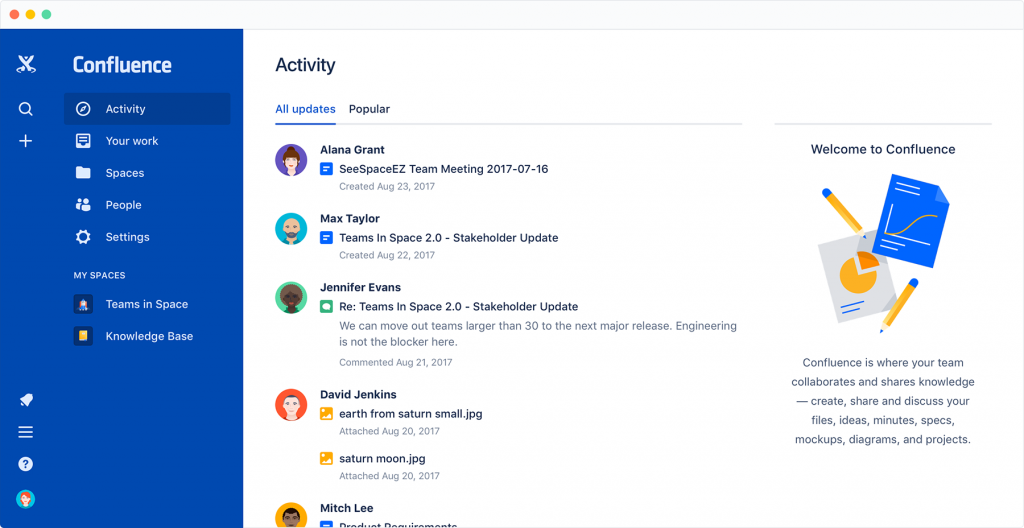 Benefits of using Confluence
Confluence helps you organize everything. Either create a space for your team to group all your staff in one centralized place or create multiple spaces for each team. It provides structure so that everything is easy to find and work on. Now, let us talk about pages. Spaces contain pages, where you can create a page at any time and choose from several templates available to get started faster. For example, capture meeting notes or photos from the workshop, document project requirements, or record important decisions to refer to back later.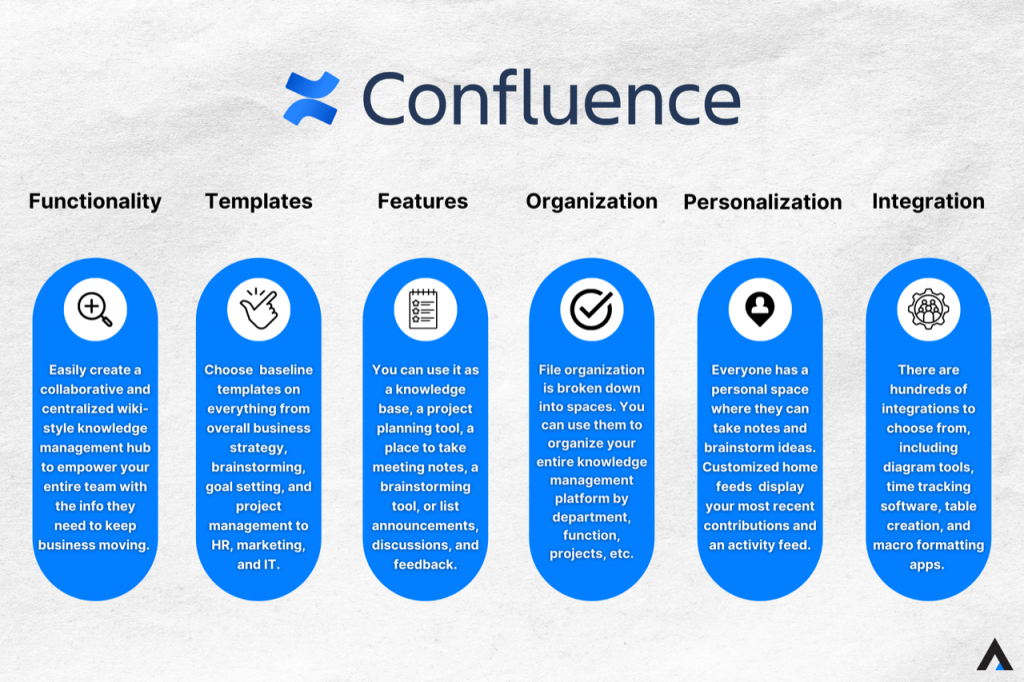 With Confluence, you can set up all levels of communication, either opening it up for everyone or keeping it for yourself. Collaborating is pretty simple, you can comment on the page, edit the page, share with a certain group of people, and tag other users which is especially useful for remote teams. It surely gives anyone included in work equal opportunity to participate and use their voice to contribute in any way desired.
When it comes to pricing, Confluence offers a free version for single teams that want to plan and track work more efficiently. it is available for up to ten users, with up to 2 GB of file storage and unlimited spaces and pages. Furthermore, there are three more options. The standard for 5.5 dollars/user, Premium for 10.50 dollars/user, and Enterprise for enterprises with global scale, security, and governance needs.
Disadvantages of using Confluence
Confluence has been widely used for over a decade, after its initial release in 2004. However, in the meantime requirements for project management have significantly increased and changed, which gives software developers a chance to incorporate the newest technology, ideas, and features. With Confluence, ensure that you are using the latest version of Confluence so that it performs fastly and reliably.
Today we have numerous Confluence alternatives to present to you that could be easily integrated into any company or project management. The decision to choose between them can be challenging for project managers, but having the bigger picture in mind lets you meet halfway.
So what are the best confluence alternatives?
Easynote is 4 in 1 tool that allows you to organize everything in a single place, starting from projects, and meetings to files and relevant documents. There is no need to jump from one app to another, waste your time, or switch between devices. Easynote Documents App is where you can write all your documents, collaborate with your team members, organise your work, and the list goes on. Now, let us dive deeper into Easynote Documents App that serves as outstanding Confluence alternative.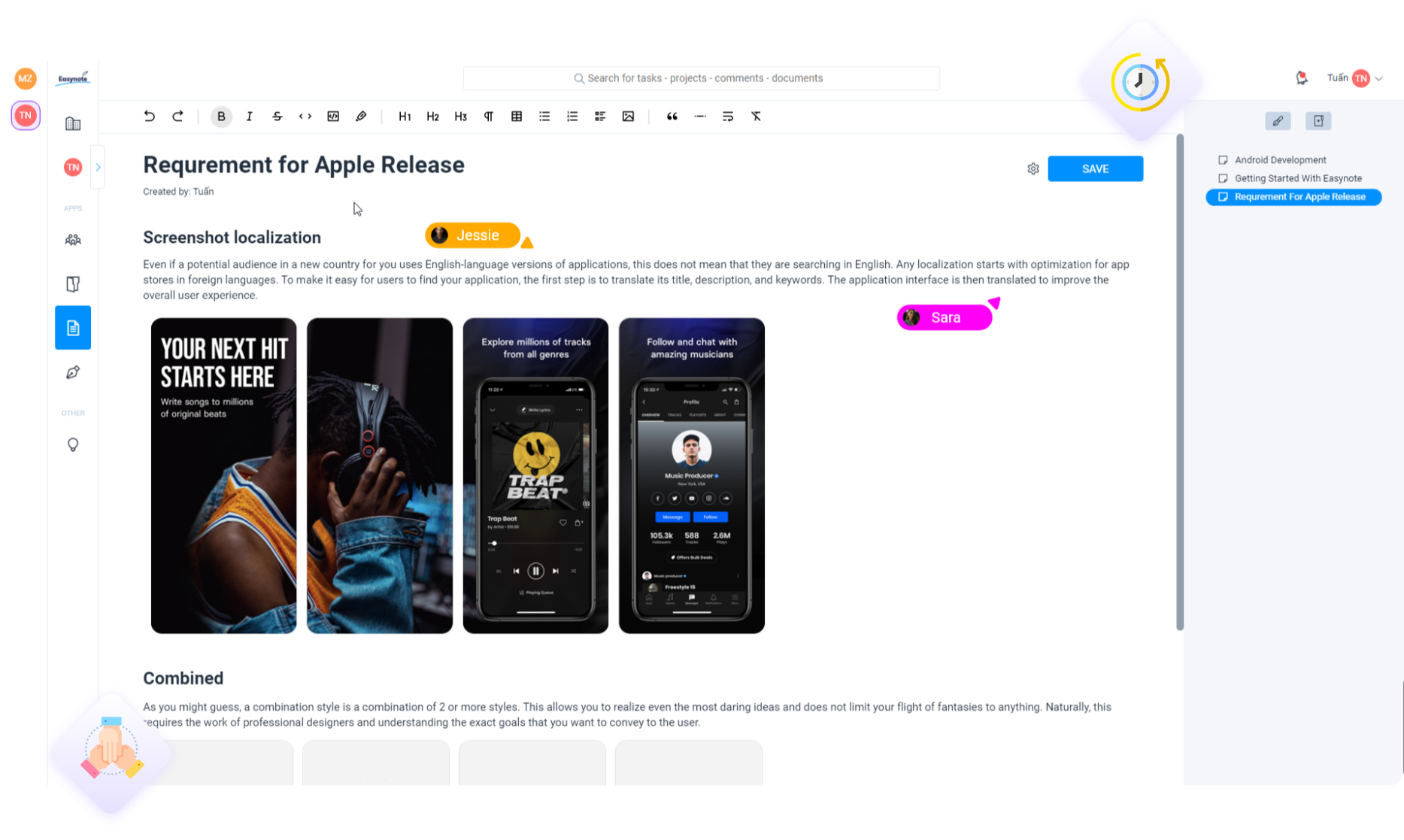 Instant Collaboration
Whether you are a project manager, team leader, or team member, smooth collaboration makes your work easier. With Easynote Doc App, you can instantly respond, change or add photos, edit text and watch the changes other team members make in real-time.
Sensitive Data Protection
A flexible feature that helps protect any sensitive or secret data which might be convenient for bigger teams. The collaboration level can be set following the needs.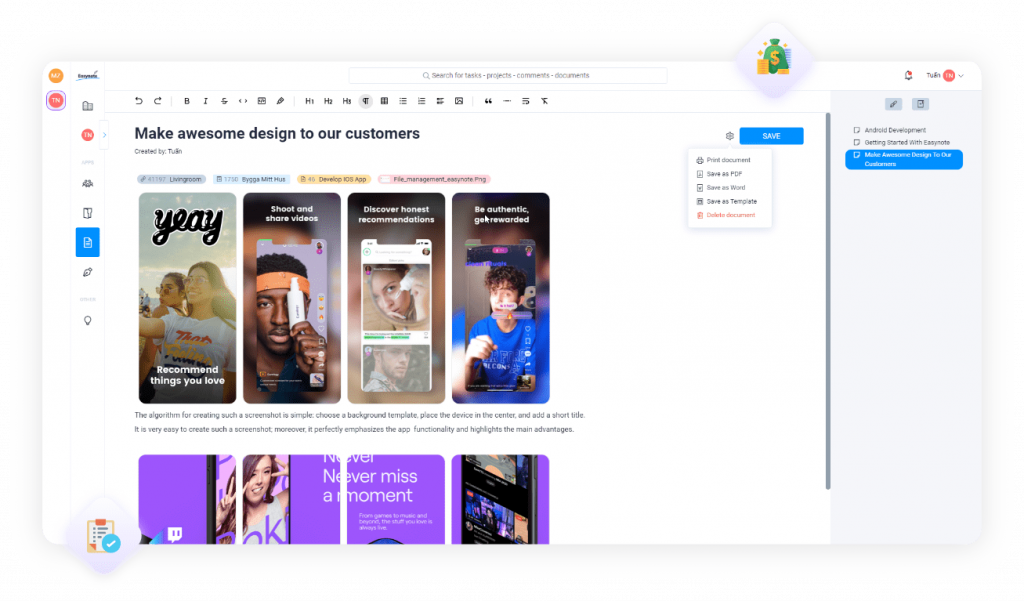 Save, Save as template, Export, Print
Once you finalize your document, the data can stay further in use by creating the template out of it. Later, the saved document can be reused from the template section as many times as you need to.
Text Edits
Inside Easynote App you can write any text you need to and make all necessary edits which include options like bold and italic text, and creating bullets. To make the document clear, Easynote Doc App allows users to insert tables, tasks, and images.
Create Folders and move them around to organize your work
No project can be successfully implemented without adequate organizational skills. Within Easynote Doc App, everything is adjusted to your needs, and you can easily structure the document by creating folders. With the drag option, you are allowed to move the document into any previously created folder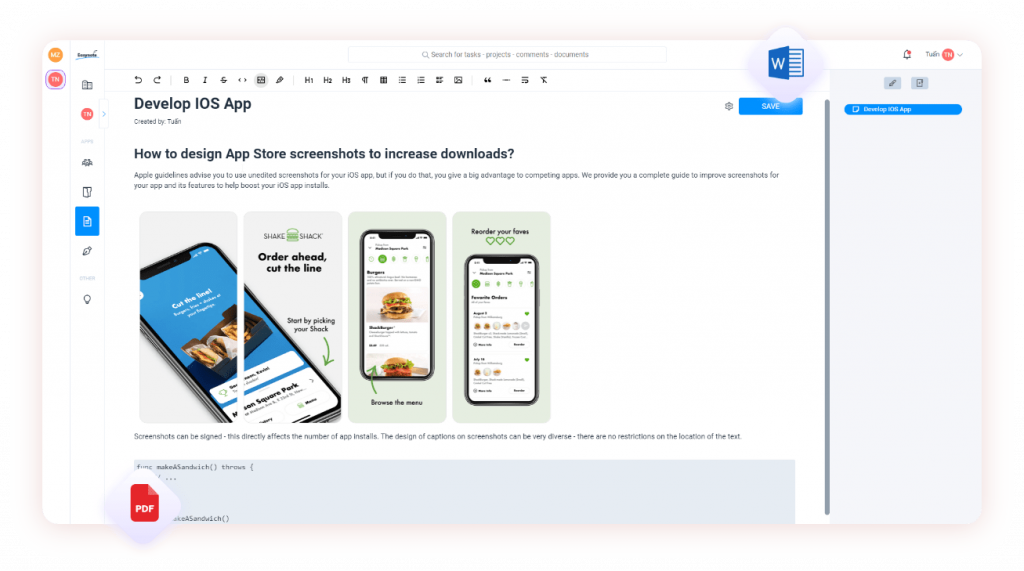 Tags
You can tag anyone who has an access to the project, and the person tagged will get a notification about the mention. It is a practical solution to assigning a task to your colleagues or simply letting them know about some updates.
Integrated Files App
Last, but not least, Easynote has an integrated Files App as well. Now, all users can share tasks, projects, and files straight from Documents and check the deadlines, assignments, and much more. This option opens by slash command and lets you quickly insert tasks, projects, or files.
With Easynote continuously updating, you can expect even more innovative features and solutions for productive and effective management.
The document is a text that we put inside our hierarchy in ClickUp that can move around just like any other list and we can have a bunch of information, such as emojis, text, bullets, and even things sorted into columns. ClickUp Docs allow you to format information in Documents. Similar to other tools, here we can add several subpages.
What ClickUp Docs ultimately do is that they allow you to format information in a document. You can find it on the left inside the hierarchy of ClickUp.
Create ClickUp pages
Similar to other tools, there is an option to add subpages inside a Doc. Even though your document can be infinitely long, this feature provides additional layers to the hierarchy, and here you can clearly express the vision of the document.
Toolbar
Within documents, you can easily add text and format it according to your desires. ClickUp lets you format the text in various heading styles, or have banners that highlight some important information. You can sort the text into bullets or tables and make it clear and eye-catching. The toolbar is where you can create subpages, leave a comment, or create a new task. In the end, you can pin this toolbar, or turn it into a floating bar.
Changes Overview
If you would like to see all previous changes made to the document, ClickUp Docs has made it available. This means that you never have to save anything inside, but it is saved in real-time with the name of the member who made the change.
Template center
ClickUp has created a template section that will save your time and help effortlessly create a new document. You can use some of the previously created pages to start with or make use of default templates.
Settings
Give your touch to the document by customizing it to your desires in the Settings bar. Here you can experiment with different fonts, sizes, line heights, and more. To minimize distractions while writing, you can turn the focus mode on. This will reduce the opacity of all the content in your Doc that you are not working on and keep your attention for some time.
Slash Commands
To save time, ClickUp has created instant Slash command to do things. That is the easiest way to create a table, bulleted list, insert a gif, or embed a Google doc, drive, sheet, and much more. ClickUp Docs is completely compatible with other ClickUp tools, and by slash command whole new list comes up. This is how a lot of formatting options appear, and the command also gives an ability to add a list view from elsewhere inside the ClickUp account and it shows up within the document.
Add your style to the document
In addition, this tool lets you have a unique document style, meaning you can add a cover, icon, or change colors.
Monday is another app that has amazing collaborative tools integrated into the system. Monday.com created a section named Monday workdocs.
Add and personalize your text
Inside a Monday workdoc, you have an option to choose between several items that appear from the drop-down menu. These include normal text, bulleted list, numbered list, checklist, quotes, and more. Once you add the text, you have edit options that show from the floating toolbar. You can apply different text sizes, alignments, and colors.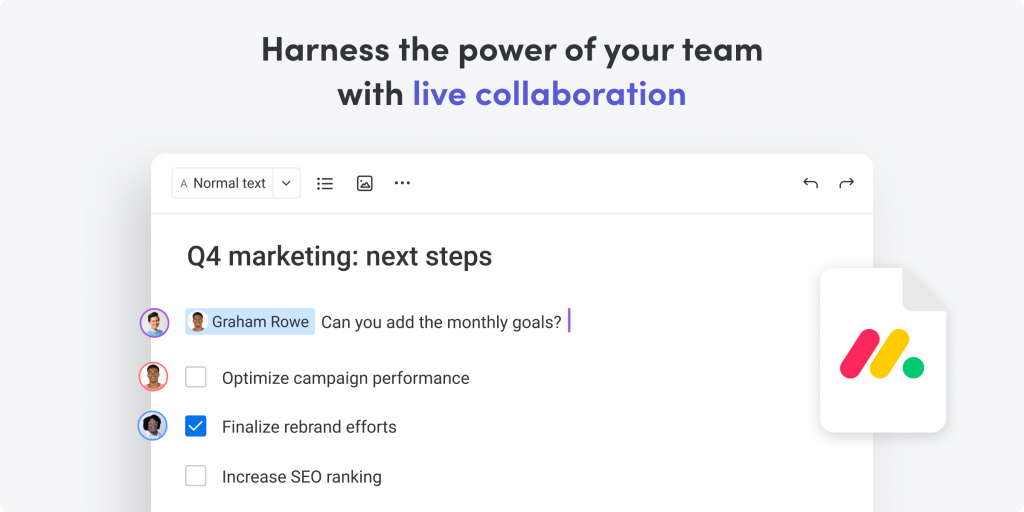 Add images and videos
The drag and drop option is probably the easiest way to add your video or image from your device. This option is available using the "/" keyboard shortcut as well, where all items appear in the drop-down menu. Here you select an item you want to add and you are good to go.
Table of Content
The visual organization of the document makes life easier. This feature helps you navigate through the doc easily and keeps you focused.
Presentation and full screen
Present mode allows you to have a quality experience presenting your work directly from Monday. If you are creating and brainstorming, you can dismiss all unnecessary distractions using full-screen mode. Here you have an access to all edit options as in normal view mode, but with a better overview.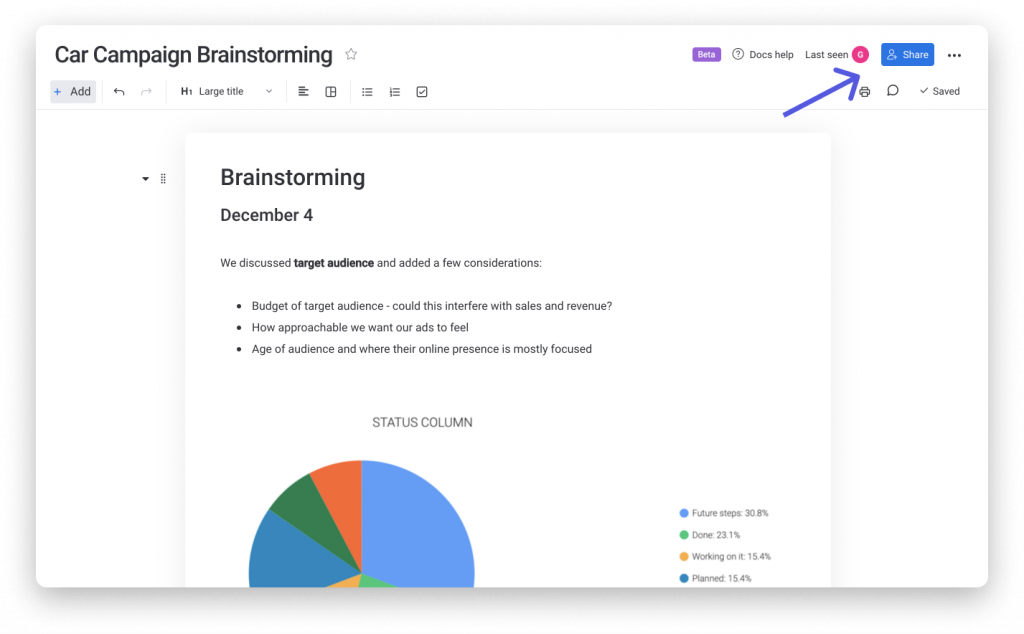 Comments
Fruitful collaboration is only possible if all team members are evenly included in work. Monday.com has made updates and comments easier allowing comments on images, files, or any content inside a doc. You can also mention others with the "@" symbol and they will receive a bell notification.
Save as template or export
The template section is available inside Monday workdoc. You can save any of your docs as a template and reuse it anytime later. Note that only Doc owners can edit the document, but you can change the settings inside the Doc permissions option.
If you want to share your document with colleagues inside and outside your ClickUp account, export the Doc to a PDF document.
The notion is a knowledge management software that helps you organize information in one place. You can customize it to your needs simply and clearly. The notion is often called "internal wiki" as it helps organize their projects and work.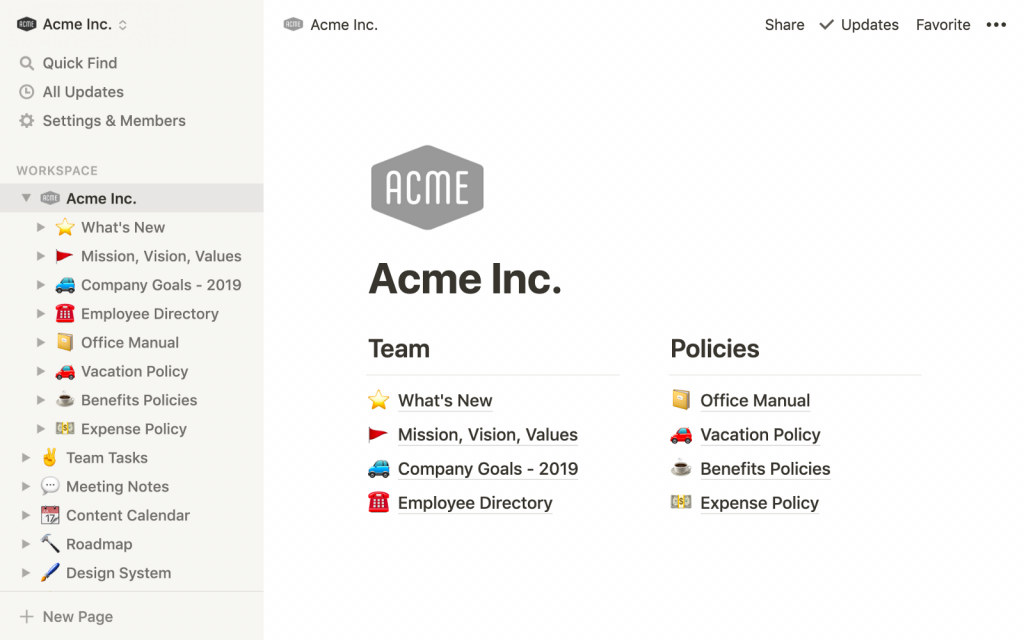 Start with template
A really powerful feature of Notion is having various templates predesigned to make you start the document quickly. Here you can benefit from thousands of community-made templates.
Overview
Inside Docs, you get a clear view of the team the doc is related to when it was edited the last time. A friendly feature of Notion is that you can add and edit several properties that can help you understand the view and organize your documents. You can select between properties like created by, last edited time, stakeholders, and more. Not to forget that you can filter docs based on some of the properties chosen or sort based on the desired feature.
Build the workflow
Within notion, you can create to-do lists, manage meeting notes and keep it in one place. You can define tags to indicate the collaborator and customize the workflow according to your needs and make it as extensive as you need.
Add images, links, and more
You can put whatever you want inside a page, from images, and Word documents to embedded PDFs. Notion allows you to add direct links or even videos.
In Nuclino everything is organised throughout the workspaces which can be public or private. Anyone in the team can join the public workspace while the private keeps your confidential information safe.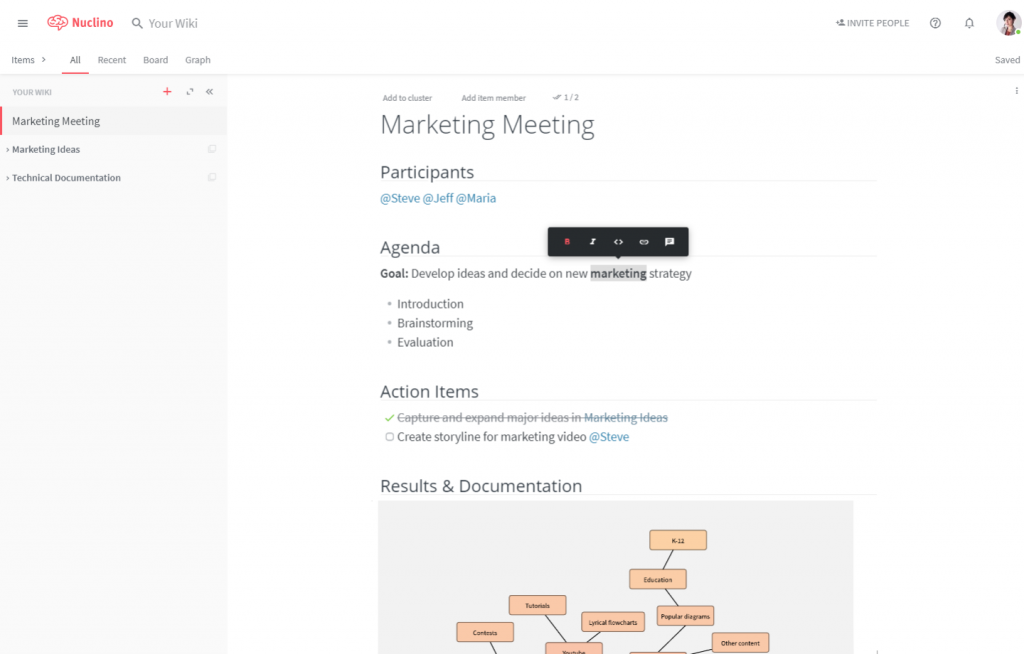 Collaborate in real-time
Each item is a living document that can be edited by your team in real-time. Changes in editing are visible in real-time by all members which notably reduces any possible version conflicts. Changes are automatically saved and synced across all devices.
Create comprehensible content
There are several options available in the items section, such as bulleted list, task list, mention, upload files, tables, images, quote, etc. Also, it is possible to assign tasks to team members or create separation within an item. Many tasks require exceptional organizational skills and that is where checklists shine, and Nuclino lets you create them inside an item (doc).
Simply share a file
If you want to share some files with team members, it is possible within Nuclino with the drag and drop option in a second.
Embed the videos directly into your item
Projects need different approaches depending on their purpose. Therefore, quite often ideas are extracted or knowledge gained through experts via YouTube videos. Nuclino lets you embed videos directly into your item.
SharePoint is a product from Microsoft where you set up intranet sites and pages that help boost employee engagement. SharePoint emphasizes the power of connection between all team members, sharing up-to-date news and files, and tracking all kinds of information. With SharePoint, you can easily create, store and share content on the web, without needing to know any coding.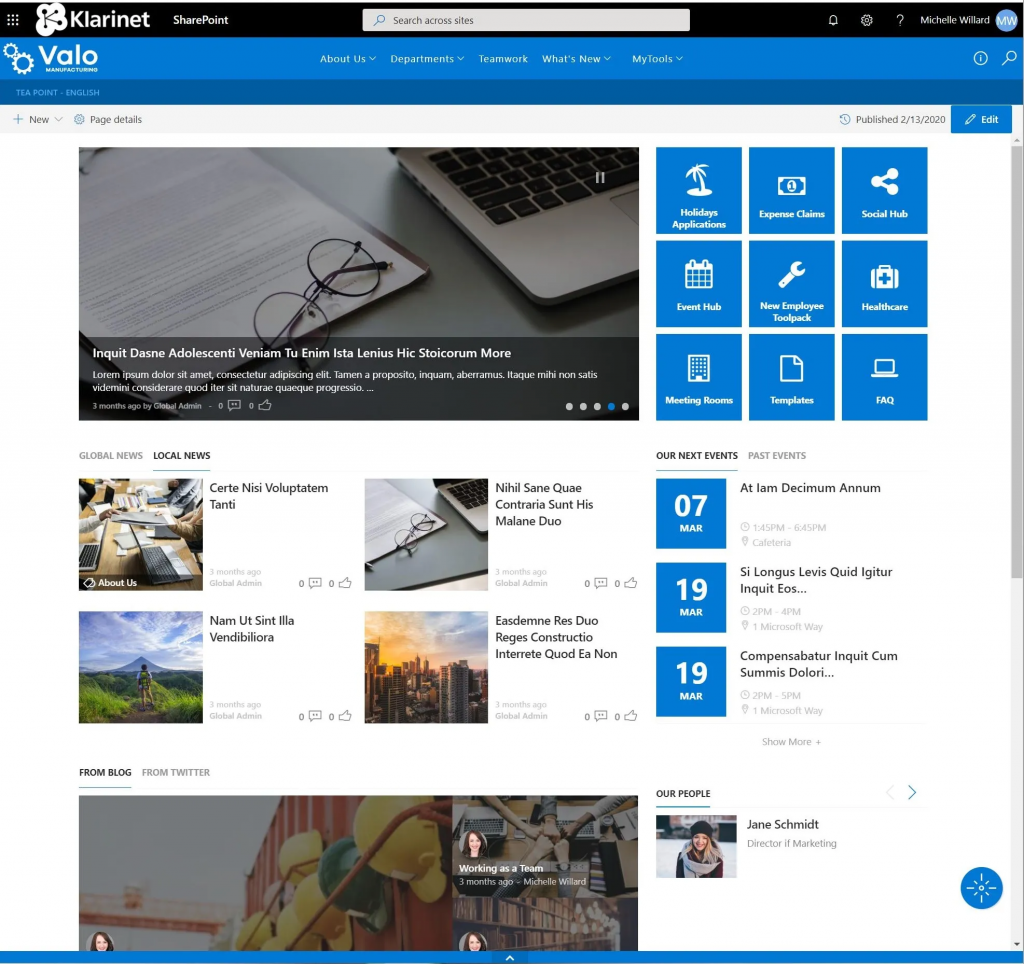 Create folders
With SharePoint, you stay organized with a bunch of files by creating folders inside the document library.
Create different files
As this is a Microsoft product, you can create all kinds of files within the library including Word, Excel, PowerPoint presentation, and Excel. Alternatively, you can just copy a file created earlier on your computer, or drag them and integrate it into SharePoint.
Collaborate with others
However, SharePoint has many properties similar to OneDrive, but it makes collaboration with others much easier in real-time. By simply hovering over a newly created document, a few options will appear. Here you can share a selected item with other people and manage all access permissions. In the same dialogue that opens up, you can choose whether to allow others to edit or not. You can also leave a comment inside a document in real-time.
If you would like to know more about collaboration read some of our other collaboration articles.
Version history
Sometimes you will not agree with all the changes made by other team members, and within the document, in SharePoint, you have an overview of all changes that have been made. Additionally, you can go back to some of the previous versions if that is necessary. With an alert system, you can even get a notification if any change happens.
Add columns
You can have several columns within your library, and define them as per your needs.
All different Microsoft products connected
Microsoft has connected almost all its products. You can share, switch, and upload files between SharePoint, Teams, or OneDrive. This creates a great collaborative environment where anyone can create, share, or edit the content.