If you are running a business and have many projects to manage, chances are, you have come across both Easynote and Wrike. They are both tools that businesses of all sizes can use for teamwork, collaboration, and project management.
But, which tool is better for you? It will depend on your preferences, however, we are here to offer a detailed overview of both of these apps so you can decide which one you prefer.
Front Summary
After reviewing both apps, Easynote and Wrike, we have come to the conclusion that more users prefer Easynote when it comes to project management and other productiveness features. Its user-friendly interface and helpful widgets are among many things that facilitate workflows.
Now, let's compare both of these tools and the features they offer for a better understanding:
| | |
| --- | --- |
| | |
| Calendar Management | Calendar Management |
| Workflow Management | Workflow Management |
| To-Do List | To-Do List |
| Time Tracking | Time Tracking |
| Task Board View | Task Board View |
| Spreadsheet View | Spreadsheet View |
| Search/Filter | Search/Filter |
| Reporting/Analytics | Reporting/Analytics |
| Recurring Tasks | Recurring Tasks |
| Prioritization | Prioritization |
| Percent-Complete Tracking | Percent-Complete Tracking |
| Mobile Access | Mobile Access |
| Gantt/Timeline View | Gantt/Timeline View |
| Drag & Drop | Drag & Drop |
| Deadline Management | Deadline Management |
| Create Subtasks | Create Subtasks |
| Commenting/Notes | Commenting/Notes |
| Collaboration Tools | Collaboration Tools |
| Chat Support | |
As seen from this comparison, both tools offer some of the best features needed for a good project management and collaboration tool.
If we take into consideration user reviews, there are many satisfied customers that enjoy both of these tools. As seen from the graph here, taken from www.softwareadvice.co.uk, both tools have high ratings:
Easynote vs Wrike – Similarities
Easynote and Wrike are both tools that can be used for companies that need good collaboration and management tools. Both can be used for project management and task management and both can be used by big or small businesses. What are the best apps for small businesses?
Both offer:
Collaboration Tools
Commenting/Notes
Create Subtasks
Deadline Management
Drag & Drop
Gantt/Timeline View
Mobile Access
Percent-Complete Tracking
Prioritization
Recurring Tasks
Reporting/Analytics
Search/Filter
Spreadsheet View
Task Board View
Time Tracking
To-Do List
Workflow Management
These features are the most needed features for good project management. In case you need any of these things, you are more than set to use both of these tools. However, there are some differences between these two tools that will help you set you to make up your mind on which one to use.
Easynote vs Wrike- Differences
As similar as these tools appear, there are some differences that might help you decide which of these tools is a better fit for you.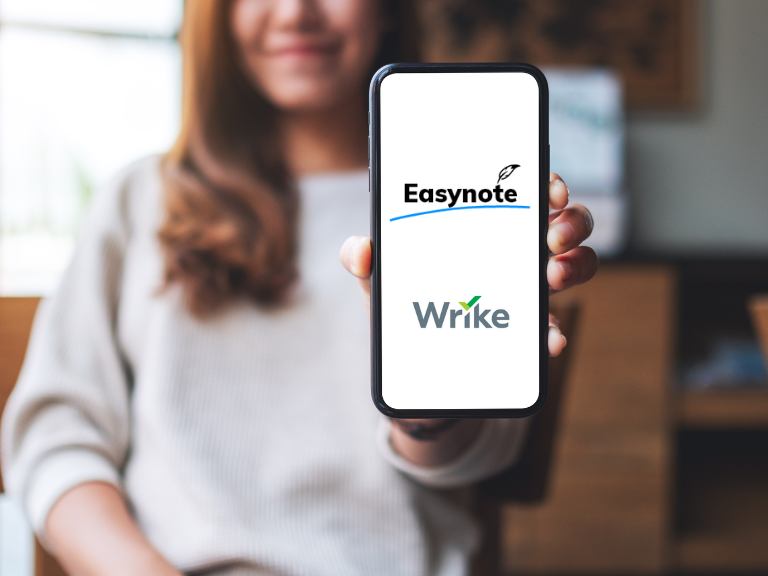 First, let's see who can use Easynote and who can use Wrike:
Easynote is mostly used by:
Freelancers
Startups
SMEs
Agencies
Enterprises
Wrike is mostly used by:
Startups
SMEs
Agencies
Enterprises
So, if you are a freelancer or you are a company that hires freelancers or remote workers, your choice would probably be Easynote. However, if you are a startup, an agency, or an enterprise, you can use both.
In order to see all the other differences between these two tools, we will present both tools and their features in the next part of the article and let you decide which one to use.
Easynote
Easynote is one of the best project and task management tools on the market. That sounds a bit overly confident, right? 😊 Yes, but there are many reasons behind that statement that support it.
Easynote is a 5-in-1 tool that lets you manage all your projects, tasks, and timelines- all in one place. There are many useful features and widgets that Easynote offers, so let's dive into why this tool is as successful as it is.
Firstly, as someone who owns a small or large business, you have to have a tool that utilizes your team's communication and collaboration.
Communication and collaboration with Easynote
You do not need many chat apps, e-mails, or different communication tools when you have Easynote. It offers everything already in it, so there are many advantages to that.
You do not need to waste time on different tools and communication apps when you can access all your team members and coworkers through Easynote.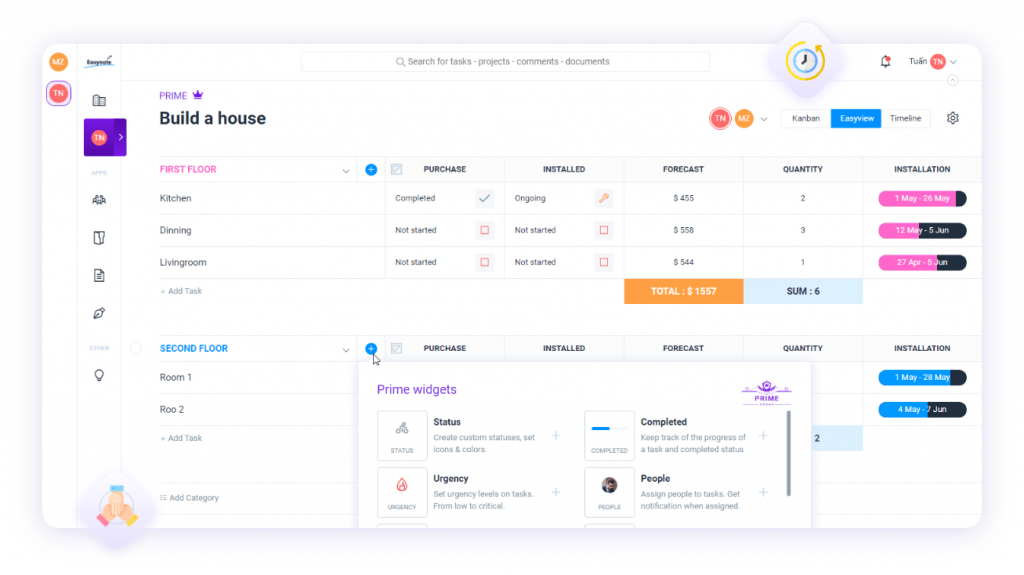 Collaboration is also done easily as you can simply tag your team members to the tasks and the app will immediately notify them of the task they were tagged on.
This ensures visibility and accountability. Everyone can be sure what their tasks are, what they need to work on, and what they need to accomplish. This is helped by the Ultimate Dashboard which helps you visualize all your tasks and processes.
Also, this will boost the team's productivity as you are able to follow everyone's progress. Nothing boosts your productivity as seeing how well your coworkers are performing.
Watch this video to learn more about collaboration using Easynote:
Risk Management
Risk management is something all companies and businesses face. No matter which industry you work in, it is always there, and the way to predict it is never easy. However, today's technology has learned to deal with that as well, so you can relax more.
Risk management has never been easier with Easynote.
Easynote will help you predict which tasks or projects are advancing and which are not.

Also, it will offer you the Quality Planning option, where you can plan how good your product will be. This is extremely helpful because not only will it help your teams focus on certain tasks that need to be improved, but it will also save you money!
Sounds great, right? 😊 That is why you cannot risk your business's success or reputation without a good risk management tool.
Meetings
Meetings are easily done and scheduled with Easynote. You can simply create a new meeting inside your calendar and tag all the attendees. This can also be made a regular meeting if you have meetings every week or month, and save time on planning and scheduling meetings.
Also, Easynote integrates with Skype or Google Meets, the popular meeting tools.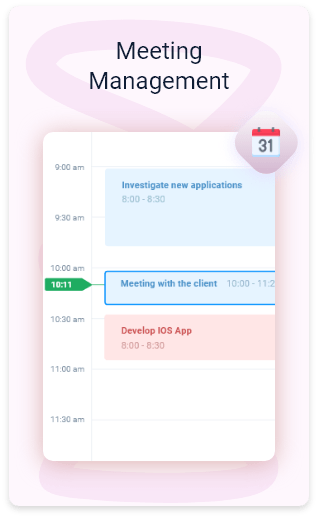 Also, Easynote offers a Meeting Minutes option which will help you create notes and important minutes after or during any meeting. These can also be shared and modified which is helpful for larger teams or teams that work remotely.
Wrike
Wrike is another project and task management app that will be useful for both small and large businesses. Its main focus is collaboration and helping you streamline your workflows.
Wrike also offers many useful features that can help your teams be more productive and stay on top of their game.
Communication and collaboration with Wrike
Just like Easynote, Wrike offers dashboards that will help you visualize your tasks and progress.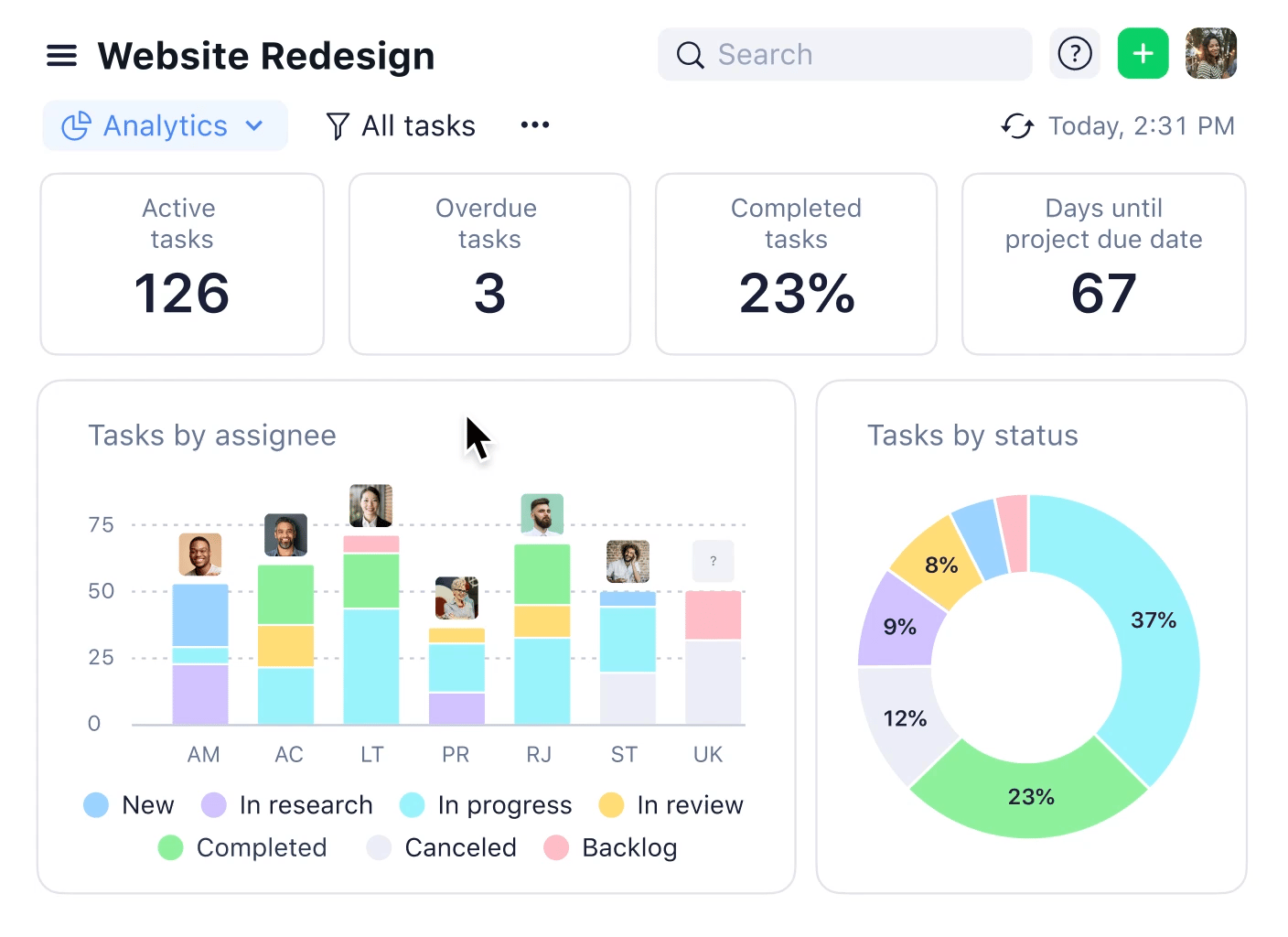 This will help you visually see the progresses your team members are making at the moment. Features like these are useful for project managers because they help them see which teams are advancing towards the common goals and which teams are not.
Also, you can plan your projects and allocate your resources easily with Wrike.
This will help your communication and collaboration as you will have insights into the most important parts of your projects.
Risk management
With Wrike, you can also manage and predict risks by creating a template and entering all your data into it.
When you finish making this template, you can easily share it with your team members and others who are involved in the project. As already mentioned, risk management is an important part of any business, so try to spend some time on it.
Meetings
Actionable Meetings by Wrike integrate Zoom and let you conduct all your meetings in real-time. This feature allows you to:
Catch action items and important takeaways from each meeting so you can implement all next steps immediately.
You can allocate task owners to action items. This way roles and responsibilities are clear.
You can set and agree on due dates to keep all action items on track for completion.
Users can attach files especially the ones that are relevant to the task at hand (such as documents and visuals) so issues are avoided and everyone can work with the most up-to-date resources.
Many love to add different comments to track conversations that involve work.
You can search among different tasks to find what you're looking for right there- on the spot.
You can send follow-up action items to everyone who attended the meeting in order to maintain momentum in between meetings.
These actions can secure a productive meeting and your teams can be confident in what they have to do throughout the week/month.
Comments you leave can also help you create meeting minutes in a template.
Conclusion
Both Easynote and Wrike present good project management tools that you will definitely love to use. There are some differences and some similarities between them as you could see above.
Many users are satisfied with both of these tools, however, when it comes to user interface and many helpful widgets related to meetings and collaboration, our choice would be Easynote. Also, risk management is much easier with Easynote, because it offers an excellent tool for that, as already shown above.
Also, you can assign tasks very easily and watch their progress toward the set goal.
However, if you do not need many tools that will help your business, and like to keep it simple, Wrike could be an option for you. You can easily assign tasks to your team members and track their progress.
Both tools are great, so we hope you can make a decision that will benefit your business. Also, we hope that this article helped you with a quick overview of both of these tools in making one.