Employee scheduling software for small businesses is something you will definitely need and use daily in case you run a small business.
Employee scheduling software is software that lets you track all your employee's time, sets their schedule, and navigates your employees through different schedules within different projects.
The old-school way of making paper schedules is okay for individuals, but it can get pretty messy when you have to manage more people and think about all of their schedules at once.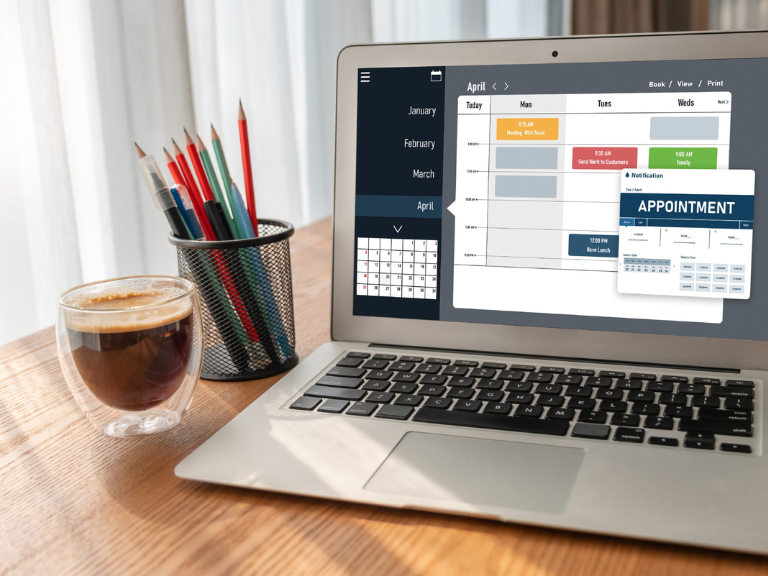 Small business owners do not have time or people to track all of their employees' responsibilities and tasks in one day or week. That's why employee scheduling software is a useful tool that every small business needs.
Why Do Small Businesses Need Good Scheduling Software?
Let's just say that a scheduling system can make or break your small business. The importance of good scheduling software for small businesses is often overlooked since business owners usually think that only big businesses need them.
This is far from the truth because you might not need employee scheduling if there is only one person in the business with you. Even then, it would be useful to have a clear overview of your both's schedules, deadlines, assigned tasks, etc.
However, when your small business employs more than two, or three people, tracking and managing your schedules can be pretty messy. It is not easy to know which employee has a meeting at what time, how you can replace your team member who is on vacation, etc.
This is why it is not a good idea to leave out employee scheduling software. Risks are plenty:
Certain deadlines might be overlooked if they are not on an app or tool that constantly reminds you of them.
You might not have a substitute employee for someone's sick leave or a well-organized team members' schedule. So, your project might take longer to complete.
Employees might forget any changes that have been agreed on and this might affect your meetings, task distribution, and overall performance.
There are many more risks besides the ones we listed. You do not want a product owner or your client to wait and doubt your professionalism. So not having a well-organized schedule could quite possibly harm your business' reputation.
Project Planning Adds Value To Your Business
Project planning and employee scheduling are some of the most important parts of your business.
If you do not have a good strategy, a good project plan, or good scheduling software, you might lose your credibility as a business owner. It is expected for small businesses to want to prove that they are as good as the big companies and businesses around, so you have to take these things seriously.
Wherever you work, whether you are in a nail salon, marketing company, or food delivery service, you need good schedule software. Organizing your work properly can not only save you a lot of time but also make you more productive.
Your employees will be led by example if you are an organized person yourself. There are no good leaders who are disorganized and clumsy when it comes to planning. We might think that small businesses can easily track their time but it is not worth the risk. Plan your work smartly and enjoy the benefits.
If you want to read more about how project planning can add value to your business, you can visit our page and learn more.
Qualities of The Best Scheduling Software For Small Business
There are several factors that make a small business employee scheduling software useful, and these are:
Usability: Is it easy to use and how much time do you need to spend while exploring the features and getting used to the app? If the software is user-friendly, you will save time and get used to it right away which is always a plus. Nobody likes spending hours figuring out how everything works, which can be quite frustrating.
UI: The User Interface is an important part of any software because if it's not clean and straightforward, it is easy to get lost between all the features.
Value for money: Do you get what you paid for and do you need more features for the same price? It is important to have all the possible features or at least most of them when you subscribe to any software. Luckily, there are some amazing options that are free or paid but they offer more than you need for small business employee scheduling.
Collaboration: Is it easy to collaborate with your team members and other employees? If yes, you have found a great tool, and if not, you might reconsider looking for a better one. It is not smart to get lost in other employees' schedules especially when it comes to meetings.
Integration: Are you able to integrate other important apps to your software, such as Calendars or Zoom? This is an important feature every employee scheduling software for small business needs because it saves you a lot of time while switching through different apps.
Best Employee Scheduling Software For Small Business
There are many options out there and we are sure you might get lost in all the information. Some businesses prefer usability over integration, while others care a lot about value for money. Here, we will present to you some of the best small business employee scheduling software that we came across in 2023:
Easynote
Easynote is a 5-in-1 tool that offers the ultimate dashboard experience. It is an AI-powered tool that ensures that all your schedules and tasks stay in the palm of your hand. It is a very user-friendly tool that you can start using right away.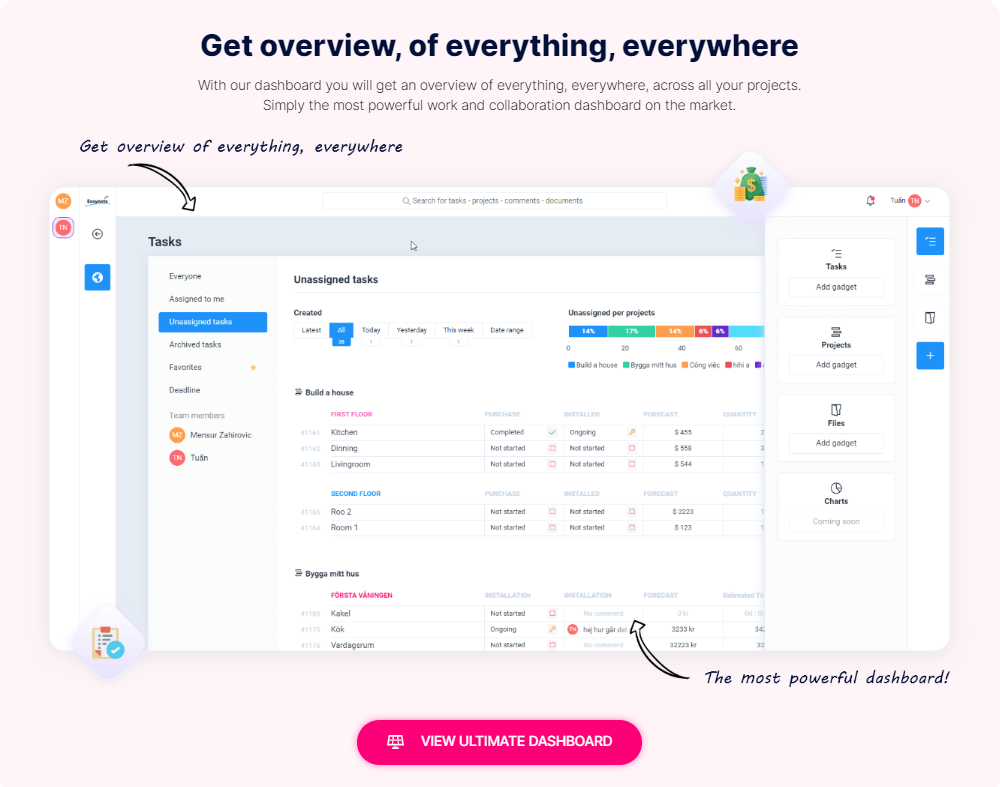 Easynote offers a variety of features that you can use on a daily.
It easily integrates all the other apps you need to use, such as Calendars, Zoom, Google Meets, and more. Easynote lets you schedule your appointments easily and immediately tag your coworkers who are on the same tasks or projects as you.
This lets you easily track others' tasks and progress while also having your project and obligations on one dashboard. Easynote also lets you make your own notes and meeting minutes within the app so it can save you a lot of time. There is no need to waste time switching through different apps when you can have them all integrated into one. You can easily make new schedules for your employees.
Easynote checks out all the qualities we have listed. It is valuable for money, integrates well, and makes collaboration easy. Easynote is user-friendly, and the UI is perfect. It is definitely an excellent employee scheduling tool for small businesses. Also, progress charts are important for your business, and Easynote offers that feature as well.
When I Work
When I Work is another useful employee scheduling software that offers a lot of features that can be useful, especially for small businesses. It is user-friendly and you can find it on the web or via mobile devices.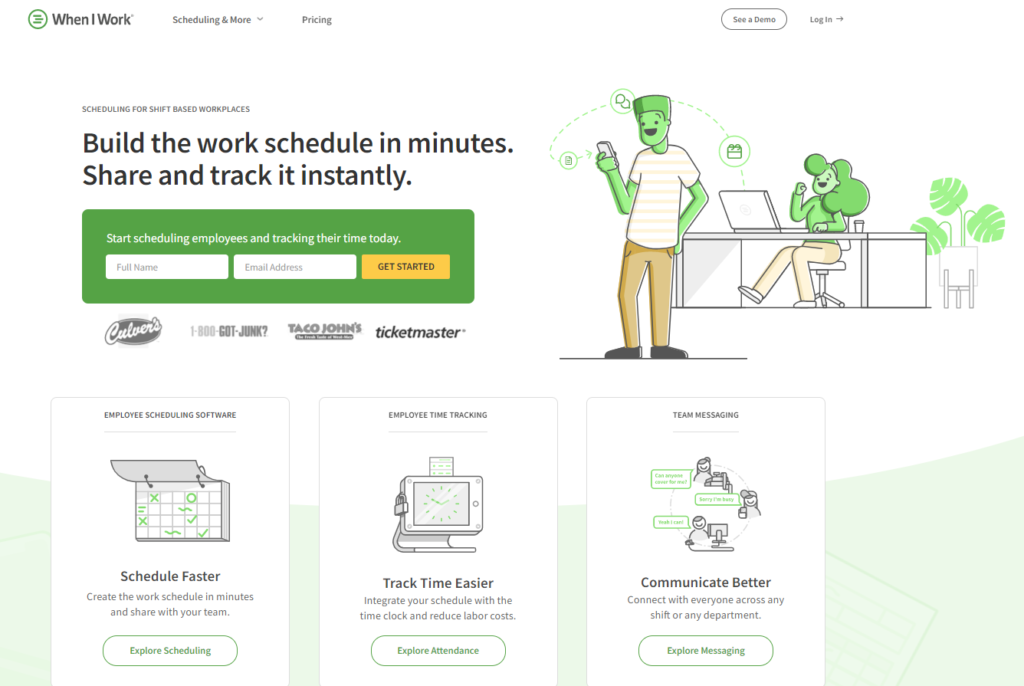 When I Work has the ability to handle sudden shift changes and/or time-off requests. If your employees need to trade shifts or request time off it is easy for managers to approve or deny the requests.
The software is also able to integrate with payroll and many other systems to streamline your work week and save you from manual data entry. There is also a time clock function, so your employees can clock in or out using their mobile app.
There is a free version for small businesses that have up to 75 employees, and this version offers basic scheduling features. Other paid plans offer more advanced features and they are perfect for bigger businesses.
Calendly
Calendly is a very popular scheduling software that can be useful for small businesses.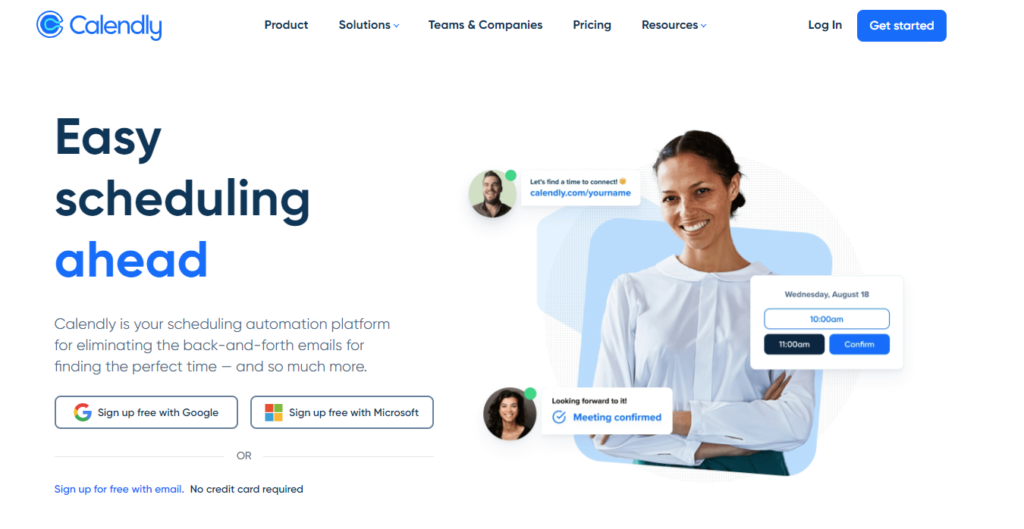 It is a scheduling automation software that makes it easy to schedule tasks and change them easily. It also lets you see popular meeting dates, where all of your team members are free. Calendly lets you easily book those time slots. With Calendly, employees are able to easily update their own schedules and let others schedule meetings with them based on their free time and availability.
Additionally, Calendly has features such as automatic time zone detection. This can help you manage workers who are out of the country or freelancing. There is also integration with various calendars (e.g. Outlook), and different scheduling options. All of this helps you streamline the scheduling process as you save time on manual scheduling processes.
Homebase
If you work in hospitality, HR, retail, or food service, Homebase might be a great solution for you. This employee scheduling software for small businesses lets you easily organize your work week.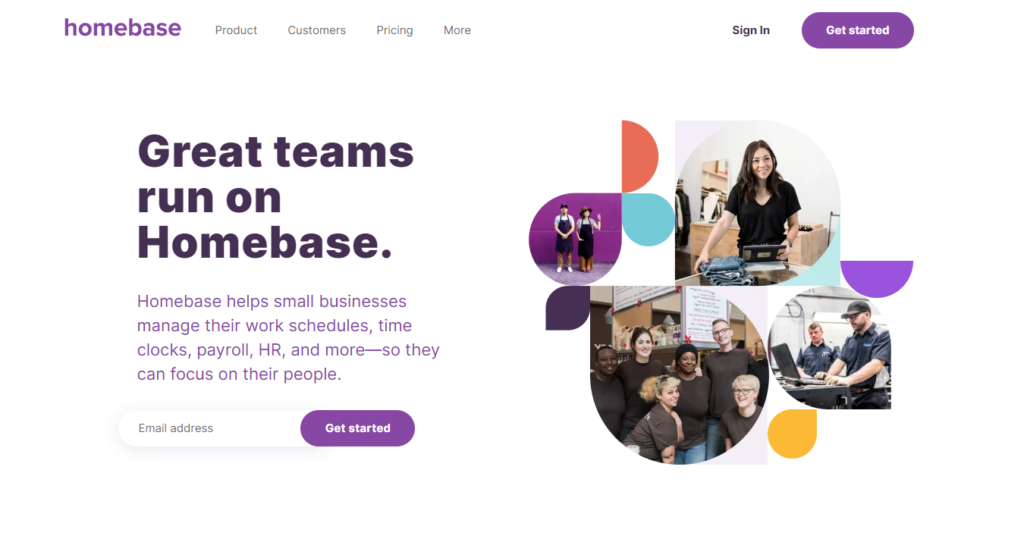 Homebase is a cloud-based software that offers a range of features. Some of them include time tracking, shift scheduling, and team communication.
It lets you manage scheduling for multiple locations. Project managers or business owners can create schedules for separate locations or create a unique schedule that will include all locations. The Homebase mobile app lets employees easily access their schedules or request time off or any other schedule change they need to address.
There is a free version for small businesses that will give you basic scheduling features. If you need more advanced features, the paid plans offer many more, such as labor cost forecasting.
Sling
Sling is another employee scheduling software that is useful for small businesses in the retail, healthcare industries, and hospitality. If you need shift scheduling, task management, or time tracking, this software is perfect for your small business.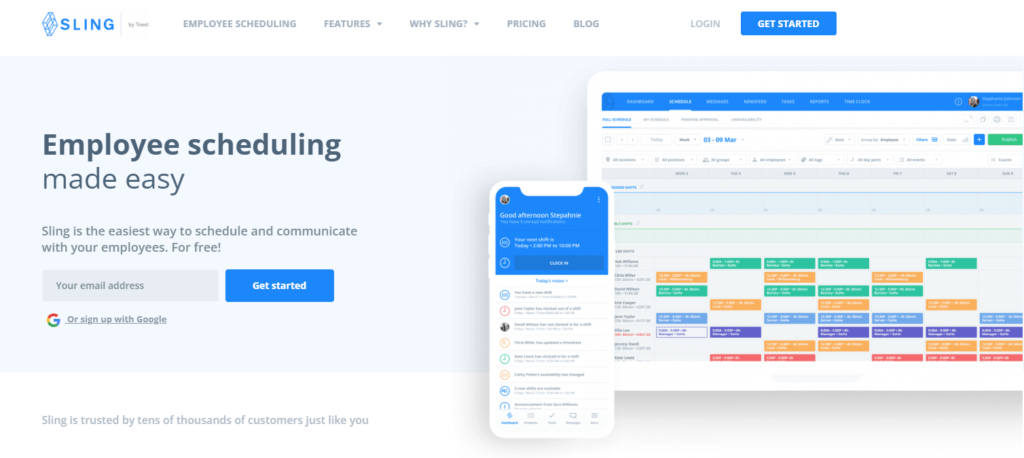 There is also a mobile app, which lets employees access their tasks and schedules on the go.
Sling also offers the ability to handle scheduling for multiple locations. It is easy to manage one location or to include all locations and manage them all together. Sling lets you integrate other apps such as payroll and makes it easy to collaborate.
Trello
Trello is a popular employee time management and scheduling software. It lets you use time slots that show on all your team members' boards. These Kanban boards are easy to customize. They let you tag other employees which need to do a task with you. This way, you do not have to spend time communicating who is available or when. It is all shown on your board.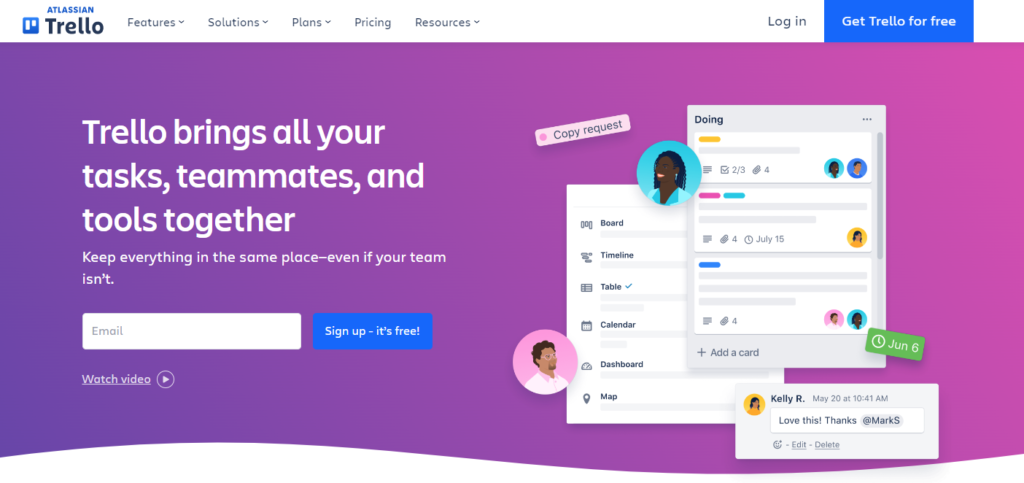 Trello can help you automate repetitive tasks and archive your finished responsibilities.
In case you are wondering how you can streamline your workweek using Trello, this article will guide you.
The Best App For You?
Seeing all the features of all the best apps we came across in 2023, it is up to you to decide which one is the best. Time management apps like Easynote and Trello offer more than scheduling software, and others mostly focus only on that. There are many other options. However, we feel like these ones include all you need to have for a small business.
Even if you have to invest in good scheduling software, it will show you the benefits right away. You will realize how important good planning is. Do not hesitate to look through all the suggested apps and see how well they fit your needs. Also, here you can read about the best budget dashboards for your business.
Whatever you favor more will help you decide which app is the best for your business. So, let the app work for you and enjoy the time you save with it.