If you run a business, you already know that you need to have everything under control. Sometimes finding the right tool to help you organize projects and teams is complex. To make your job easier, we'll look at Workforce Software Monday and the best alternatives to it.
Given that the choice of software for project management depends on many factors, this article will help you get all the essential information in one place. If workforce software Monday is not for you, you will find better alternatives for yourself.
Let's get started.
Workforce Software Monday: Brief Overview of monday.com and Its Features
Workforce software Monday is an excellent tool for businesses to keep everything organized. It enables planning, scheduling, assigning task management deadlines, and monitoring processes and progress.
With the help of this tool, businesses and organizations complete their projects on time and take care of every task that leads to the final goal.
Let's briefly summarize the most significant features that workforce software Monday.com has.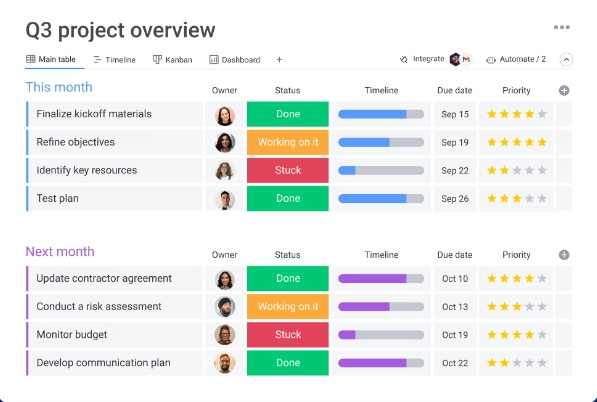 Monday.com Customizable Boards
Workforce Software such as Monday allows users to create boards as they wish. You can choose from the offered templates or create your own according to your needs.
Adding Team Members
Adding team members, clients, and guests is easy. It's enough to have their email and to add them to the projects you want.
When you add team members, you can manage with a level of access. You can set up different levels for each team member – edit or read-only.
Automations & Sync
With Monday.com, you can make your work easier by automating recurring tasks. Simply adjust the automation of tasks, and that's it.
Recurring tasks will automatically repeat weekly/daily (depending on your settings). This way, you free up time for yourself and your team to deal with more important tasks.
You can also sync and integrate Monday.com with many applications such as Outlook, Slack, Dropbox, Microsoft Teams, Trello, etc.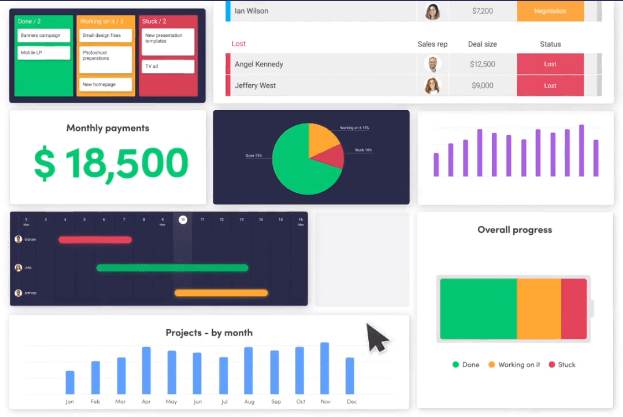 Kanban
You can see your data in several forms, depending on what you want. One of the most visually appealing views is Kanban. On Monday.com, you can view your information this way and ensure everything is in one place.
Timeline & Gantt
Also, Monday.com has one of the simpler views of your project data. You can set Timeline or Gantt, depending on how you want to see the data.
Calendar View
Another option that workforce software Monday has is the calendar view. It lets you see your tasks, obligations, and deadlines in the calendar. That way, you can attend all important deadlines and meetings.
Docs & Files
Monday allows you to keep all your documents and files in one place. Also, you can safely share them with team members and edit them.
Time tracking
An effective option is a time tracking, which allows you to manage your time better.
CRM Software
In addition to everything, Monday.com offers excellent conditions for analysis, reporting, and full business study. That's one of the best CRM software because it offers daily, weekly, and monthly reports, graphical views, diagrams, and other necessary information for successful and productive teamwork.
How much does Monday.com cost?
Monday.com has different payment options depending on your needs. Prices start at €8 for the Basic package, and there is also an option for organizations seeking enterprise-grade features.
See the prices below.

How to Pick the Best Alternative Workforce Software?
Although Monday.com has its good points, sometimes the weaker ones lead to the need to look for an alternative. Consider what you need to choose the best solution for project and your team.
Consider several important questions:
What are your business's specific needs?
What is your budget for software?
Consider ease of use: How important are simplicity and practicality to you?
How important are customization features to you?
How many other applications do you have to integrate?
Look for customer support: Is it important that software providers offer strong customer support, training, ongoing support, tutorials, etc.?
In your search for the best software, these questions will be helpful. In addition to them, keep in mind our list of the best workforce software Monday alternatives.
Top 11 Workforce Software Monday Alternatives
Although Monday.com is a unique platform, many are looking for an alternative. We present to you 11 great tools you can try.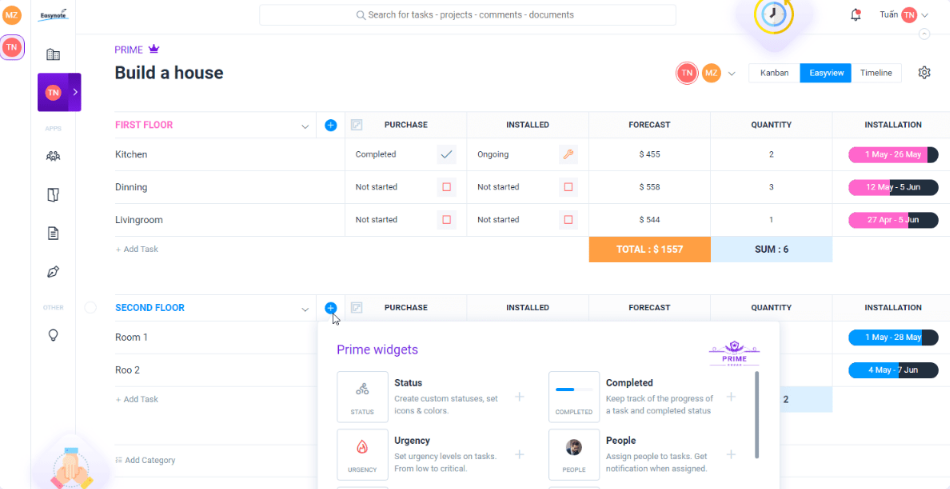 This software offers task and project management tools together in one place, emphasizing everything you need for successful project management. That means you have all the options to manage the project in a simple, fast, and high-quality way in one place.
Instead of using multiple applications and tools, switching, combining and synchronizing, you can create Easynote dashboards according to your needs.
Why is it better?
Easynote is user-friendly and easy to use. The user-friendly interface and easy navigation enable you to fulfill your needs quickly and easily. In addition, you will enjoy an interface that has no distractions, unnecessary details, and complicated navigation. Only what helps you fulfill your goal and increase productivity.
Easynote is an all-in-one solution. You don't have to use so many tools, just this one.
Easynote is flexible because you can use it as a standalone tool or connect it to other apps. You can use it for multiple things and combine personal and business tasks and projects.
It has a super responsible support team, helps chat, and personal training.
Easynote is a budget-friendly solution.
Another good alternative for workforce software Monday is ClickUp. ClickUp has a comprehensive list of features like task tracking, workload management, and goal tracking. In addition, ClickUp allows you to create custom fields, task statuses, and workflows, giving you greater flexibility in managing your projects.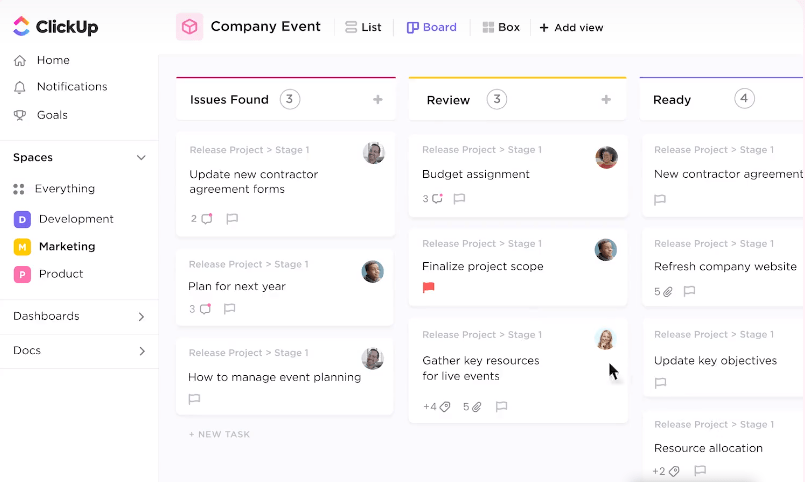 Like Monday.com, ClickUp also offers integrations and offers a greater range of options.
Also, ClickUp proved to be a cheaper option considering that the monthly pricing plan started at $5/per user.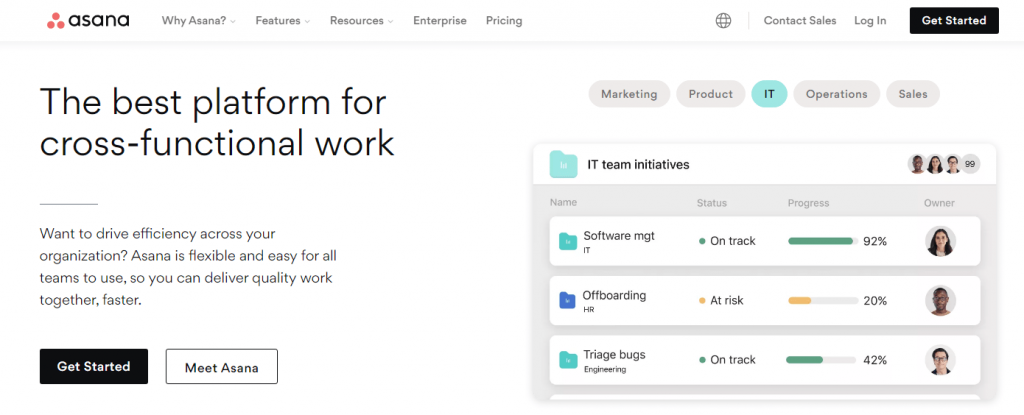 Asana also offers many features for project management, collaborations, task tracking, and many other productive work options. Like Monday.com, asana has a solid, user-friendly interface, customizable templates, and dashboards.
But, the number of integrations with other applications and tools makes Asana a better option. Asana can provide 200+ integrations and unlimited actions, but Monday has fewer integrations and monthly action limits.
Finally, if you need a tool with a greater emphasis on task management and less complicated projects, then Asana is a great alternative.

Aside from Easynote and Asana, Jira is one of the best project management software. It allows users to create tasks, projects, and workflows and collaborate. One useful feature that makes Jira stand out is tracking milestones and setting up user permissions.
Jira is a highly customizable tool that supports Scrum and Kanban. It enables flexible project management and team management. Scrum and Kanban boards make it a great choice for teams that follow agile methodology.
In addition, Jira's reporting capabilities are powerful because it allows teams to have insights into their performance and identify areas for improvement. However, if your projects are not based on bug tracking, maybe Jira is not your best choice.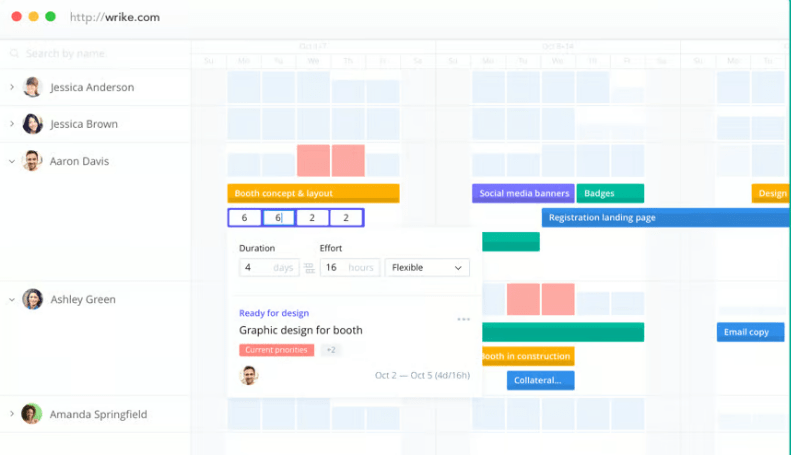 While Monday.com is a great tool for teams looking for a visual and intuitive project management experience, Wrike offers several advanced features that make it a strong alternative for teams needing more customization, collaboration, and security features.
Wrike is highly customizable, allowing teams to tailor it to their specific needs. It offers custom fields, workflows, and templates, making it easy to set up projects to fit your team's workflow. But, excessive customization seems a bit confusing for users.
Although AirTable and Monday.com have different strengths and use cases, AirTable might be a good alternative. While Monday.com is a great tool for teams that are looking for a visual and intuitive project management experience, Airtable offers a wide range of customization options, collaboration features, and database functions.
Airtable is a project management tool and a powerful database platform. It allows users to create complex databases and relationships between different data sets, making it ideal for teams that need to manage large amounts of data. So it seems like an excellent replacement for Monday.com if you need something like that.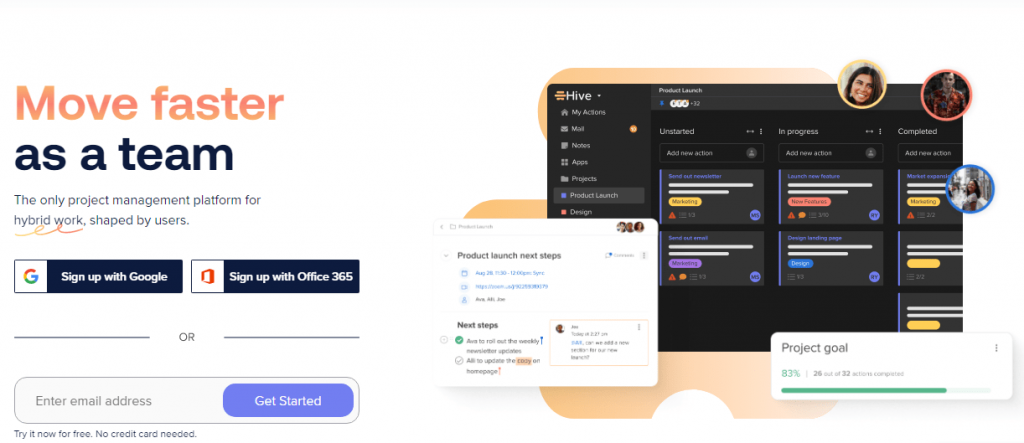 Hive offers a variety of collaboration features, including group messaging, shared calendars, and real-time updates, that make it easy for your team to work together on projects.
Hive's task management features are highly customizable, allowing teams to set up tasks to fit their workflow. In addition, this software also offers Kanban boards, Gantt charts, and calendars that help teams manage their tasks and stay on top of deadlines.
Nevertheless, Hive stands out for its time-tracking features allowing your team to track time spent on tasks and projects.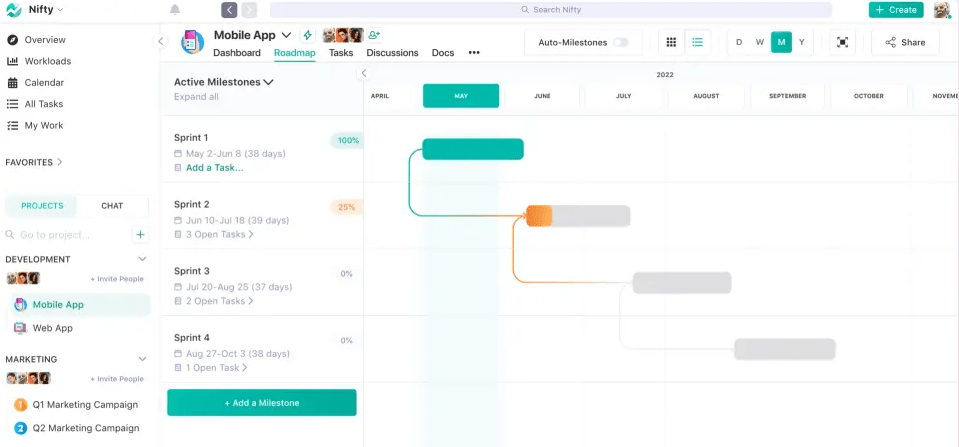 Nifty is another project management software that is made for agile project management and teams that want to achieve their goals. This software also allows integration with other applications such as Trello, Asana, Jira, etc., and imports . CSV and Excel sheets.
Also, it enables workflow automation so you can focus on essential tasks. In addition, Nifty is known for time tracking and reporting features that help users track their time on certain tasks, positively affecting productivity.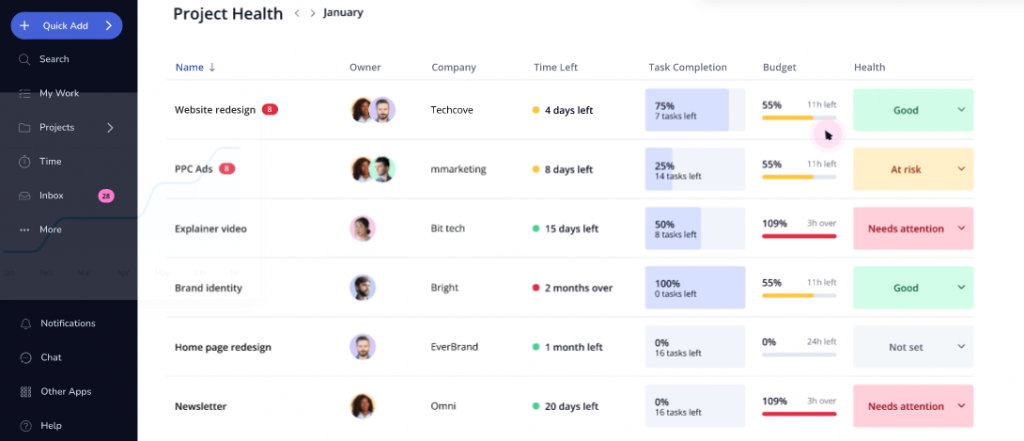 Similar to Nifty, Teamwork.com is a project management tool that can be a great alternative to Monday.com. Teamwork.com includes project portfolio management features that allow managers to track multiple projects and portfolios in one place.
These include tools for tracking project timelines, budgets, and resources, helping managers make informed decisions about resource allocation and project priorities.
In addition to customizable workflows that fit your specific needs, Teamwork.com offers built-in time-tracking features, making it easy for team members to track the time they spend on tasks.

Trello is one of the most popular task management tools that offer Kanban boards that users love. This way, you can easily visualize your tasks and workflow, create columns and lists and monitor the process.
However, Trello is not ideal for complex and huge projects due to the lack of features that are needed for agile teams.
But, if your business is based more on task management, Trello is an ideal alternative due to its simplicity, price, and accessibility.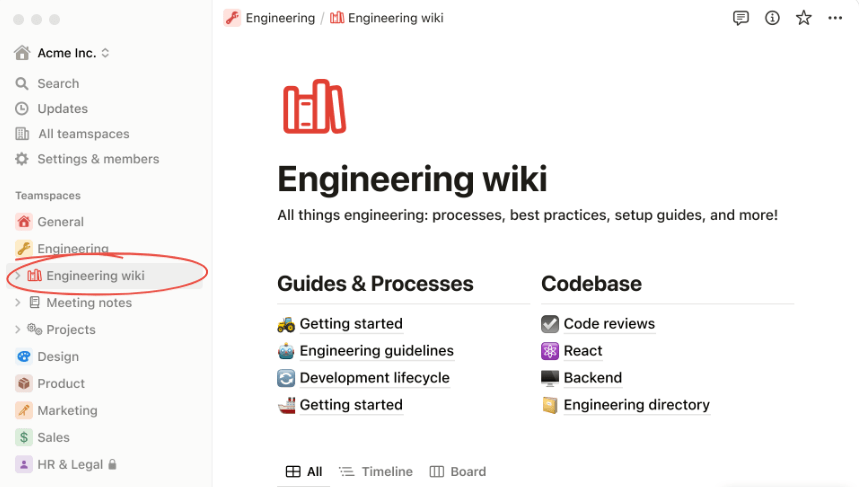 If the most important thing for your team is planning and organizing tasks, Notion is one of the good alternatives. It offers multiple views that allow you to organize your projects the way that suits you best. It enables the creation of custom pages, databases, and templates that fit your needs.
However, Notion is not the best solution for large projects, large-size teams, and delivering projects on time and specific budget.
Table of Workforce Software Monday Alternatives
Name
Standout Features
Support
Free Trial
Pricing (per user/month)
Easynote
Powerful Widgets, Scheduling Automation, Meeting Management & Meeting Minutes, Risk Management, File & Doc Management.
Responsible Support Team, Help Chat & Personal training & Webinars
7 Days
Indy – $29 (1 user)
Family – $79 (5 users)
Prime – $249 (30 users)
ClickUp
Customizable, Time Tracking in Chrome extension, Video Recording in App
Free Training, 24-hour Support
No
Free forever
Unlimited – $5
Business –$12
Business plus – $19
Asana
User-Friendly Interface, Custom Templates, Workflow Builder, Video Messaging
Asana Academy, Guide, Forum & Help Center
30 Days
Free forever
Premium – $10.99
Business – $24.99
Jira
Customized Workflow Tools, Scrum & Kanban Support, Reports & Insights
24/7 Access to Customer Portal
7 Days
Free for 10 users
Standard – $7.75
Premium – $15.25
Wrike
Integrations, Email Sync, Monitoring, Custom Workflow
Support Videos, Interactive Training, Notes, and Support Community
14 Days
Free plan
Team – $9.80
Business – $24.80
AirTable
Drag and Drop Functionality, Multiple Views, Customizable
Support Guides
14 Days
Free plan
Plus – $10
Pro –$20
Hive
Ease to use, Automate Goal tracking
Responsible Support Team, Support Tutorial Videos
14 Days
Free forever
Teams – $12
Nifty
Time Tracking, Reporting, Direct Messaging, Milestones
Nifty Help Center, Help Chat in App
14 Days
FreeStarter – $39 (10 users)
Pro – $79 (20 users)
Business – $124 (50 users)
Unlimited – $399
Teamwork.com
Time Tracking, Invoicing, Task managing via chat, Utilization reports
Help Docs, Support Email, Support Webinar
30 Days
Free forever
Starter – €5.99
Deliver – €9.99
Grow – €17.99
Trello
Customizable workflows, Kanban-style Boards, Integration, and Tagging features
Trello Help Site & Trello Community
14 Days
Free
Standard – $5
Premium – $10
Enterprise – $17.50
Notion
Multiple Views, Note Taking, Doc and Files, Tracking Deadlines
Support Guides
7 Days
Free plan
Plus – $8
Business – $15
Finally: Why Is Easynote the Best Workforce Software Monday Alternative?
Whether you need good workforce software Monday alternative for huge or smaller projects, Easynote lets you achieve and track everything you're working on.
Although all these alternatives we have listed are great for specific teams, Easynote has combined all these features into one and created an all-in-one solution for users.
Here's why Easynote is the best alternative to Monday.com.
Easynote is a cheaper and more profitable option in the long run.
100% User-Friendly Interface: The user-friendly interface and easy navigation enable you to fulfill your needs quickly and easily.
All-in-one solution: With Easynote, you don't need any other app
Flexibility: You can use it for multiple things and combine personal and business tasks and projects.
Finally, Easynote is an efficient solution for managing tasks and projects, regardless of whether you are an individual or a team. It can help you streamline your workflow and increase your and your team's productivity. So, check out more about Easynote's features.