In case you are a freelancer or working for an industry that focuses on project or task management you need to think about tools that will facilitate your workflow and help you manage your daily tasks.
Front Summary
If you are someone who is looking for a simple tool that does not take a lot of time to learn and offers many integrations, then Asana is for you.
If you are someone who is looking for a tool that offers everything in one place, and a tool that is customizable and useful even while using free plans, ClickUp is for you.
In case you are looking for an affordable and easy-to-use alternative for both of these tools, you might want to look into Easynote.
Now let's compare these two tools and see what each one of them offers.
| | |
| --- | --- |
| | |
| Time Tracking | Time Tracking |
| Collaboration | Collaboration |
| Gantt Charts | Gantt Charts |
| Percent-Complete Tracking | 24/7 support on free plans |
| Task Scheduling | Task Scheduling |
| Task Planning | Task Planning |
| Task Tracking | Task Tracking |
| Progress Tracking | Progress Tracking |
| Recurring Tasks | Recurring Tasks |
As you can see from this comparison, both tools offer a variety of useful features for project or time management. Every user can rely on these tools to get the work done and to streamline their workweek.
Also, ClickUp offers a spreadsheet view while Asana offers long-term planning. These two features might be something you will consider and decide which tool is better for you.
How can you streamline your workweek using Trello?
ClickUp vs Asana: Similarities
There are many similarities between these two tools. For example, both tools are cloud-based tools that can be easily accessed by any computer, phone, or tablet. This is useful for all freelancers or remote teams.
As seen from the table, there are several features that are available in both of these tools:
Time Tracking
Collaboration
Gantt Charts
Task Scheduling
Task Planning
Task Tracking
Progress Tracking
Recurring Tasks
These features are great for anyone that works in project management and wants to stay organized with their tasks. However, there are some differences that might help you decide which tool is better for you or your business.
ClickUp vs Asana: Differences
There are several differences between these two tools that might help you decide which tool to use. By using both, we have come to the conclusion that they are both excellent and differ just in some features.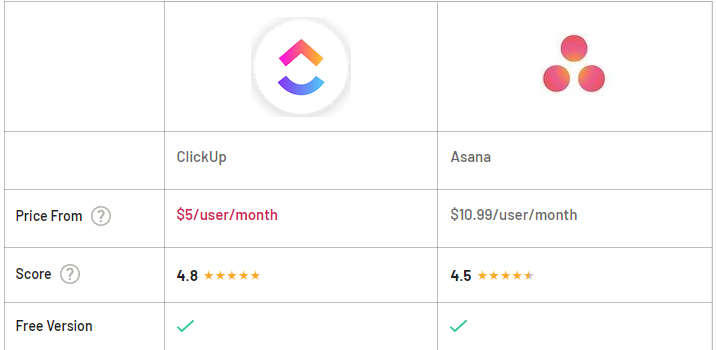 Paid Asana plans are approximately twice as much as ClickUp's. ClickUp's free program is definitely stronger than Asana's.
With ClickUp's free plan, you can manage an unlimited number of tasks and users, while Asana's free plan limits you to 15 users and offers only some of the basic task management tools.
When it comes to customer support, ClickUp offers a support team that is available 24/7, including weekends and holidays.
Asana offers 24/7 support that is only available on the most expensive plan.
If you are worried about the refund policy, ClickUp offers a complete refund within 30 days.
Asana offers no refunds.
However, both tools have some strong features besides these. Let's take a look at the features they offer and compare them to each other so you can decide which one is suitable for you and your business.
Dashboards
Dashboards are the first thing you use when you want to access everything with these tools. Let's see how their dashboards compare to each other.
ClickUp Dashboard
With many useful widgets, the ClickUp dashboard offers an amazing overview of your tasks and projects.
You can create a new dashboard or search for already an existing one. These dashboards will show you your progress in any of your projects which will be very useful for teams that want to track progress and operate according to it.
You can also set some of your tasks as Approved or Not yet approved for example, which will help you decide which task you need to finish and which one is done.
ClickUp dashboards might take a bit more time to get used to, and for small businesses, they might be overkill. But, if you are working for a big business, they might be perfect for you.
Asana Dashboard
Asana's dashboards are also as comprehensive since they offer simpler, yet useful features that can work perfectly for any business.
Users can also create progress charts that will help with progress tracking and other insights. For example, you can classify your tasks as Completed, Incomplete or Overdue.
Asana's dashboards are quite simple and easy to use since they do not offer complex features. If your team includes people who are not technology oriented and do not have many technological skills, Asana could be a better option when considering these two tools.
Scheduling and Meetings
Meetings are an important part of any business. A tool that offers good meeting management is always a plus.
Meetings with ClickUp
Meetings are easily set up with ClickUp. You can use the Meeting template and add it to your boards. It will show you many different options and lists that you might find useful for organizing and conducting meetings with your teams.
If you need to create meeting minutes, the Notepad feature can be used for that purpose, and other notes or reminders you might want to write down while or after attending a meeting.
ClickUp also offers a chat view that you can use if you want to talk to your team outside the meeting about important meeting questions or agendas.
Meetings with Asana
Asana offers integrations with tools like Zoom, which will help you conduct meetings from the app. This is extremely useful when you do not have time to switch through tools and want to stay on your tool using the same agenda or meeting minutes.
You can create a meeting agenda project for all meetings.
Also, you can set up recurring team meetings or some of the one-on-ones, and after that, build agendas for your meeting as needed. There are two ways in which you can create your meeting agenda. You can choose which one is better for you:
Open a meeting agenda template and customize it for your needs.
You can import an already existing spreadsheet where you presently plan meetings.
This will help you organize your meetings and leave room for no mistakes.
Also, you can add any files to the meeting agenda. This will be helpful if you want your team members to read some important documents before or after the meeting. You can also create meeting minutes and attach them so you have everything in one place.
Integrations
There are several similarities and differences between the integrations these two tools offer.
Asana offers a wide range of integrations, such as Slack, Teams, Zoom, Outlook and Google Calendars, Akta, Tableau, Clockwise, and more.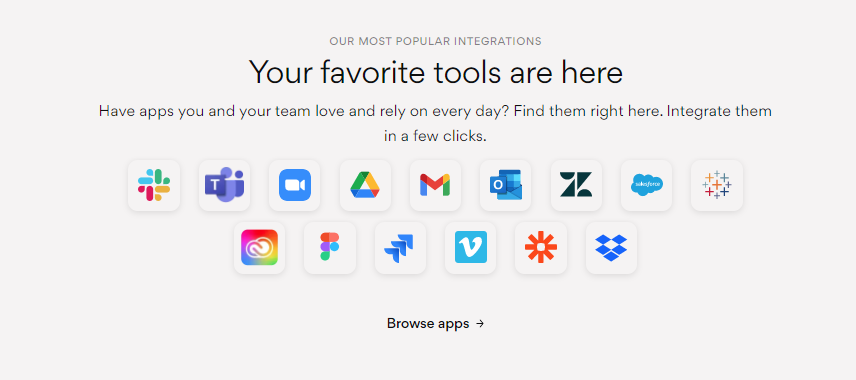 ClickUp offers a way bigger range of integrations. It integrated more than 1000 tools that you and your team might find useful. They include tools like Slack, Google and Outlook Calendar, Dropbox, One Drive, Youtube, Zoom, Loom, and more.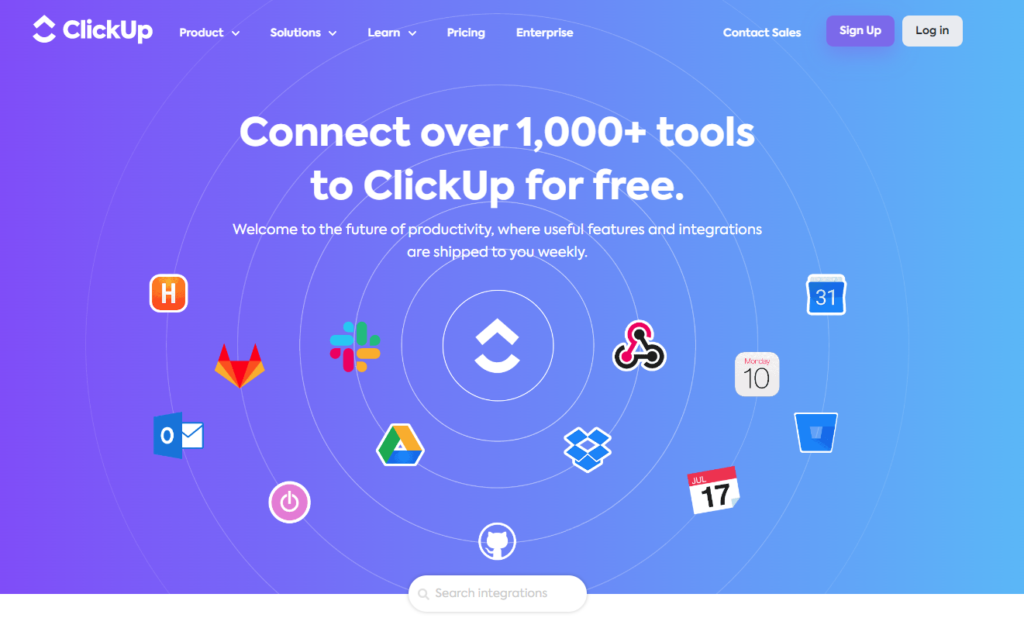 So, it is up to you which tool might be more useful for you as you may not need more than two or three integrated tools. However, if you do, then all these will be useful using ClickUp.
After reviewing all these tools, there are some alternatives you may come across that may offer even better tools and approaches which will let you customize and facilitate your workflow almost immediately. Our suggestion is one of the most useful and powerful tools out there- Easynote.
Easynote As An Alternative
Easynote is a 5-in-1 tool that is becoming more and more popular among project managers and many businesses. There are many users that have found it to be extremely easy to use while offering loads of useful features. Let us take a look at them and see how well they can serve you or your team.
Easynote Features
As the name suggests, Easynote is simply- an easy tool. It offers many useful features that you may find fit for your business.
Firstly, when talking about ClickUp and Asana, we mentioned their dashboards. They are extremely useful, but Easynote's dashboards offer even more.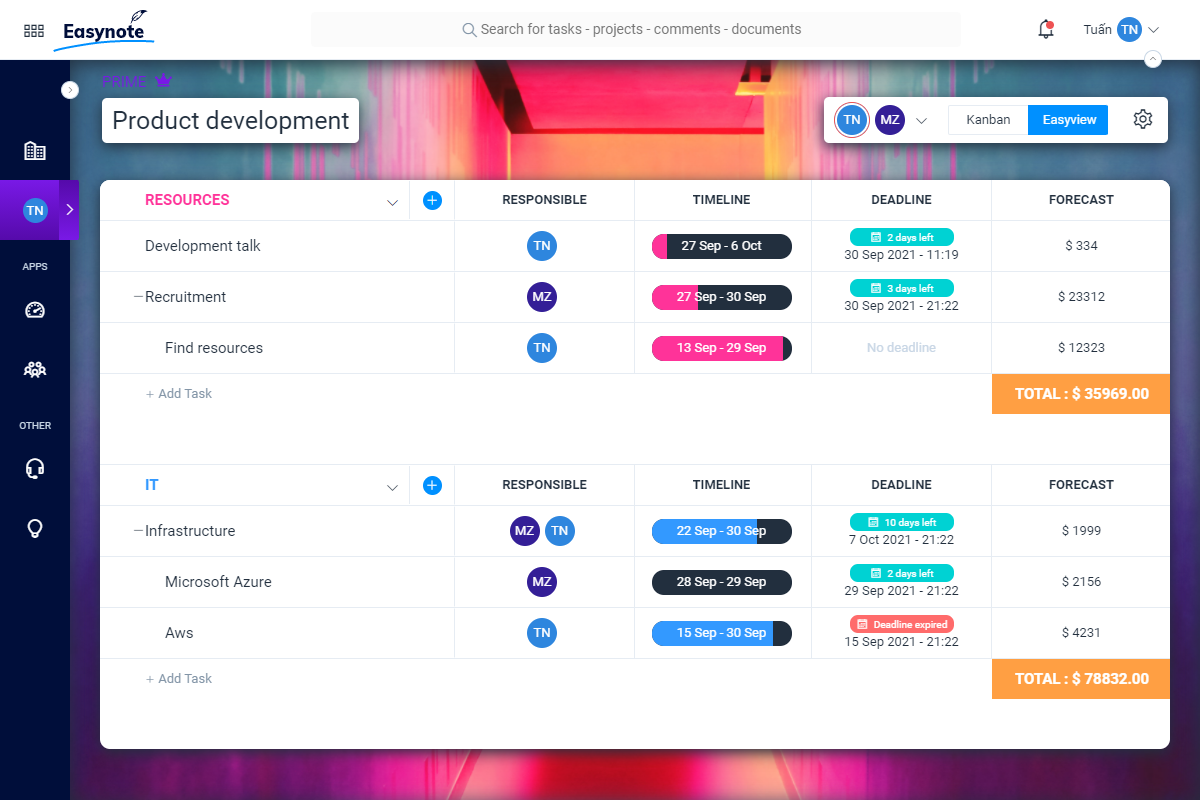 The Ultimate Dashboard offers the best overview of all your projects and timelines- in one place. You can see immediately every task, its progress, and who is in charge of that task. The Ultimate dashboard lets you get a clear and clean view of all the meetings or agendas that you are expected to attend.
Meetings are scheduled easily with Easynote as well. You can go to weekly or daily view on your calendars and simply create a new meeting. You can set its duration, its attendees and add any important files that you may need to have during the meeting.
Easynote integrates tools like Zoom which will help you conduct any meeting from anywhere- also useful for freelancers and remote teams. It also integrates tools like Slack, Google and Outlook Calendars, Zoom, Teams, and many more useful tools.
If you decide to track or manage your risks, you can do it with the Risk management feature.

It will show you how well you are doing towards a set goal and if some tasks are underperforming and making your team lag behind.
Even if you prefer to work in an agile or waterfall way, Easynote has you covered. You can customize everything to fit your needs.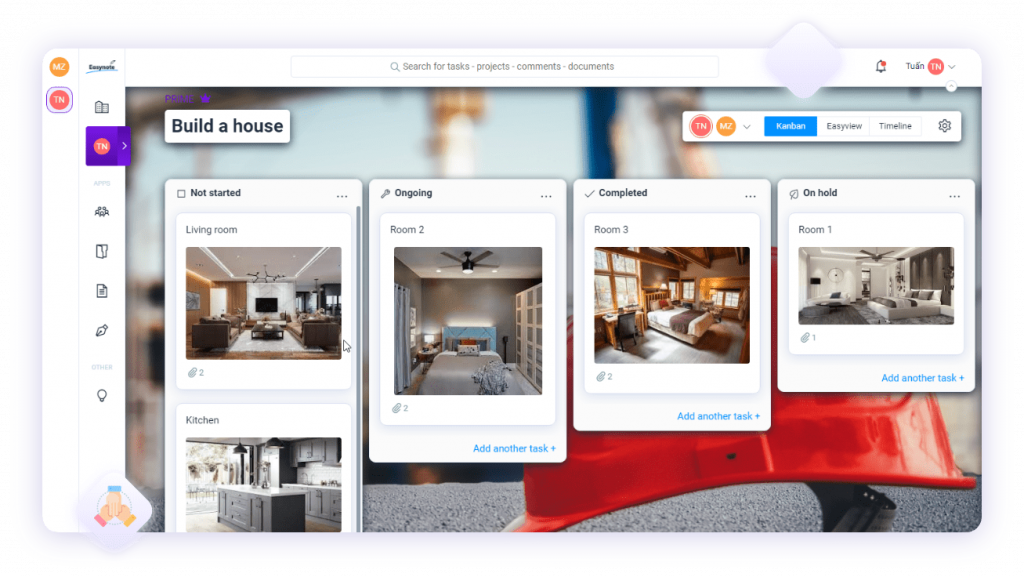 Conclusion
ClickUp vs Asana is a great duel between project management tasks. The winner will depend on what kind of audience is observing it.
As previously stated, if you are someone who wants a simple tool that is easy to use, and does not need a complicated interface, you will choose Asana.
If you are someone who wants more complex features and to get a good value for money, you will choose ClickUp.
If you want a mix of both of these tools, you will probably prefer Easynote.
All these tools offer some of the great features you might need for successful project, task or time management.
Asana may be more expensive, but it offers a simpler interface which will help teams that do not need too many features for their projects.
ClickUp is much cheaper but comes with many useful features that will help you take care of every project in the best way possible.
Whichever tool you decide to use, we are sure that you will be satisfied and that you will utilize your workweek and workload.
Try to remember that all these tools are constantly changing and developing new technologies, so you might find even more features in apps like Easynote.
If you want to find out more about it, visit Easynote.com and see which features you like the most.