Time tracking is a process of tracking employees' working hours on a daily basis. This is mostly done for employees who are paid on an hourly basis, such as freelancers or contract employees. Time tracking provides accurate compensation for employees' time.
Employee time tracking is important for businesses because you don't want to inaccurately compensate your worker's time and effort, since that way, your business can earn a very bad reputation.
Time Tracking Apps Help Your Small Business
Small businesses can find the time-tracking process a bit more challenging since some workers might work remotely or help new hires with their new job and responsibilities. That can be time-consuming for any employee, so many managers rely on time-tracking apps. Luckily, the best time-tracking apps for small businesses are available online. So what are the best options?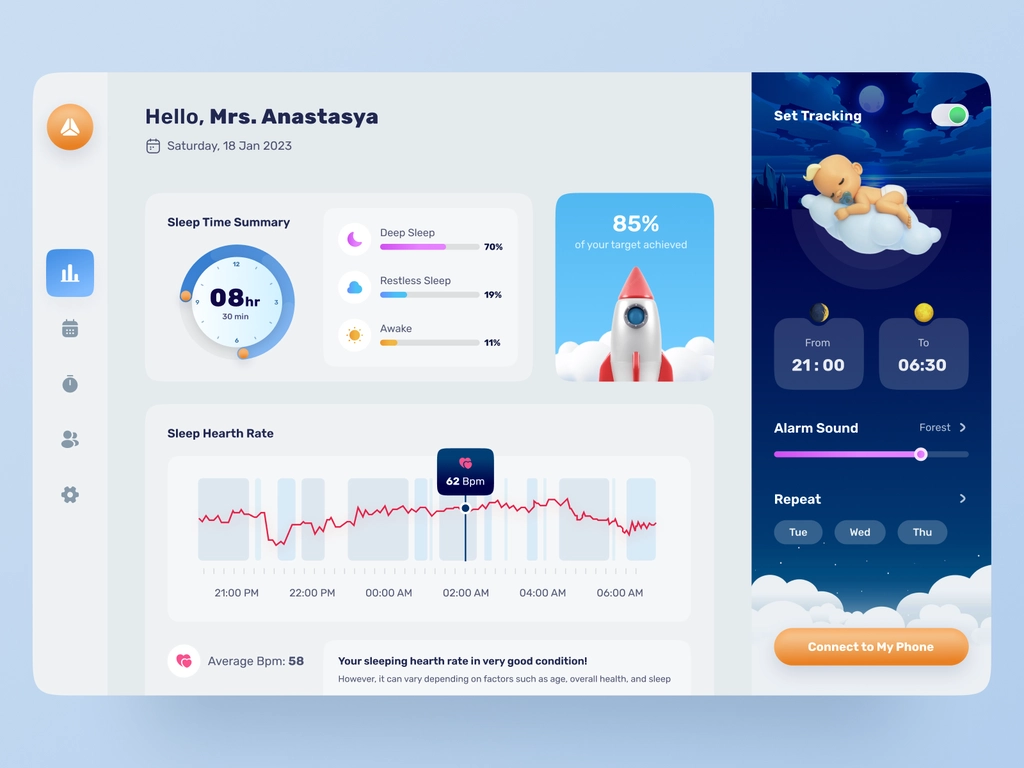 Whichever time tracking app you choose that we offer in this article, the fact is that your employees need to be organized first. Each employee needs to know exactly what their job is and what part of a project they need to work on. Without this, you can lose focus and not deliver a good product to your customer.
When everyone knows exactly what their job is, you, as a Project Manager or a business owner, can rest assured that half of your work is done.
Best Time Tracking Apps for Small Businesses
Knowing that you can have all that you need in one place with Easynote, there are many options online that can satisfy your need for a perfect time-tracking app, especially if you run a small business.
Many websites offer Asana as an option, and we agree that it is a good one.
Asana is known for its time management options and collaboration features. It also offers a time-tracking solution that helps all managers follow their employees' activity on a daily basis. This user-friendly tool helps you organize your work and plan your projects. Asana has a long history as a task manager and if you would like to know a little bit more about Asana and how they created their famous logo, read more here.
In case you need more options, there are several Asana alternatives that focus on time tracking in detail.
Here are some of the best options that we came across:
1. Clockify
Clockify is another time-tracking app that is a good alternative to Asana. It is excellent for small businesses with remote employees. Clockify allows employees to track their time, and project managers can view these in real time as well.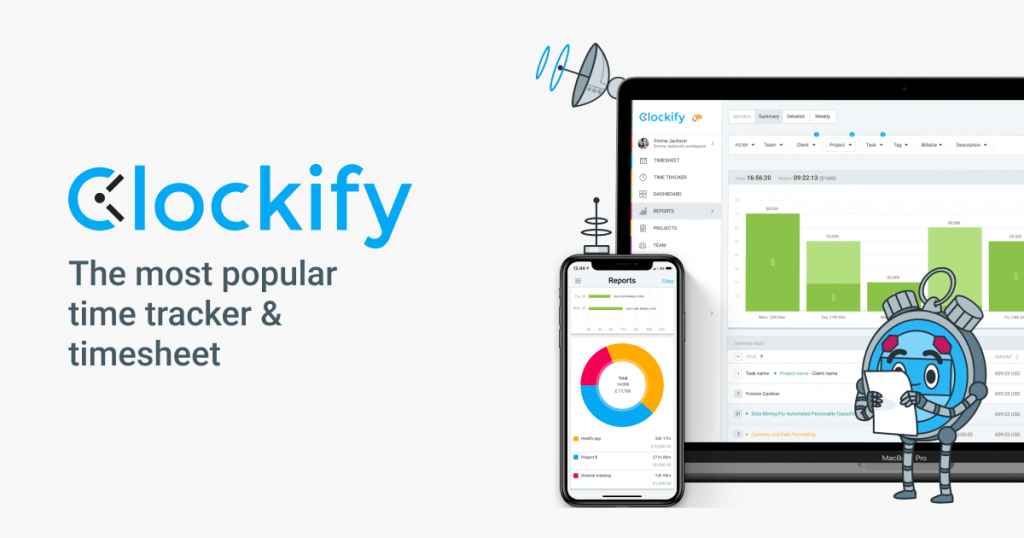 With Clockify you can also create timesheets and immediately export them to Excel or PDF. Clockify allows you to track time offline. This is great for employees that are working in areas with no or limited internet connection.
You can get a free plan, and paid plans are available for additional features.
2. Hubstaff
Hubstaff is another handy time-tracking app alternative, that is great for small businesses. This app allows employees to track their time, create timesheets, and more. In Hubstaff, managers can see this information in real-time as well, which makes monitoring easy on a daily basis.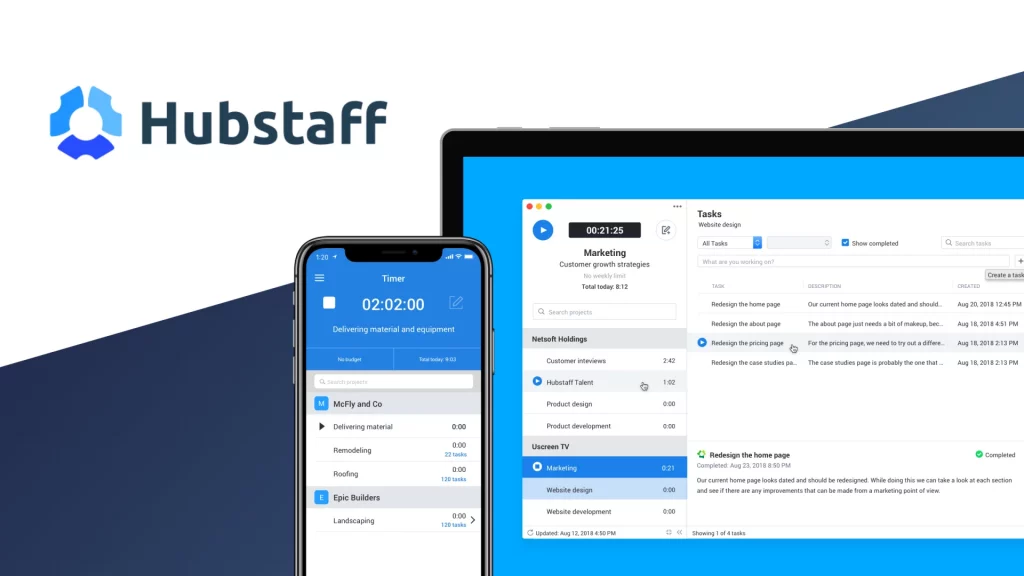 Another cool option that Hubstaff offers is a feature that lets you set up automatic payments for your employees based on the time they had worked. This is a perfect option for your small business because it saves a lot of time on payroll management. This app is easy to integrate with other apps, so adding it to Easynote would be an easy task.
If your business is small and consists of only a handful of people, this app offers a free plan for two users. Of course, there are paid options for larger teams as well.
3. RescueTime
RescueTime is a great time-tracking app if your goal as a manager is productivity. This app tracks all the time spent on different tasks and gives a report of how that time was spent. RescueTime has a feature that lets you set various goals and track employees' progress in achieving those goals.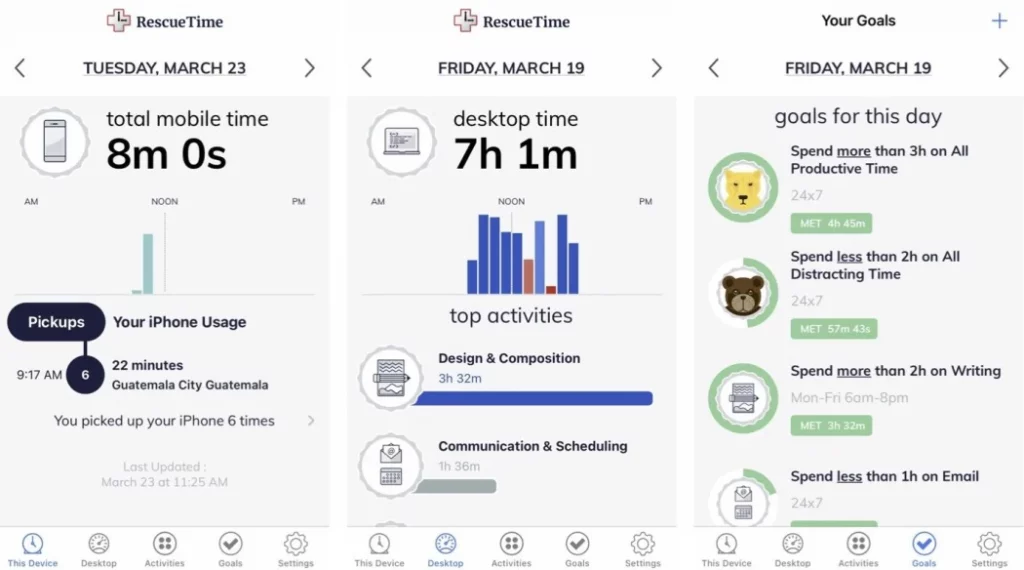 This app ensures that you do not get distracted by other projects or plans. Easynote can keep all of those for you on the side.
RescueTime offers a free plan, and also paid plans for additional features.
4. Harvest
Harvest is another time-tracking app that includes a big range of features that can be useful for small businesses. Employees are able to track all the time they spent on different projects or tasks and managers can see this information in real-time as well. Also, you can easily bill your clients directly with the app and you can create invoices fairly quickly.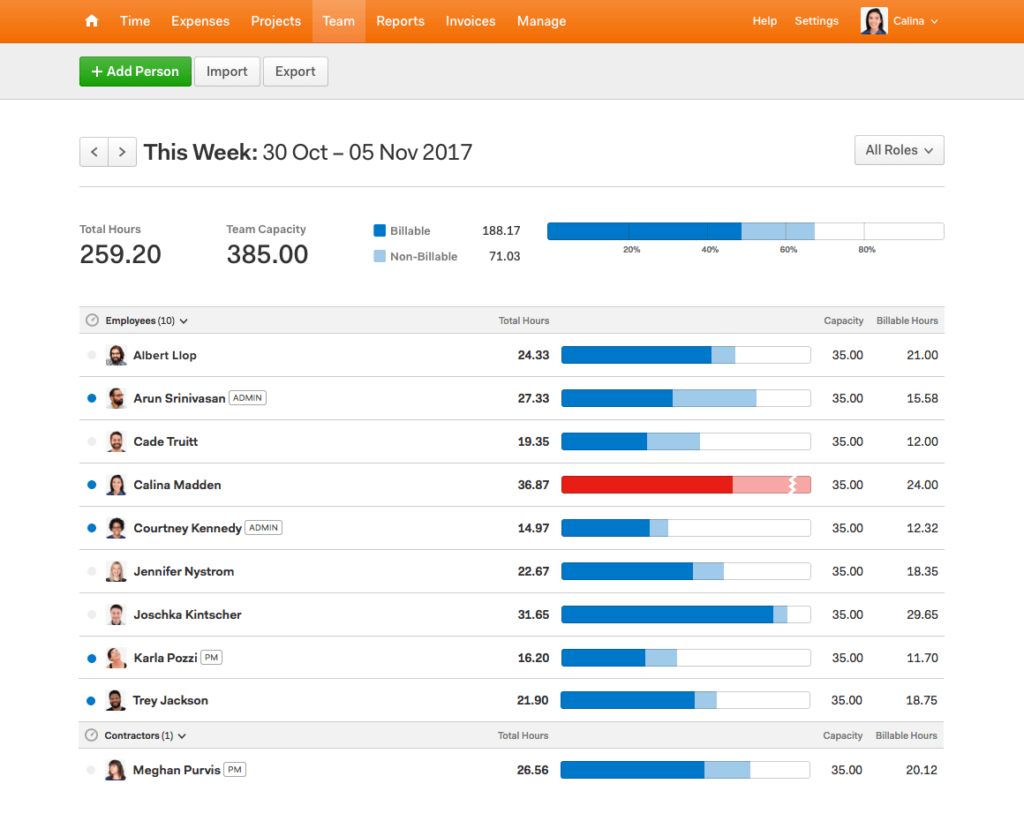 Harvest is a great option because it integrates with other useful project management tools, including Easynote. Additionally, it has a strong reporting feature that lets you analyze the productivity of your employees and see where and how time is spent.
You can get a free trial period, and paid plans as well.
5. HourStack
HourStack is another user-friendly mix of calendar and time tracker. This app successfully integrates with other tools such as Easynote, Trello, and Google Calendar. It usually shows on the sidebar and it allows you to drop all your tasks into HourStack from where you can share your files with your team members.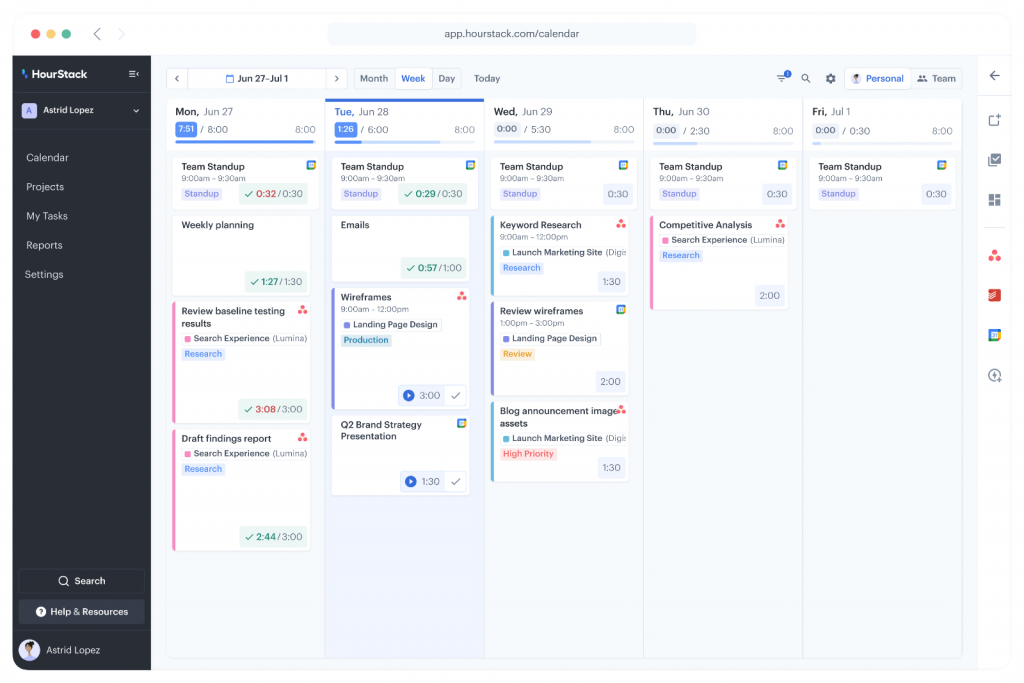 Simplicity is HourStack's best characteristic. There are no complicated structures and interfaces which can make you lose your focus. You can record your work time in your Calendar. It is useful to see all your scheduled and completed hours on the Reports page, which can be filtered by projects, clients, etc.
You can start your free trial and see all the features it offers, and later pay for more options.
Easynote Can Help You Stay Organized as a Small Business Manager
If you are a small business owner and you need to track your employees' time, this could be another task among many other tasks that you need to observe. All of these responsibilities can be quite overwhelming for all Project Managers.
It would be great if you had everything in one place. Best time tracking apps for small businesses would be integrated into your dashboard and you would have all tools a few clicks away. Luckily for you, that option already exists.
Easynote is an app that allows you to have all your apps and widgets in one place.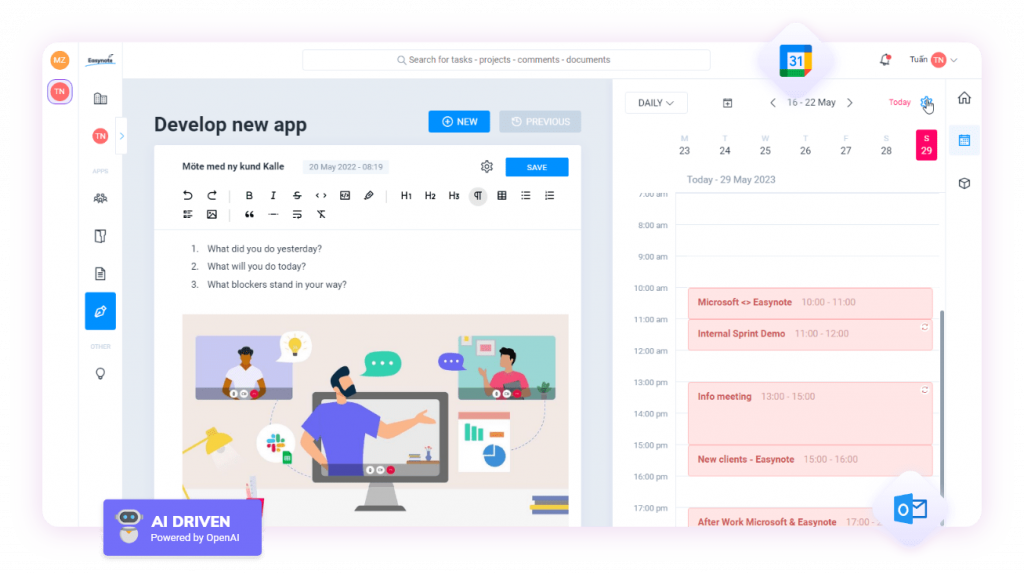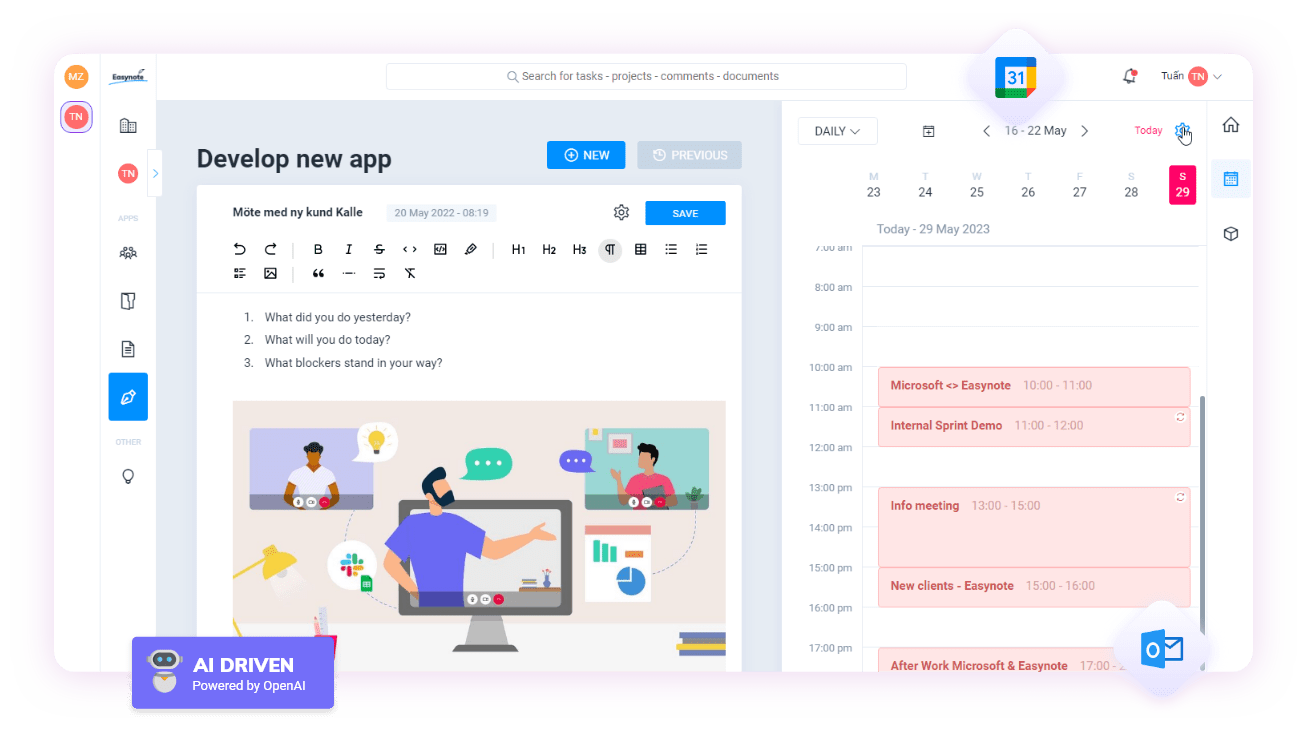 This 5-in-1 AI tool makes it extremely easy to track your project's progress, all your important timelines, deadlines, and other essential things. Do not let all different apps and information suffocate your work and productivity. It is hard to stay on top of your game if you aren't sure where to start and where to look.
Easynote offers the best service when it comes to managing projects because you can connect other widgets and apps to it. Its Ultimate Dashboard lets you see an overview of everything that needs to be done in just one app. Also, it is very user-friendly.
Even if you are a beginner or a senior Project manager, you can start using Easynote in a few moments. All its widgets are self-explanatory which helps you navigate through everything without having to sit and learn how the app works for a longer period of time.
Easynote Helps Small Businesses With Productivity
Easynote is perfect for small businesses because it offers a few useful and unique options. For example, if you are a manager, you can track your employees' activity in real-time. You can tag them to different projects, and share your documents or plans. There are other useful features that Easynote offers:
You can see how much time some of your employees have left for a certain task or project. This is a convenient thing to have when you need to track productivity, progress, and different timelines. Managing projects has never been easier.
Collaboration is another strong feature that lets you collaborate with your team members in real time.
Using reminders from Easynote can facilitate your workflow and make you aware of all upcoming meetings or projects.
You can also easily make new documents and manage or import all other documents from different platforms you use, such as Outlook. You can share your documents with other team members and make them visible to everyone.
In case you need to write a formal e-mail and you do not feel inspired, Chat GPT is integrated into Easynote's Easywrite option, so it can all be done for you in a few moments. As we mentioned before, it really is all-tools-in-one.
Time and Productivity Tracking
Productivity and good team organization are essential for every team. This will allow your team to stay motivated and work without difficulties. Goal-oriented teams are the best teams because they do not get distracted by other problems.
Easynote helps with a goal-oriented approach because all goals and plans are visible on your dashboard and your processes are updated daily.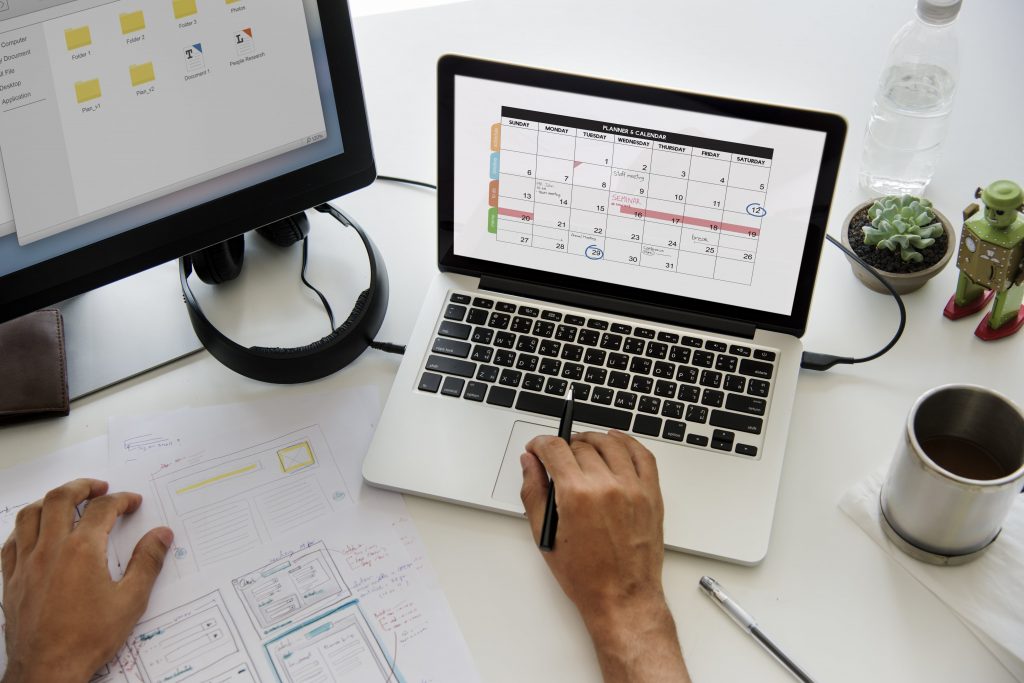 Most importantly, it is easy to add other time-tracking apps and integrate them with productivity-based apps like Easynote. Project managers can track time entries for every person alongside the process your project makes on a daily basis.
As a business owner, you need to know how your team works and what are the best options for you. Some teams work better when time management is more flexible, while others love a time-tracking approach. However, all teams love well-defined activities and approaches that are organized from the start. That is why Easynote comes in handy.
This leaves you to choose the best time-tracking app for the small business you run and integrate it with Easynote for the ultimate manager experience. Time-tracking and organization are all in one place.
Are Time Tracking Apps Worth It?
In our opinion, time-tracking apps are worth it, especially for small businesses. No matter how much time you save daily using Easynote, where all your tools are integrated into one, time-tracking does not have to be another stressful thing. Compensating your employees correctly for their time spent working on projects and different tasks is an important part of every business.
With that being said, time-tracking apps help you not to worry about mixing or messing this up. You can focus on other things that need attention. Additionally, some of these apps let you pay your employees directly by their hourly rate which is definitely a stress reliever.
So, a short answer is YES, apps are worth it. It is simply your choice as a PM or a business owner to use them efficiently and organize your team in the best way possible.