Truly remote jobs did not exist a few decades ago. As technology developed, so did our work environment, especially in recent years. As soon as computers and the Internet were introduced to the world, the way we live and work has been changing and we are still evolving each day.
Today, we cannot imagine our workday without technology in some form. From teachers and doctors to software developers and managers, we all need it.
However, some jobs have started using technology and computers as their complete office. Working with only your laptop needed makes your job not depend on any destination. That is how truly remote jobs came to life.
A truly remote job lets you work from anywhere. You can work from home, in a cafe, or in another country. Options are plenty.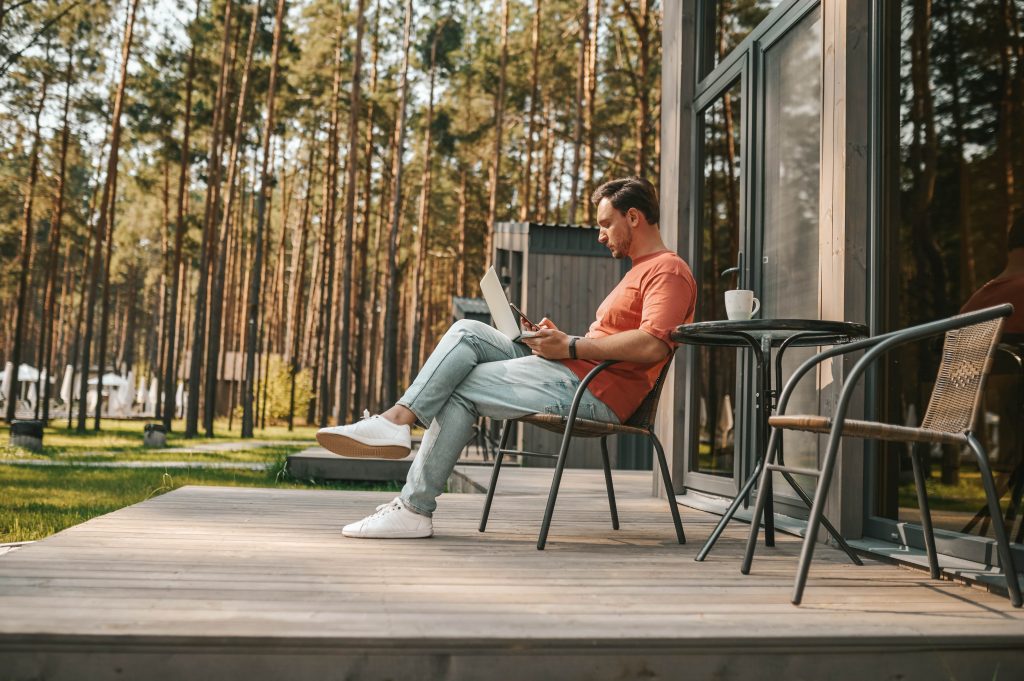 How Did COVID-19 Give Boost to Remote Work?
Before the coronavirus pandemic, there had been a big increase in employees choosing to work from home or remotely, and many companies found themselves moving to more hybrid workplace models. Before the coronavirus started, people increasingly showed interest in working from home at least one day a week.
During the coronavirus lockdown, every company that was able to send their workers home had to implement the "work-from-home" model.
After the pandemic, many people are still choosing to stay at home, and truly remote jobs are more and more popular.
When asked about productivity, many workers agree that they are even more productive when working from home. They do not have to spend time commuting and can save those hours for work. Also, it is easier to concentrate and be more focused when you are alone rather than in a huge office. Many think that some meetings and office activities are redundant and counterproductive.
However, some workers agree that working from home does change your social interactions. When you work from an office, you are more likely to spend time with your colleagues, make more friends and be a part of after-work activities.
What Are the Benefits of Truly Remote jobs?
Not only for employees but also for employers, truly remote jobs give a whole new set of opportunities that were never possible before.
If you are an employer, you do not have to limit your choice of employees to those living near your office base. The world is pretty much yours. There are many freelancers and remote workers available who are ready to work for your company.
It is pretty easy for fields of work that use the Internet for all communication, projects, and work itself. It is not hard to organize everything when you have good software and good management apps like Easynote, which can help you keep everything in one place.
If you are an employee, who is looking for a truly remote job, this article will give you some guidance as to where to find one.
The benefits that truly remote jobs offer you are plenty
You do not have to stay in your office from 9:00 to 17:00, you can organize your work and have a more flexible working schedule. There are no limits on how many hours a day you can work- you can decide for yourself. Some people are more productive during the day, and others love working during the afternoon hours. Truly remote jobs let you choose which part of the day is the best for you.
You can save money working remotely. You do not have to commute every day or spend money on gas. Some find this an amazing way to save the environment. You do not have to spend money on lunches since your meals can be homemade.
You can have a healthier work/life balance. When working a truly remote job, you can stay in a resort, work from a beach, or from a mountain cabin staying with your family. You can have a healthier work/life balance since you can implement new activities with your working hours.
What Are The Most Common Inconveniences For Remote Workers?
There are a few inconveniences that happen when you work remotely.
Having no internet connection might be one of them. It is not always easy to have a good and strong WiFi connection if you are working a truly remote job. This can affect your productivity, correctness, and overall reliability.
Also, as we previously mentioned it can be very socially isolating if you work from home and all your other colleagues work from an office. They might have some team-building activities or parties which you cannot be a part of.
The most frustrating part of doing a truly remote job is coordinating and organizing everything. It is easy to get lost in all of your documents, projects, plans, etc. But do not worry, there are some amazing apps that can help you organize everything and have it all in one place, such as Easynote.
Easynote As The Best Option for Remote Employees
Easynote is an app that allows you to have all your apps and widgets in one place. If you are a freelancer and work a truly remote job, it is one of the best tools that can help you track your time and organize all your tasks.
This 5-in-1 AI tool makes it very easy to track and overview your project's progress, and also all your important deadlines, timelines, and other things. Do not let all different apps suffocate your work, creativity, and productivity. It is hard to stay focused and on top of your game if you can't be sure where to start and what is the most important each day.
If you are a freelancer who is doing a truly remote job, you may have more projects at the same time that you need to manage.
Easynote provides you with the best service when it comes to managing your time and projects because you can connect other apps and widgets to it. Its Ultimate Dashboard gives you an overview of everything that has to be done. Additionally, it is very user-friendly.
Even if you are a beginner or someone that is experienced in what you do, you can start using Easynote in a few moments. All of Easynote's widgets are self-explanatory and that can help you go through everything very easily without having to spend time learning how the app works.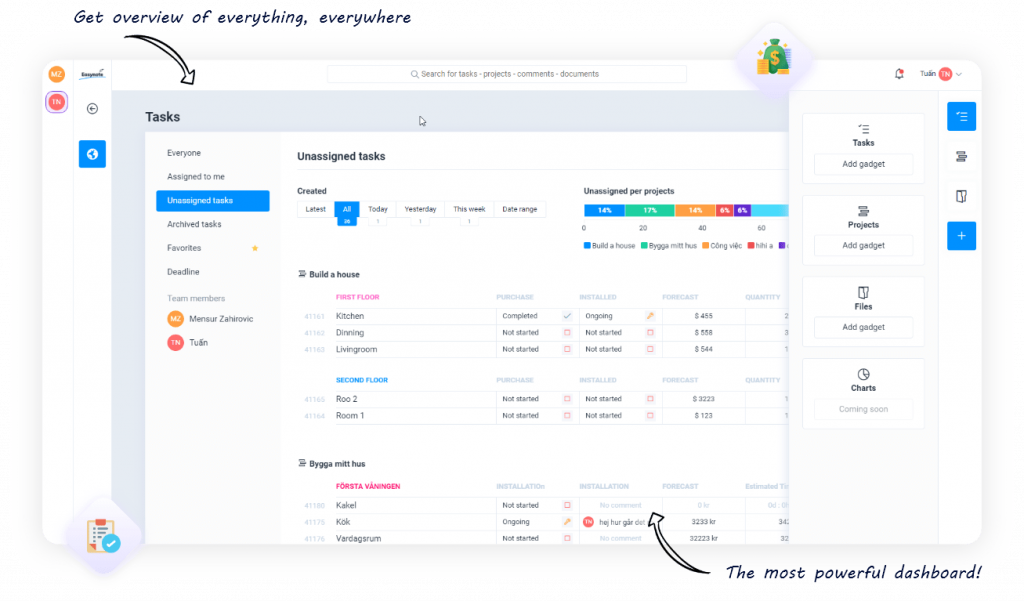 Easynote's unique options
Easynote is great for remote workers because it offers several useful and unique options. For example, if you are a project manager, you can track everything in real time. You can tag other employees on different projects or share your documents with everyone. There are many other useful things that Easynote offers:
You can observe how much time some of your employees spend on a certain task or project. This can be convenient for managers when they need to track productivity, progress, or different timelines.
Collaboration is a strong Easynote feature that makes it possible for you to collaborate with your other team members in real time.
Reminders from Easynote are punctual and effective and can facilitate your work as well as make you prepared for all upcoming meetings or events.
You can also make new documents easily and manage or import all documents from other platforms you use, such as Outlook. You can share any of your documents with other colleagues or make them visible.
In case you need to write an important message or a formal e-mail, Chat GPT can be found in Easynote's Easywrite option, so you can finish it in a few moments. It truly does save you time.
What Are The Best Websites for Truly Remote Jobs?
Today, since working truly remote jobs has become very popular, there are more and more ways in which you can find them. One of the ways to do this is simply communicating with other remote workers and learning all about it first-hand. However, these options may not be filtered by your needs so it is always best to look at websites and other tools that can help you.
There are many website options which are listing companies that hire remote workers. Some of the best options that we have come across are:
This website offers all sorts of different remote jobs, just a few clicks away.
This website shows remote job opportunities across different industries and skill levels.
Shows all jobs from websites all across the web so it is very convenient to use.
Chances are, you already have a LinkedIn profile if you are searching for a remote job. In case you do not, check this popular website.
This website has got a big database of truly remote jobs across different categories such as marketing, IT, customer service, and more.
Virtual Vocations specializes in truly remote job listings in different categories such as customer service, healthcare, and more.
This website has a filter for truly remote jobs that can help you narrow down your search.
If you are a freelancer, or someone looking for freelancers, this website is definitely one of the best options. You can browse through all sorts of categories and filters and find the best option possible.
Remote Jobs as Jobs of the Future
Whichever website you choose, we are confident that you will find something that fits you and your needs and that you will surely enjoy your remote job.
As technology continues to change and become more advanced, the job market is undergoing important changes and will continue to. While some traditional jobs still may stay the same, new job opportunities will appear, and remote jobs are most likely to play a significant role in the future.
One reason why this is happening is that technology has made it much easier than ever to work from anywhere in the world. There are so many tools and gadgets that can help you work a truly remote job without any hardships.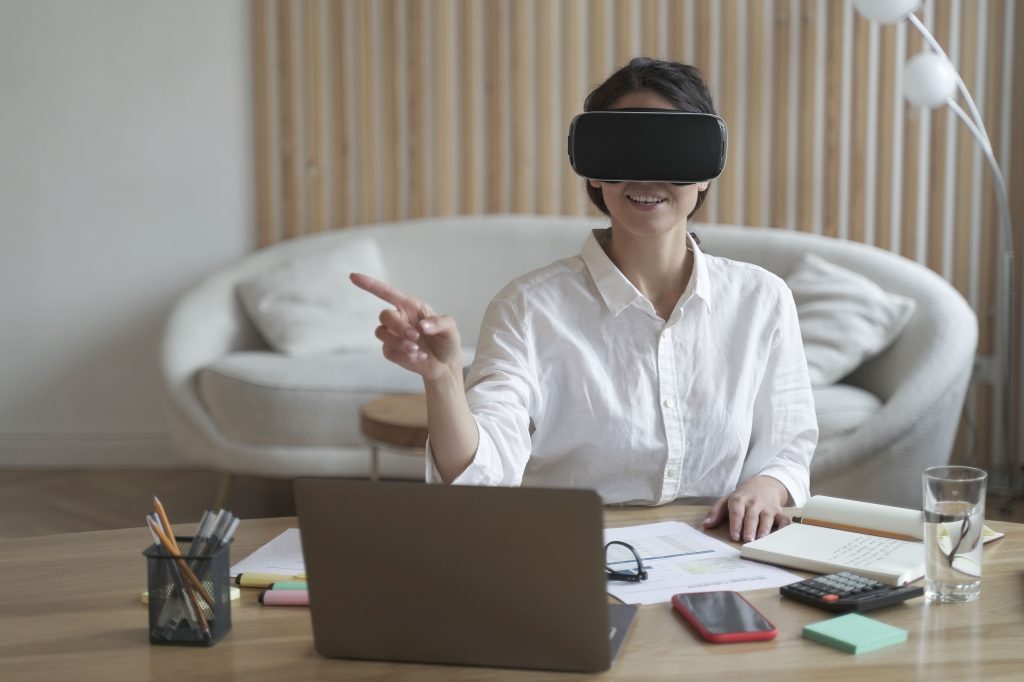 With e-mail exchange, video conferencing, and other tools, workers can collaborate with other team members that work in different parts of the world. This offers a lot of opportunities for people who live in areas that are limited in job opportunities or people who cannot leave home due to health reasons and cannot work in a traditional office setting.
Freelancers' Future
For freelancers, truly remote jobs offer flexibility, allowing them to manage and organize their work schedules around their personal lives. This can be very useful for people who have children, or similar caregiving responsibilities.
Another great thing that may be beneficial for the future is the environmental factor. Saving energy and not driving so many cars to work might help the environment that especially needs it. Remote jobs can help promote sustainability and minimize carbon emissions.
In conclusion, truly remote jobs are likely to grow in popularity and play an important role in the job markets of the (near) future.
They give a range of benefits to employers and employees, and some of them are cost savings, greater flexibility, and sustainability. But we must keep in mind that, in order to be and stay successful, working truly remote jobs requires efforts to keep effective collaboration and communication.
Investing in tools such as Easynote can help you stay productive and organized and help you secure your career in the future.