Used and loved by many organizations from different industries, the Kanban method has become essential for managing workflow in a lot of departments. Kanban board, its main tool, helps visualize the work in progress and ultimately makes teams more efficient.
Why use a Kanban board?
Kanban method, invented back in the 1940s in Toyota, was originally used for organizing a manufacturing system in the company. Its name comes from a Japanese word for "visual signal" and is nowadays used for managing different projects across all departments in virtually all industries.
Kanban board will allow you to manage your projects and tasks in one place, in collaboration with your team. It visualizes the workflow process, allowing so for easy discovery of bottlenecks and inefficiencies.
Today's business environment: Multi option Kanban board
Kanban boards went digital a long time ago. Now, many productivity tools offer this feature, allowing you to easily manage your projects by setting tasks and deadlines and assigning them to the team members.
Digital Kanban board will keep everything visual, allow for the creation of customized workflows, enable sharing boards with teammates, and help track productivity in real-time. If you are just starting and have never used a Kanban board before, or you are tired of using simple ones, Easynote offers its collaboration and project management tool for a really affordable price, Kanban board included.
Reinvented 3D Kanban board with lots of features
Normally, Kanban boards come with three columns: To do, Doing, and Done. This most common concept is simple and easy to follow, but not always what you need. Easynote offers the possibility of adding as many boards/columns as you want and naming them to your liking.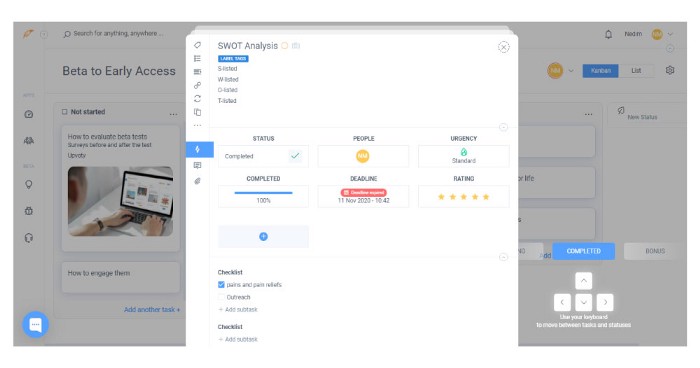 How to work with Easynote kanban boards
Each card represents a task, a step in the process. As its status changes, the cards pass the boards/columns, from left to right, from To do to Doing, and from Doing to Done. The boards/column names can be changed to whatever fits your needs.
You can also set deadlines on specific tasks and assign members responsible for those tasks. The Kanban board makes the whole process visual, allowing for easy tracking of the projects' progress. This is especially important for teams working on collaborative projects, with a lot of moving parts/tasks.
Read more on Best project management tools for 2021
Customize your Kanban boards and tasks with widgets such as: Labels, Description, Checklists, Subtasks, Task dependency, Share task, and Recurring task. You can also track Task activity and read Comments added by teammates.
You can mention your teammates in the comments and so make sure they see it. Importantly, it's an easy way to stay on top of all changes within a project you're working on.
Attach files and drag and drop any documents you might need to share with the members of your team on a shared board. The process is done in just a few clicks. Kanban boards are flexible and allow you to easily re-prioritize and re-assign tasks or update them as needed.
Kanban boards have been used for a long time and their popularity is yet to see the decline. Favored by all types of users of all industries, the Kanban method has revolutionized the way projects are being managed. Visualizing workflow and giving the overview of the whole process down to the level of one step. Kanban board is a perfect tool that helps teams around the globe see an increase in their efficiency.
If you would like to find out more about kanban methodology read the well written Wikipedia article.